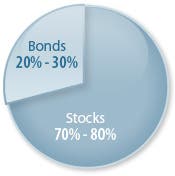 The investors are a young married couple with a child. Their goal: saving for retirement. Together they've elected to go with a lower risk tolerance than they might have before they had a child, and their investment vehicles are all mutual funds. This is the asset allocation plan they might draft with their adviser.
Plan: Young married couple
Extra advice
In addition to a retirement fund, they need an education IRA or 529 college savings plan for the baby, says Peggy Cabaniss, CFP. One tip to make asset allocation for that account easy: Most 529 plans have an asset allocation based on the child's age.
Because they have a child, an emergency account is even more important. Aim for six months' worth of living expenses and keep it liquid in something like a high-interest savings account, money market account or short-term CDs, says Cabaniss. They also need a similar cash account to save for big purchases like a home, car or major remodeling project.
Source: Portfolio drafted by Peggy Cabaniss, CFP, president of HC Financial Advisors in Lafayette, Calif., and past chairman of the national board of the National Association of Personal Financial Planners.