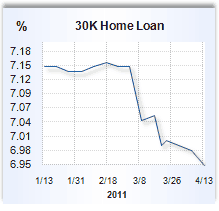 Interest Rate Roundup
Home Equity
5.55% (line of credit)
6.95% (loan)
Here's a look at the state of home equity rates from Bankrate.com's weekly national survey of large banks and thrifts conducted April 13, 2011.
Loans backed by home equity showed small drops in the latest Bankrate survey.
Home equity loans averaged 6.95 percent nationally, a drop of 3 basis points from a week earlier. A basis point is one-hundredth of 1 percentage point.
The typical home equity line of credit, or HELOC, had a rate of 5.55 percent, moving down 1 basis point from a week earlier.
To find the best home equity loan rates in your area, check Bankrate's interactive tool.
See all home equity loan rates content.
— Gregg Fields