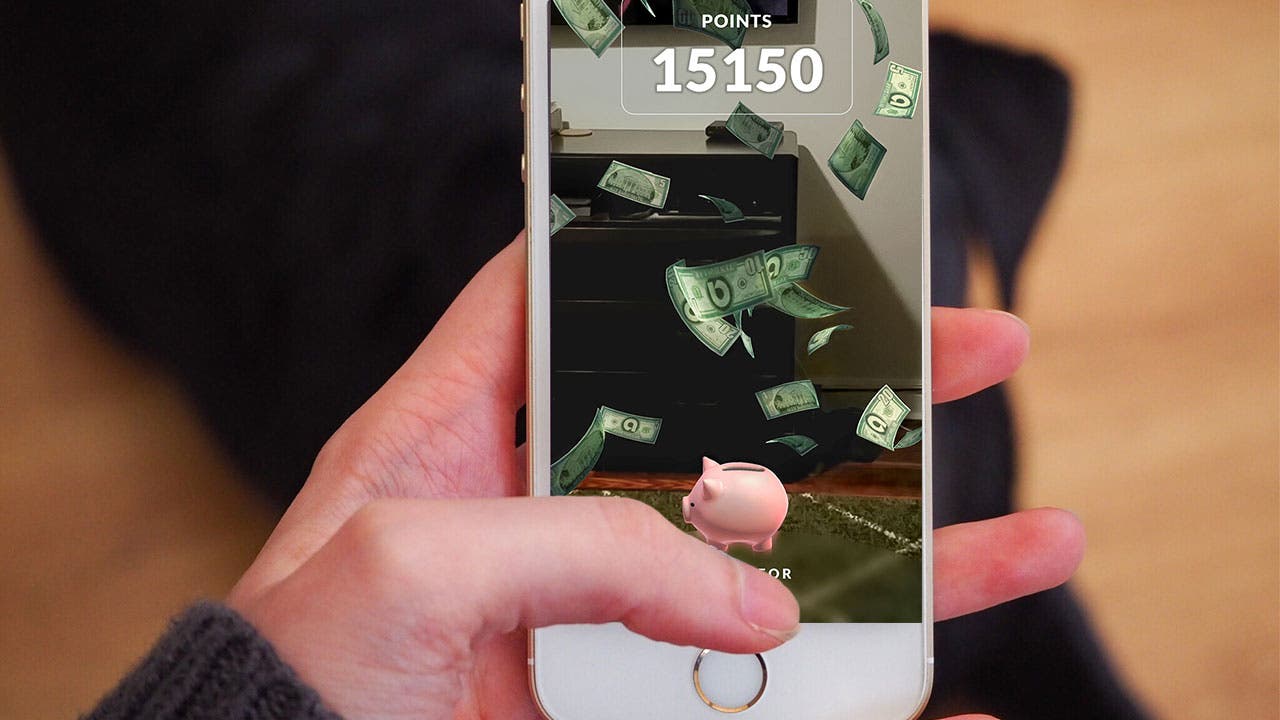 The Eagles and the Patriots weren't the only ones hoping for a big win on Super Bowl Sunday. Thousands of people were competing for a chance to walk away with a cash prize from Ally Bank.
More than 31,000 Americans downloaded the Ally Big Save mobile app. During Super Bowl commercial breaks, players using the augmented reality game earned points by grabbing falling dollar bills and dropping them into a virtual piggy bank. Each player's highest score was used to determine whether they would win.
Winners received prizes of up to $250,000. That's money that could put them one step closer to meeting a financial goal, like saving for a new home or a car.
"Through our augmented reality experience, we aimed to give consumers the tools to visualize a future where their savings goals were attainable," says Andrea Brimmer, Ally's Chief Marketing and Public Relations Officer.
A number of banks and credit unions have tried using games to increase engagement or educate consumers about personal finance. Many people argue that gamification—the use of game elements to alter human behavior in non-gaming related activities—may be one way to address a serious issue: the lack of sufficient emergency savings.
America's savings crisis
If forced to cover a $400 emergency expense, 44 percent of Americans either couldn't pay for it or would have to borrow money or sell a possession, according to a 2017 Federal Reserve report. Based on findings from a recent Bankrate survey, most Americans don't have enough savings to cover a $1,000 emergency.
Gamification can motivate you to boost your savings. Unlike the traditional method of saving money—which takes time to yield results even as savings rates rise—a gamified experience instantly rewards you for your efforts.
"The main action that happens in a gamified system is that they tend to be very focused on providing people with immediate positive reinforcement that repeats with every action the user makes," says Gabe Zichermann, an author and gamification expert.
It's all mental
When we experience something pleasurable, like winning a prize, our brains produce a chemical called dopamine. We're hard-wired to prefer pleasure over pain, says Syble Solomon, creator of Money Habitudes, an online game that gives insight into different money personalities. So naturally, we're motivated to do what we find satisfying.
For example, if there's a game you enjoy that offers rewards, you'll likely want to continue playing it. And a fun game that encourages you to save money may push you to keep saving.
Generally, in order for gamification to motivate someone to change their behavior, there needs to be both tangible rewards, like money, and rewards internal to the game, like points or badges. Rewards don't have to be consistent, Zichermann says. And if you receive them too often, you could get bored.
"You want a combination of predictable and unpredictable to really drive the right kind of behavior and feel like there's a chance for the reward to be even better," Zichermann says.
But does it help you save?
Gamification can make saving money fun, but can it help consumers meet their goals? There is some evidence suggesting that it works.
Commonwealth, an organization helping people become financially secure, has conducted studies and developed games like SavingsQuest, an online and mobile tool considered to be the first "Fitbit for savings."
In a pilot targeting prepaid cardholders, SavingsQuest users could earn badges by saving money and completing challenges. These users saved on average, 25 percent more often than other card users. And in a relatively new program, Walmart MoneyCard users who were offered the chance to win cash for saving money ended up saving 35 percent more, on average, a year after the initiative launched.
There's no guarantee that gamification will help every consumer build or grow an emergency fund. But it could provide the motivation you need to spend less and save more.
Gamifying your finances
If you're having trouble saving money, consider opening a prize-linked savings account or share certificate (i.e. certificate of deposit). Some credit unions offer them through programs like Save to Win and WINcentive, and some banks provide similar products. Consumers earn interest on deposits of as little as $25 and potentially win cash prizes when they save enough to enter drawings.
Download an app like Mint or SaveUp, which rewards users for saving money and eliminating debt, and has a monthly $2 million jackpot. Long Game lets users not only play games and win up to $1 million, but also offers a federally-insured, interest-bearing savings account.
"It's a much more engaged interaction with the user than you'll see from any other financial institution out there," says Long Game co-founder Lindsay Holden. "That's really how we're trying to drive consistent behavior, help people get excited about where they're going with their finances and give them a path that they can go down to achieve those goals."
If you're self-motivated, you could easily come up with your own game. Often, the simpler the game, the better.
One strategy is to transfer money into a savings account every time you get paid, Zichermann says. When you've done that 10 times, reward yourself.
Or set a goal and compete against a friend to see who can save the most money.
"The funny thing is, it's impossible to lose that bet," says Ric Edelman, co-founder and executive chairman of Edelman Financial Services. "Even if your friend ends up saving more than you, you have still saved and that's the goal."