Mutual of Omaha Bank Review 2020
AT A GLANCE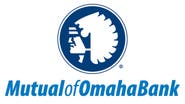 Mutual of Omaha Bank is worth considering if you are looking for a place to park your short-term savings. However, the regional bank is transitioning into the CIT brand in the coming months. If you get an account with the bank now, expect new branding in 2020.


Mutual of Omaha Bank, which is now owned by CIT Group, offers certificates of deposits, savings, money market and checking accounts.
What we like
Offers an assortment of CDs.

Provides digital money management tools.

Lets you open interest-bearing checking account online.
What we don't
You can find higher yields elsewhere.

There are restrictions for where you can open CDs and savings accounts.

Monthly fees for the money market account are steeper (but there are ways to sidestep them).
OTHER SAVINGS OFFERS YOU MAY LIKE
The Mutual Savings is available only in Arizona, California, Colorado, Florida, Kansas, Nebraska, Nevada or Texas.

While you can earn higher yields elsewhere, there is no minimum amount to open the account.

Interest is compounded daily, but no interest is earned on balances under $100.
Interest compounds daily.

No minimum amount required to open the account.
You don't earn any interest on balances under $100.

You can earn higher yields elsewhere.
The Money Market account offers a competitive APY. It offers check-writing privileges and a free order of checks. You will pay a monthly fee unless you keep at least $1,000 in the account,  however.
Offers competitive yield.

The Money Market account offers check-writing privileges.

Free checks are provided for the Money Market account.
High minimum balance requirement to earn interest.

Average balance of $1,000 needed to avoid the $10 monthly maintenance fee.
OTHER CD OFFERS YOU MAY LIKE
At Mutual of Omaha Bank, there's no shortage of CDs to choose from, with terms ranging from one month to five years. Multiple CD promotions are available, too. Earned interest can be added to the principal balance in your CD or moved to another account managed by the bank.

All of the bank's CDs are available as IRA CDs, so consider whether they might fit into your retirement strategy.
Interest is compounded daily.

The minimum opening deposit is relatively low.
CDs can only be purchased in a branch.

Other banks pay higher yields.

New customers don't have access to non-traditional CDs.
OTHER CHECKING OFFERS YOU MAY LIKE
Member FDIC
Checking account
Online Advantage Checking is an interest-bearing checking option from Mutual of Omaha Bank. The account can be opened online with a minimum deposit of $100. Keeping at least $100 in the account allows you to avoid a $10 monthly maintenance fee and you will earn interest.

Other interest bearing options from Mutual of Omaha Bank include: Basic Checking, Investment Checking and Platinum Checking. These accounts are not available in every state.
Accounts can be opened online.

Low balance to avoid monthly fee.
Fee charged to use ATMs outside of national network.

You need at least $100 to open the account, which is not steep but is more than some banks require.
Bank experience
Mutual Bank of Omaha isn't pushing the frontier of banking, but it provides the essentials.

While the bank's app has only a handful of reviews in the app stores, the ratings are lower than other bank apps. Yet, you'll still have access to basic features, like making check deposits with your camera or finding nearby ATMs.

The bank also supports digital budgeting tools that are designed to help you manage your money. You can also link non-Mutual Bank of Omaha accounts to see your overall financial picture in one place.
About Mutual of Omaha Bank
Mutual of Omaha is best known for its insurance and financial services, but it offers bank products through Mutual of Omaha Bank. Mutual of Omaha Bank offers a range of CDs, savings and checking accounts. The full-service bank is based in Omaha, Nebraska.

In January, CIT Group announced it had completed its acquisition of Mutual of Omaha Bank. In the coming months, Mutual of Omaha Bank will transition to the CIT brand. For now, customer accounts remain unchanged.


Mary Wisniewski @MARYMWISNIEWSKI
Mary Wisniewski is a banking editor for Bankrate. She oversees editorial coverage of savings and mobile banking articles as well as personal finance courses. She occasionally writes on fintech trends — a beat she has covered for more than a decade. Mary is a frequent speaker at a variety of leading digital banking events and podcasts, including: Money Next Summit, the Money Experience Summit, the Future of Fintech, Fintech South, Breaking Banks and more. She was named as one of 200 revolutionists in fintech and one of top 100 fintech influencers in 2019. She was also a judge for the Finovate Awards in 2020 and 2019. Previously, Mary covered fintech for American Banker and edited op-eds for the publication's BankThink section. She was also a blogger and editor at Bank Innovation and served as a fashion editor for National Jeweler, where she reported on fashion shows and jewelry news. Her work has appeared in American Banker, Bankrate, the Associated Press, Star Tribune, Billboard, MSN and more. Her stories are referenced in numerous industry reports, like this one by Deloitte. Mary grew up in the Michigan suburbs and now lives in Los Angeles with a maltipoo, a record player and roller skates.