Mobile banking must-haves
Have you ever been away from home and realized that you forgot to pay a bill? Or you've needed to check your bank balance before making a big purchase? In the past, these situations would have caused problems for the typical banking customer. But now, with the rise in mobile banking, consumers can simply use their smart phones to authorize a payment or request a text with their bank balance.
Smart phones are taking the place of personal computers for many customers, says Greg Schwartz, chief information officer and senior vice president of USAA in San Antonio. "Anything that you can do on a dot-com platform, you should have the ability to do on a mobile platform," he says.
Are you taking advantage of all the mobile banking features available from your local financial institution? Here are five popular services consumers can use to enhance the banking experience.
Check balances before large purchases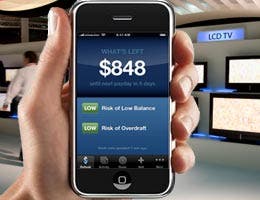 Consumers can use their mobile phones to quickly see how much money is available before making a large retail purchase, says Secil Watson, senior vice president for Internet and mobile banking at Wells Fargo in San Francisco.
She says banking customers report they often want to purchase something at a retail location with their debit card but don't know if they have enough money in their checking accounts. With mobile banking, customers can discreetly check their balance and know whether the sale would be approved, she says.
In addition, Watson says customers can sign up to receive text alerts when an account gets overdrawn or the balance drops below a certain point. "Being able to see account balances and detail are important requirements," she says.
Consumers who check their accounts regularly are helping to protect themselves from identity theft, says Ted Bissell, a management consultant with PA Consulting Group, a management and IT consulting firm in New York.
"Mobile banking helps people stay on top of their accounts, and the more people stay on top of their accounts, the more likely they are to reduce overdraft mistakes or become victims of fraud," he says.
Download banking apps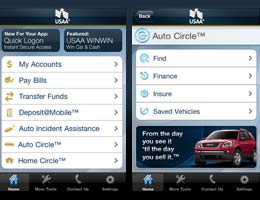 Many banks have custom-designed applications, or apps, for specific smart phones, such as the iPhone, Android and BlackBerry. These mobile banking apps often provide faster interfaces and added layers of security, such as password protection, says Bissell.
In addition, apps can provide customers with a more comprehensive banking experience. For example, Schwartz says USAA has an app called Auto Circle, which lets customers shop for auto loans and insurance for new vehicles from their mobile devices. "It helps simplify banking so that it's absolutely easy and intuitive," says Schwartz.
If a customer misplaces a smart phone that had a banking app downloaded, he should alert his bank and phone company as soon as possible so the service can be deactivated, says Watson.
However, the phone's owner would still have some protection if a stranger found the device. The information someone could get from the device would likely be no more than what's on an ATM receipt, says Watson. "It's not something that other people can take action on," she says.
Every bank is different; so before downloading an app, make sure you understand what security features your institution offers.
Find no-fee ATMs
When customers need cash but they're away from home, they can use their smart phones to find nearby teller machines. Many banks help customers find ATMs that are within the bank's network so their customers can avoid an ATM surcharge, says Bissell.
With mobile banking, this is possible because smart phones can take advantage of global positioning system, or GPS, technology to locate where the customer is, he says. If consumers can find ATMs that don't charge fees, they can save a lot of money, says Bissell.
Pay bills securely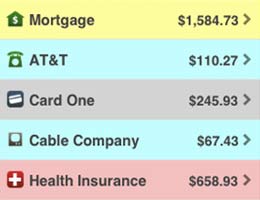 Smart phones allow consumers to pay outstanding invoices to the bank or third parties, even if they don't have access to their checkbooks or computers. That's because they can use their phones to sign into their checking and savings accounts and initiate a transaction or transfer funds, says Bissell.
This mobile banking feature is helpful for customers who may have forgotten to pay a bill in the past but are now very close to the due date. "They could avoid a late fee," he says.
Still, whenever it comes to sending money, security will always be a concern. Bissell says that for protection, banks use some of the same security measures with smart phones that they use with desktop access — such as encryption. "Once a session is encrypted, it's just as secure as any online banking application," he says.
Deposit checks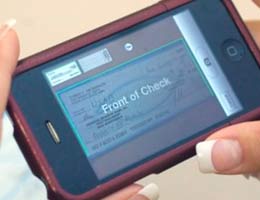 Some mobile banking customers have the ability to deposit a payroll or other check into their checking account by simply taking a photo of it from their phone and uploading it. "You can send an image to the bank and have it treated as a deposit," says Bissell.
Once a customer deposits the check, he or she can have immediate access to the funds in most cases, says Schwartz. He adds that this feature is especially important for consumers who bank at institutions that don't have brick-and-mortar branches. It's one major way for banks to connect with their members, wherever they are, he says.
Additional resources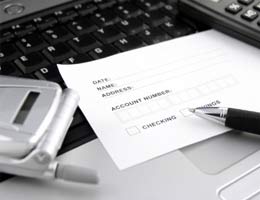 For more information on checking and saving accounts, check out these stories at Bankrate.com: