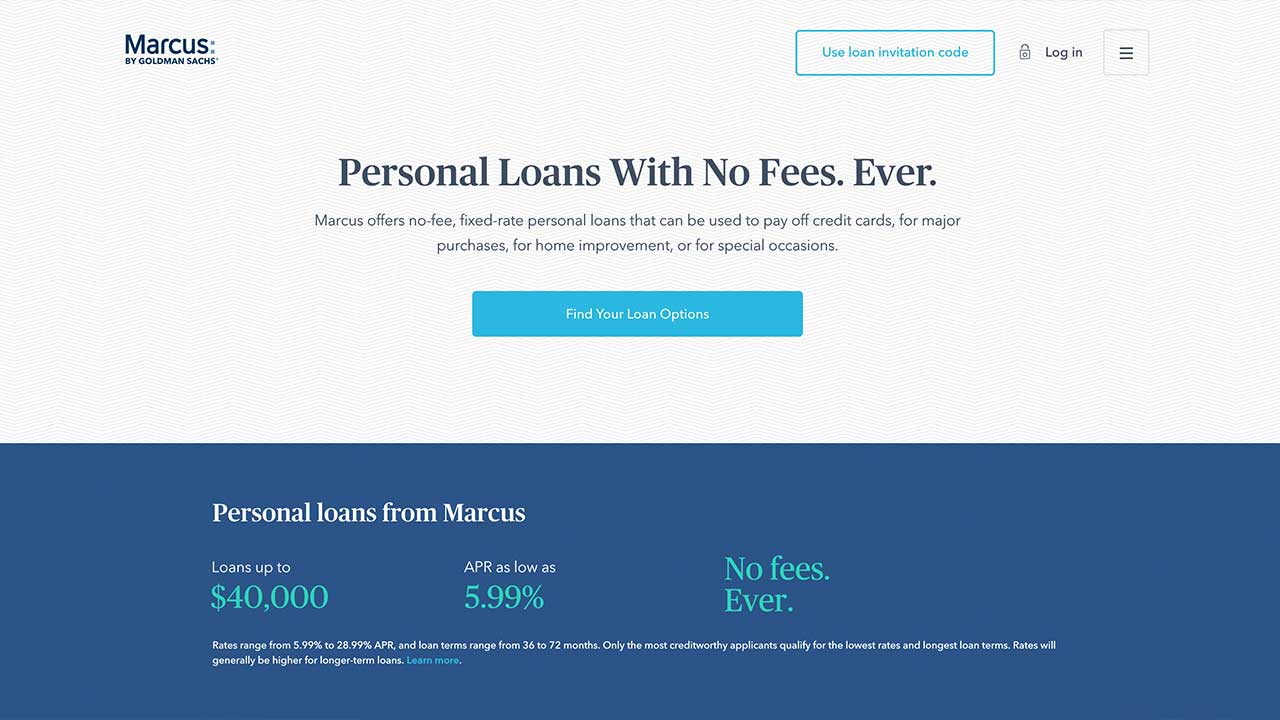 If you have good to excellent credit, you might consider Marcus by Goldman Sachs. Borrowers do not need to have an existing relationship with Goldman Sachs in order to be eligible. And, while a Marcus personal loan may not be used for educational expenses, they can be used to pay off credit cards and fund major purchases.
Get pre-qualified
Answer a few questions to see which personal loans you pre-qualify for. The process is quick and easy, and it will not impact your credit score.
Who is a Marcus personal loan good for?
Anyone with good to excellent credit. Most borrowers have a minimum FICO score of 700. Check your credit score for free before you apply.
Consumers with a low debt-to-income ratio. Calculate your debt-to-income ratio before applying. It may be difficult to get approval if you have a debt-to-income ratio of 40 percent or higher.
Borrowers who don't need to file a joint application. Marcus, like most lenders, does not allow multiple borrowers on a single loan.
Anyone looking to improve their credit score. Marcus reports to the three major credit bureaus.
Anyone trying to consolidate debt. By sending your loan funds directly to your creditors, you have a better chance of paying down your debts.
Borrowers who want flexible loan terms. Marcus loan terms range from 36 to 72 months, so you have some flexibility in your repayment schedule.
Who should not accept a Marcus personal loan?
Anyone with bad credit. If Marcus quotes a high interest rate, you may be better off with a different type of loan.
Anyone without an external bank account. When transferring money to or from a personal loan, you must have an external account.
People who are looking for a secured loan. All Marcus loans are unsecured, meaning that while Goldman Sachs cannot repossess your home, car, or other assets if you don't replay your loan, the company can sue you for your failure to repay. This could eventually lead to the loss of your assets or the garnishment of your wages.
Consider applying for a balance transfer credit card or a home equity loan if either of those offer more favorable terms.
The screening process for a Marcus personal loan is almost entirely virtual. This means there are fewer loan underwriting costs. As a result, Marcus by Goldman Sachs may offer better interest rates and quicker turnaround times than brick-and-mortar lenders.
Because Marcus personal loans are issued by Goldman Sachs Bank, the online lender charges no sign-up or origination fees. It relies on interest payments to make money on the loans.
If you make 12 payments on time, equaling a full year of repayments, Marcus rewards you by offering an "on-time payment reward." This means that you can defer one loan payment, thereby skipping one month of payments. Interest will continue to accrue on the loan, and your skipped payment will be added to the end of your loan. Once you've paid an additional 12 times in a row, you'll qualify for another deferment month.
Lending terms
Marcus personal loans can range from $3,500 to $40,000. They can carry a fixed annual percentage rate between 5.99 percent and 28.99 percent. The quote you receive is based on multiple factors, including credit history, the amount you're asking for and the length of time you're looking to pay it off. The maximum APR for New York residents is 24.99 percent.
How Marcus compares
| | Marcus | LendingClub |
| --- | --- | --- |
| Loan amounts | $3,500 to $40,000 | $1,000 to $40,000 |
| APR range | 5.99% to 28.99% | 6.95% to 35.89% |
| Origination fee | None | 1% to 6% |
| Minimum credit score | 660 FICO Score 9, 580 VantageScore 4.0 | 600 |
| Time to funding | About 2 business days | A week or longer |
| Soft credit check with application? | Yes | Yes |
The figures above are accurate as of April 2, 2019.
Unlike some of the other online personal loan companies, Marcus by Goldman Sachs does not charge any origination fees to process your loan.
Once approved for a loan, it takes about two business days to receive the funds in your bank account.
Minimum borrower requirements
Good to excellent credit (most Marcus borrowers have a score above 700)
Proof of employment, loan purpose, income and creditworthiness
Over the age of 18 (19 in Alabama and Nebraska, 21 in Mississippi and Puerto Rico)
Valid U.S. bank account and Social Security or Individual Tax ID Number
Fees and penalties
There are no late fees, but you'll continue to accumulate interest on the past due amount, and final payment will increase as a result.
Late payments, missed payments, partial payments and loan defaults will show on your credit report.
You won't be penalized for paying off your loan early.
How to apply
Go to the site and enter some basic information, including the loan amount, the loan purpose and your yearly individual income.
Marcus then will conduct a "soft" credit check, which won't impact your credit rating.
Upon approval, you will be able to review your options, including the possible fixed monthly payments and what the APR might be.
Before finalization, Marcus will do a "hard" credit check (which will impact your credit score).
What to do if you're turned down
If Marcus rejects your application and you believe your financial standing is strong enough, consider asking for clarification. The explanation could be as simple as a processing error, or there may be a negative mark on your credit report that you need to investigate.
If your credit is weak, consider applying for a personal loan at a credit union. You might find more favorable rates and fewer lending restrictions. A secured credit card is another option, which can help you rebuild your credit.
Get pre-qualified
Answer a few questions to see which personal loans you pre-qualify for. The process is quick and easy, and it will not impact your credit score.
A brief history of Marcus by Goldman Sachs
Launched in 2016, Marcus by Goldman Sachs offers unsecured personal loans to borrowers with good to excellent credit. Named for company co-founder Marcus Goldman, the lender is investment bank Goldman Sachs' entry into the online personal loans market.
How Bankrate Rates Marcus by Goldman Sachs
| Overall Score | 3.7 |
| --- | --- |
| Availability | 3.6 |
| Affordability | 4.5 |
| Customer Experience | 3.0 |
Editorial disclosure: All reviews are prepared by Bankrate.com staff. Opinions expressed therein are solely those of the reviewer and have not been reviewed or approved by any advertiser. The information, including rates and fees, presented in the review is accurate as of the date of the review. Check the data at the top of this page and the lender's website for the most current information.