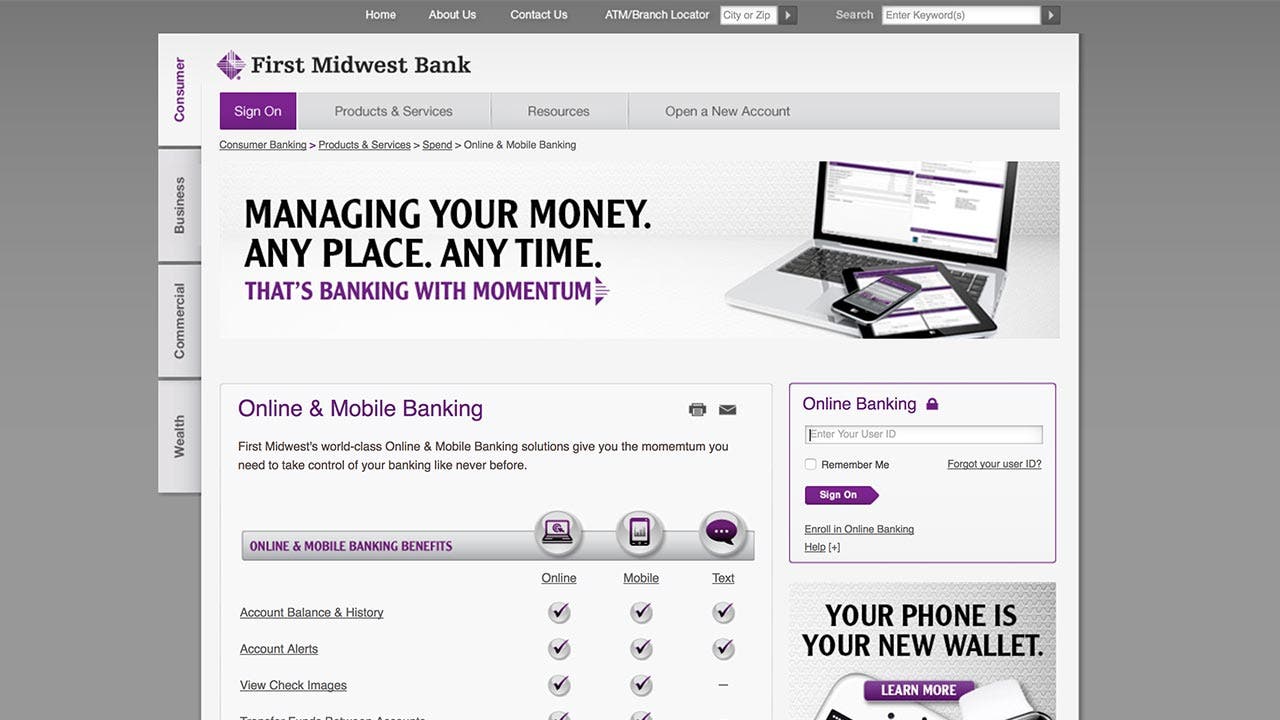 Founded in the wake of the Great Depression with the motto "The Friendly Bank," First Midwest Bank now boasts 125 branches — all in Illinois, Iowa and Indiana.
First Midwest offers personal loans, auto loans, home equity loans and specialty loans. Only its Express Personal Loan can be applied for online; all other loan requests must be made in-person at a branch.
The loans are available to consumers with good credit – meaning you should have at least five years of credit history free from bankruptcies, foreclosures or repossessions.
Who is this loan good for?
Lending terms
Minimum borrower requirements
Fees and penalties
How to apply
What to do if you're turned down
First Midwest Bank offers personal loans at rates competitive with that of credit unions, so they're typically lower than that of other bricks-and-mortar institutional lenders.
But not all borrowers will qualify — even if they have pristine credit.
The Itasca, Illinois-based bank offers loans to resident of 25 states: Arkansas, Colorado, Connecticut, Delaware, Florida, Georgia, Illinois, Indiana, Iowa, Kansas, Kentucky, Maine, Massachusetts, Minnesota, Missouri, Nebraska, New Hampshire, New York, North Carolina, Ohio, Pennsylvania, Rhode Island, South Carolina, Vermont, Virginia and Wisconsin.
Who is a First Midwest personal loan good for?
Anyone with good to excellent credit. The minimum credit score required is 680, according to the company. That's slightly lower than national average FICO score, which is 695. Check your credit score for free before you apply.
Consumers with a moderate debt to income ratio, that's the amount of debt you have compared to your gross monthly income. According to a company spokesperson, applicants with a credit score of 680 to 719 can't exceed a 40 percent DTI, those with a credit score of 720 to 759 can't exceed a 43 percent DTI and those with a credit score over 760 can't exceed a 45 percent DTI.
Borrowers who want to file a joint application. Banks like First Midwest are more likely to allow multiple borrowers on a personal loan than are online marketplace lenders.
Anyone unconcerned about their credit score. First Midwest reports your loan payments to TransUnion, one of the three major credit bureaus. That means any positive – or negative – impact of your loan would only be reflected on your TransUnion credit report. That isn't all that helpful to someone trying to improve their credit score.
How First Midwest Bank compares

| | First Midwest Bank | LightStream |
| --- | --- | --- |
| Loan amounts | $1,000 to 25,000 | $5,000 to $100,000 |
| APR range | 7.17% to 13.10% | 2.19% to 17.49% |
| Origination fee | $100 documentation fee | None |
| Minimum credit score | 680 | 680 |
| Time to funding | 2 to 3 days | Same day |
| Soft credit check with application? | Yes | Yes |
Who should not apply for a loan
Anyone with bad credit. If you have poor credit, First Midwest may not approve your loan. You may be better off with a different type of loan.
Consider applying for a balance transfer credit card or a home equity loan if either of those offer more favorable terms.
Lending terms
Unlike many online lending platforms, First Midwest Bank is a direct lender, meaning your personal loan comes from the bank, not a partner institution. Many personal loan companies make money by tacking on an origination fee, typically based on a percentage of your loan amount.
First Midwest doesn't charge an origination fee, but rather a flat $100 documentation fee for processing your loan.
It offers loans that range from $1,000 to $25,000. Its personal loans carry a fixed annual percentage rate of between 7.17 percent and 13.10 percent. The quote you receive is based on multiple factors, including credit history, the amount you're asking for, and if you want 12 to 60 months to pay it off.
Once approved for a loan it takes "two to three business days" to receive the funds in your account, according to a company spokesperson.
Minimum borrower requirements
The minimum credit score to borrow in Illinois, Indiana and Iowa where First Midwest has a presence is 680, although they will also consider other factors including employment and income. You're also required to have at least five years of credit history that is free of bankruptcies, foreclosures, repossessions and other major credit issues.
Although First Midwest can make loans to residents of 23 other states, the criteria varies by state law and other considerations, according to a company spokesperson.
Fees and penalties
First Midwest charges a flat $100 documentation fee for servicing each loan.
You won't be penalized for paying off your loan early.
Late payment fee is $10, 10-day grace period, included.
There are no fees for paying by check.
How to apply
The application process is straightforward and fast. Enter some basic information in the online application, including your name, Social Security number, employment information and income. The application also asks if you rent or own. Homeowners have to provide some information about their monthly payments including mortgage payments, amount remaining that you owe and the total value of your home.
The bank will not tell you online whether your loan has been approved, says a spokesperson, but will call you either with a decision or to request identification and other supporting documentation.
Applicants can either upload the requested information or go into a physical branch. When it's time to sign and finalize your loan, you have the option to e-sign or do it in-branch.
Before finalizing your loan, First Midwest will do a "hard" credit check with TransUnion, which can adversely impact your credit score.
What to do if you're turned down
If First Midwest rejects your application and you believe your credit and financial standing is strong enough, consider asking for clarification. The explanation could be as simple as a processing error. Or there may be a negative mark on your credit report you need to investigate.
If your credit is weak, consider applying for a personal loan from OneMain Financial. A secured credit card is another option, which can help you rebuild your credit.
Editorial disclosure: All reviews are prepared by Bankrate.com staff. Opinions expressed therein are solely those of the reviewer and have not been reviewed or approved by any advertiser. The information, including rates and fees, presented in the review is accurate as of the date of the review. Check the data at the top of this page and the lender's website for the most current information.