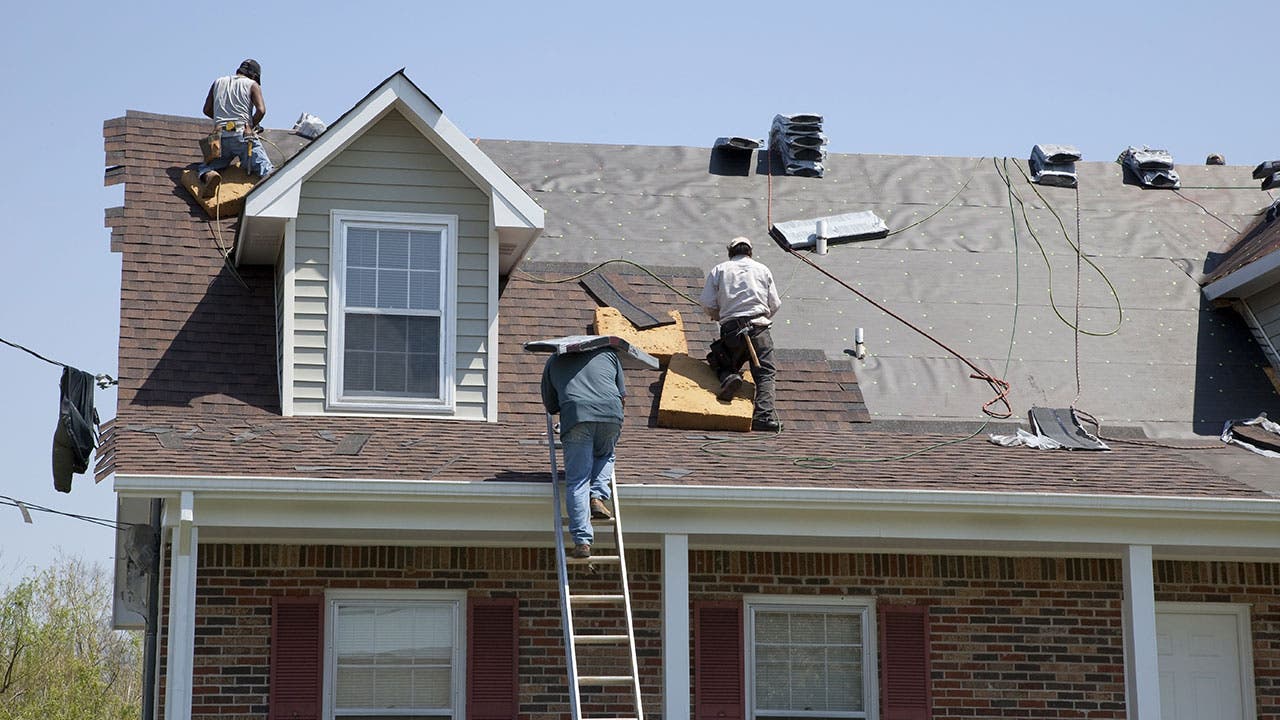 Remodeling your kitchen, painting your home, or replacing your roof can be a pricey proposition. If you choose the right project, however, your investment can pay off for decades in terms of personal enjoyment and improved resale value.
Home improvement loans are useful for financing:
Home improvement projects can also extend the life of your home, making it less likely you'll need to pay for pricey repairs years down the road. When you replace your roof and gutters, for example, you may be preventing future water damage and extending the life of your home's exterior components.
But not everyone has the cash to pay for expensive home improvement in full up front, and that's where home improvement loans come in. These loans are popular since they can help consumers pay for much-needed repairs and upgrades over time without eating away at emergency savings.
The most popular type of home improvement loan is a personal loan. This type of loan lets you borrow the money you need with a fixed interest rate, a fixed repayment timeline, and a fixed monthly payment that will never change. Another plus: personal loans are unsecured, so you can apply for this loan without putting up your house as collateral. In contrast, home equity loans and home equity lines of credit, or HELOCs, use the borrowers' equity in their home as collateral.
Best home improvement loans for 2019
Many home improvement loans also come with extremely low interest rates and no fees to speak of. Home improvement loan interest rates range from about 5% to 36% on average. Here are the best home improvement loans to consider in 2019, along with their details and who they are best suited for:
LightStream: Best loans for large renovations
This online lender offers home improvement loans for a variety of purposes ranging from room additions to kitchen and bath remodels. You may be able to borrow up to $100,000 if you qualify. Repayment terms are offered for up to 144 months, or 12 years. You'll get one of the lowest rates available today if you sign up for autopay, and these loans come with no origination fee and no hidden fees.
Average APR: 4.99% to 13.29% with autopay
Credit required: Good or excellent credit required
Good for: Borrowers with great credit who need to borrow a lot of money at low rates to complete their home remodeling project
SoFi: Best loans for all renovations
While SoFi is mostly known for student loan refinancing, the digital lender also offers high-quality personal loans that can be used for any reason. You can borrow as little as $5,000 or as much as $100,000 and repay it over two to seven years. SoFi loans also come with no origination fees or hidden fees. They even have an unemployment protection program that can temporarily pause your payments if you lose your job.
Average APR: 5.99% to 16.79% APR with autopay
Credit required: Good or excellent credit required
Good for: Consumers who have great credit and need to borrow up to $100,000 and have the ability to pay it off over 2 to 7 years
Marcus by Goldman Sachs is another online player that offers both high-yield savings accounts and personal loans. Their online loans come in amounts up to $40,000 and there are no fees. Applying online is fast and easy and you can get your funds within five days if your home remodeling project needs to start right away.
Average APR: 5.99% to 28.99%
Credit required: The best interest rates go to consumers with very good or excellent credit, or FICO scores of 740 or higher
Good for: Consumers who have good credit and need to borrow less than $40,000 for their project
Earnest: Best loans for large renovations
Earnest may be known for their private student loans and student loan refinancing options, but they also offer home improvement loans. You can apply online and get your money in just a few business days, and it's possible to borrow up to $75,000 if you have great credit. Earnest personal loans also come with no hidden fees.
Average APR: 6.99% to 18.24% APR
Credit required: While great credit is required to get the best rates, Earnest says they look at other factors to determine your creditworthiness, such as your education, spending habits and future earning potential
Good for: Anyone who needs to borrow up to $75,000 for a home improvement project and get their loan funded in a matter of days.
LendingClub: Best loans for small renovations
LendingClub is a peer-to-peer lender that makes it possible to borrow up to $40,000 for nearly any home improvement project. You can apply online, and you can even get a loan quote without a hard inquiry on your credit report. While there are no hidden fees, you will have to pay an origination fee between 1 percent and 6 percent of your loan amount.
Average APR: 6.95% to 35.89% APR
Credit required: Applicants with great credit can qualify for their lowest rates, but even those with subpar credit may qualify for a home improvement loan with a higher interest rate
Good for: Consumers with OK credit who need a home improvement loan and don't mind paying a higher interest rate
Recap of best home improvement loans of 2019
| Lender | Best for | Max. Loan Amount | Est. APR |
| --- | --- | --- | --- |
| Lightstream | Loans for large renovations | $100,000 | 4.99% – 13.29% |
| SoFi | Loans for all renovations | $100,000 | 5.99% – 16.79% |
| Marcus by Goldman Sachs | Loans for small renovations | $40,000 | 5.99% – 28.99% |
| Earnest | Loans for large renovations | $75,000 | 6.99% – 18.24% |
| LendingClub | Loans for small renovations | $40,000 | 6.95% – 35.89% |
What is a home improvement loan?
Home improvement loans are personal loans used to fund home repairs and renovations. Home repair loans are unsecured loans you can obtain based on your creditworthiness from a variety of lenders, including a bank, credit union or online lender.
Since unsecured loans don't require collateral, such as your home, you can obtain them at any time. These loans do not factor in the amount of equity you have in the house, townhome or condo. Home equity is the difference between the appraised value of your house and what you owe on your mortgage.
Home improvement loans can be an attractive choice for:
  Borrowers with good to excellent credit
  Borrowers who have recently purchased a home
  Borrowers looking to sell a home and need to spruce it up
  Borrowers who want to lease their home out to renters
Getting approval for a a home improvement loan can be done quickly compared to a home equity loan or HELOC. Borrowers often will receive their entire loan within a few days to a week.
The lender will give you a lump sum, such as $25,000, which helps you start a project quickly, especially if you need to purchase equipment or supplies or make a down payment to a contractor, plumber or electrician.
Another benefit is that your monthly payments will be determined in advance so that you can budget for this additional expense.
How do home improvement loans differ from home equity loans or HELOCs?
Here's a brief list of what makes home improvement loans different:
They're unsecured: Unlike home equity loans and HELOCs, there is no need to use your home as collateral. Instead, lenders rely on your credit score to determine creditworthiness and what interest rate they will charge you for the loan.
They have shorter repayment periods: Home improvement loans are generally repaid over two to seven years, depending on the lender. In contrast, home equity loans and HELOCs have repayment options of up to 20 years.
There's more freedom involved: The loan amount is not limited by the amount of available equity you have in your home. You can also use as little or as much of the money as you need, especially if your project is extensive and will last more than a few months.
They have fixed rates: Home improvement loans have fixed interest rates. That means your monthly payments will remain the same from month to month for the life of the loan. Borrowers can budget for their dream home without worrying about rising monthly costs.
The could potentially lower closing costs: The origination fees vary depending on the borrower's credit score, instead of a fixed 2 percent to 5 percent of the amount of a home equity loan.
When are home equity loans or HELOCs the better option?
Home equity loans are a better option for individuals who have lived in their home for several years, paid a 20 percent down payment and have built up a sizable amount of equity. Many homeowners prefer home equity loans because they offer lower, affordable interest rates due to the fact that the lender has less risk because the borrower has pledged the home as collateral.
HELOCs give borrowers the benefit of an extended draw period, or time frame in which they can tap the line of credit for cash. The average is 10 years, which means you can borrow money as you need it up to a certain limit for repairs or renovations. During the draw period, borrowers typically can make interest-only payments each month if they want. Borrowers can borrow as much or as little as they need similar to a credit card. For homeowners facing a variety of improvement projects with different costs and lengths, ranging from adding a new stove to adding a new room, a flexible HELOC might work best.
Most HELOCs come with a variable interest rate (often referred to as "floating rates"), which means the amount of money you pay back each month can increase or decrease. The amount of interest you pay is determined by a number of factors, including interest rate levels set by the Federal Reserve, investor demand for Treasury notes and bonds and the price movement of benchmark rates used by the banking industry. Each factor can affect your interest rate.
How to use a home improvement loan to increase value
Since not all home improvement projects are created equal, some will cost more while adding little to your property's value. Comparing the cost of the project to its value can help you determine the return when it comes time to sell.
The projects that recoup most of the costs, according to the Remodeling 2019 Cost vs. Value Report include the following:
  Garage door replacements (97.5 percent cost recouped)
  New manufactured stone veneers (94.9 cost recouped)
  Minor kitchen remodel (80.5 percent cost recouped)
You want to be sure you're getting the most bang for your buck with any home improvement. Just because you want to add a gazebo or hot tub doesn't mean the next buyer will be a fan.
What you'll need when applying for a home improvement loan
Shopping around will help you find the most competitive rate possible. Once you determine your timeline, type of project and cost, it is time to apply for a loan.
Here's what you'll need to have ready before applying for a home improvement loan:
Your credit score: The most favorable rates often go to borrowers with the highest credit score. Every lender you apply with will ask for your credit score and credit history.
The cost of your project: Home improvement projects can vary widely in cost. Remodeling your powder room won't cost the same as replacing all the windows in your home. Before applying, know the cost of your materials and length of your project. Don't borrow more money than you need.
Your debt-to-income ratio: You can calculate your debt-to-income ratio by dividing all of your monthly debt payments by your monthly income. On average, home improvement lenders consider a 20 percent debt-to-income ratio low. Many lenders will consider borrowers with higher ratios, but the cutoff is around 50 percent.
Your personal information: This includes information such as your Social Security number, employment history, income, employer information and a list of any monthly debts, such as a car loan, student loans and credit card payments.
Alternatives to home improvement loans
If you choose not to obtain a home improvement loan, a home equity loan or HELOC, you can choose to get a personal loan.
A personal loan is a fixed amount loan that is distributed in a lump sum. Most people take out personal loans to make a large purchase, pay off medical bills or consolidate debt. These are unsecured loans which means you don't have to provide collateral. These loans are very similar to home improvement loans and will likely have a higher interest rate than a home equity loan or a home equity line of credit.
Another option is to use a low-interest credit card or cards offering a 0 percent rate for 12 to 18 months and make monthly payments that will reflect any purchases of supplies or equipment. This could potentially lower your credit score, however, if your home improvement project becomes more expensive than planned or takes longer thank expected.
How to choose the best home improvement lender
Using a personal loan for home improvements can be a quick and easy way to increase the livability, curb appeal and value of your home.
Start by shopping for a home improvement personal loan offer that works best for you. Compare offers from a variety of lenders such as banks, credit unions and online marketplaces.
Once you've found an offer, you can also use a loan calculator to see how much you'll pay from month to month.
Learn more: