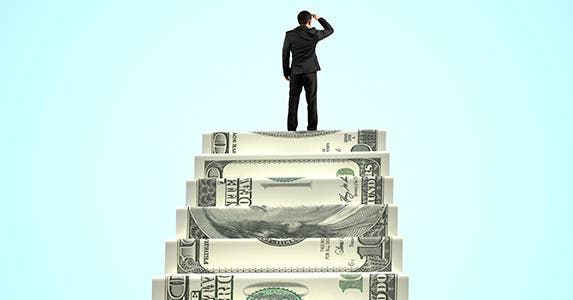 The best way to invest money
It's easy to look at the past couple of decades and kick yourself in the buttocks for all the investment paths not taken. What if, for instance, you had just put some money into a little stock called Amazon.com back in the late '90s?
Fantasies of big payoffs often don't consider the downside: Most big bets don't pan out. The stock market graveyard is littered with thousands of defunct companies that took the hopes and dreams of investors, along with their money, down with them.
"When you go into a very narrow strategy, you either win big or lose big," says CFP professional Michael Silver, partner at Baron Silver Stevens Financial Advisors in Boca Raton, Florida.
Diversification across investments lowers the risk of a big loss, but it also mitigates the likelihood of a home run. That's why most small investors are better served by investing in mutual funds or ETFs. Yet, funds that specialize in industries or sectors can still have an extremely narrow focus.
What's the best way to invest money? Famous fund manager Peter Lynch once advocated for investing in what you know. So what if, 10 years ago, you took that advice and put a $100,000 windfall into a sector that you felt passionate about?
What follows is an analysis of how particular sector funds performed over the past decade, based on performance numbers provided by Morningstar. With the benefit of hindsight, we chose the best performing funds in the gold, real estate and technology sectors. We also looked at the top performing socially responsible fund, as well as a portfolio of index funds. Finally, we checked out what would have happened to $100,000 if it were invested in something safe, such as a certificate of deposit. Read on to see what we discovered.
Investing in gold
Van Eck International Investors Gold
Ticker: INIVX
Beginning balance: $100,000
Ending balance: $148,645
Annualized return: 4.04 percent
Van Eck International Investors Gold fund invests in gold-mining companies. Profits in gold mines are " driven by the gold market and the things that drive gold," says Joseph Foster, portfolio manager of the Van Eck International Investors Gold fund. "Very broadly, (the price of gold) is driven by financial stress.
"A lot (of people) think (the price of gold) is driven by inflation, but it's also driven by deflation and currency turmoil. Any type of banking problems, really, any type of financial stress and especially when it impacts the U.S. economy — that is what really drives gold bull markets. Stress or tail risk is what really drives gold," he says.
Gold is an unusual asset. The price of gold is not correlated with stocks and bonds. But going all in on a gold fund may not be the best way to invest money.
Some experts say that the best use of gold in a portfolio would be as a small hedge against calamity. That's because when the stock market is tanking and investors believe the sky is falling, the price of gold could be rising. In a severe downturn, a portfolio with a small allocation to gold could see less of a decline than one without.
"But now, six years out of the recession with the economy improving and still no sign of inflation, gold has gone nowhere but down," says Phillip Christenson, CFA, founder of Phillip James Financial in Plymouth, Minnesota. "This is a great lesson in diversification. Whether you believe in an investment or not, you should stay diversified so your return isn't determined by one single asset class."
Investing with a conscience
Parnassus Core Equity Investor
Ticker: PRBLX
Beginning balance: $100,000
Ending balance: $266,846
Annualized return: 10.31 percent
It's not apparent from the name of the fund, but the managers of Parnassus Core Equity Investor consider environmental, social and governance, or ESG, issues before investing in companies. The fund also has a value bent and invests mainly in companies that pay dividends.
The low-turnover fund is more concentrated than most, investing in about 40 companies. The top five holdings make up nearly 20 percent of assets. Morningstar analyst Laura Lallos notes that in 2008, the fund managed to lose less money than 98 percent of its peers, mainly because it avoided financial stocks and housing names.
While its emphasis is on ESG criteria, Parnassus also shuns so-called "sin stocks" that get their revenues from alcohol, tobacco, weapons or gambling.
"Critics of these funds say that the costs associated with additional research and self-imposed restrictions on potential investments can hurt investor returns," says Christenson, who adds that these restrictions certainly didn't hurt this fund.
Investing in real estate
Pimco Real Estate Real Return Strategy
Ticker: PETAX
Beginning balance: $100,000
Ending balance: $312,066
Annualized return: 12.05 percent
Following the great housing bust of the mid-2000s, no one wanted to touch real estate investments with a 10-foot pole. "But if you held on through the tough times, you are likely still ahead. Disciplined investing can and does pay off if you have a long-term investment strategy and don't panic when the market is down," says Christenson.
Pimco Real Estate Real Return Strategy doesn't invest in physical real estate such as apartment buildings or other commercial property, nor does it invest in real estate investment trusts, or REITs. Instead, the fund invests in derivatives such as REIT total return swap agreements. A swap agreement is a contract in which two parties agree to exchange a series of payments — for instance, trading a set of fixed-rate interest payments for a series of floating-rate interest payments.
It sounds complicated, but the strategy "removes some of the risk of dealing with individual properties and the problems that come with them," Christenson says.
"The main role of PETAX is to get REIT or dividend-paying real estate exposure into an equity portfolio. Over long periods of time, one will find this portfolio to have a good correlation with real estate prices," says Mihir Worah, the portfolio manager for the fund and chief investment officer, real return and asset allocation, at Pacific Investment Management Co.
Investing in tech
T. Rowe Price Global Technology
Ticker: PRGTX
Beginning balance: $100,000
Ending balance: $388,320
Annualized return: 14.53 percent
One of the major benefits of mutual fund investing is instant diversification. But not all funds diversify the same way, and mutual fund investors could be unwittingly taking on a lot of risk if they don't understand how the fund invests.
"I think it is important to peel back the onion and understand the concentration of the fund. If the fund owns 1,000 companies but the first 10 make up 90 percent, you're not really diversified," says CFP professional Jonathan Duong, CFA, founder and president of Wealth Engineers in Denver.
Google and Amazon account for 25 percent of the holdings in the T. Rowe Price Global Technology fund. The concentration is a feature, not a bug, in the portfolio.
"Its emphasis is on leading global technology companies and typically, a minimum of about 30 percent of companies in the portfolio are located outside of the U.S.," says Bill Benintende, a spokesman for T. Rowe Price. "As a sector fund investing in a dynamic industry, the fund is less diversified than a non-focused fund, which means it falls on the more aggressive end of the risk/reward spectrum."
Obviously, investors in this fund have been handsomely rewarded over the past 10 years. But putting such a large amount of money in a technology fund may not be the best way to invest.
"The typical investor is someone who is willing to assume the higher level of risk and volatility associated with sector and global investing, and is willing to invest for the longer term," says Benintende.
The CD portfolio
Beginning balance: $100,000
Ending balance: $134,279
Annualized return: 2.99 percent
For long-term investors, investing too conservatively can be nearly as bad as investing too aggressively. Behavioral finance experts have observed that investors weigh the pain of a potential loss twice as heavily as the happiness a commensurate gain could bring. As a result, risk-averse investors may put their money in an all-CD portfolio that barely moves the needle when it comes to returns.
There's an insidious risk being taken when investing in CDs: inflation risk. The average annual inflation rate between 2005 and 2014 was 1.99 percent, according to data from the Bureau of Labor Statistics. That makes the real return of the CDs a whopping 1 percent — not a lot of compensation for tying up your money for 10 years.
"This highlights the relationship between risk and return: The more risk you take, the greater the chance of reward," says Christenson. "Being invested in CDs certainly eliminated some of the volatility of being in the markets over the last 10 years, but at what cost?"
Because of inflation, an investment in CDs is essentially worth just about the same amount as when you started.
"Said another way, the $134,000 value of your portfolio will buy you the same amount of goods and services that $100,000 would have purchased 10 years ago," Christenson says.
In general, riskier investments generate higher returns. With just a little bit of effort, even the most loss-averse investor could get their money to work harder for them.
'The Gone Fishin' Portfolio'
Vanguard Total Stock Market Index (VTSMX) — 15%
Vanguard Small-Cap Index (NAESX) — 15%
Vanguard Emerging Market Index (VEIEX) — 10%
Vanguard European Index (VEURX) — 10%
Vanguard Pacific Index (VPACX) — 10%
Vanguard High-Yield Corporate (VWEHX) — 10%
Vanguard Short-Term Investment-Grade Bonds (VFSTX) — 10%
Vanguard Inflation-Protected Securities (VIPSX) — 10%
Vanguard REIT Index (VGSIX) — 5%
Vanguard Precious Metals and Mining (VGPMX) — 5%
Beginning balance: $100,000
Ending balance: $206,249.81
Annualized return: 7.51 percent
This portfolio consists of 10 index funds, with a 60 percent allocation to a mix of five stock funds, a 30 percent allocation to three bond funds and 5 percent each to a REIT fund and a precious metals fund.
"You start with a realistic but agnostic view on the future, knowing that all asset classes, if history is any guide, will give a decent return in the future," says Alexander Green, chief investment strategist of the Oxford Club and Investment U, who created this portfolio and wrote a book about it called "The Gone Fishin' Portfolio."
"But you can't know in advance which ones will perform best in a given year," he says.
Diversification reduces the pressure to pick the correct sector, industry, fund or company that will outperform. Instead of getting a slim chance to knock it out of the park, you're guaranteed a series of base hits, which is always better than striking out.
"What I suggest is that you put together a portfolio of 10 different asset classes. Simply hold in the cheapest and most tax-efficient way you can, (using) Vanguard mutual funds or ETFs. And then rebalance them once a year to bring the asset allocation back into alignment," he says.
Low fees help make this strategy worthwhile. The more investors pay in fees, the lower their return will be. Patiently investing in the broad market through a diversified basket of index funds lowers risk and offers reasonable returns — though for this time period the portfolio underperformed the large-cap benchmark, the S&P 500.