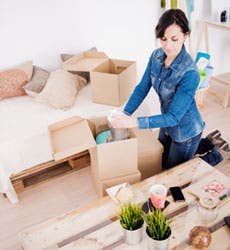 Young adults are delaying homeownership for several reasons. But if they hope to avoid financial chaos as renters, some of them are making a potentially costly mistake in the process.
More than half of millennials — 56 percent — do not carry renters insurance, according to a recent survey by Nationwide Insurance. This type of policy would protect their personal possessions from damage or loss.
Why they don't have it
The survey found that 3 out of 4 millennials without renters insurance aren't aware of the relatively low costs associated with the coverage, Nationwide says.
"It's clear that there's a misconception among millennials about the importance of renters insurance and how much it really costs," Matt Jauchius, Nationwide's chief marketing officer, says in a statement.
Also, more than 40 percent of those without renters insurance don't think it's necessary. Yet 68 percent of millennial renters believe it would cost more than $5,000 to replace their stuff in the event of a loss.
Nationwide surveyed 1,028 renters between ages 23 and 35.
Laptops are most-prized possessions
A few other key findings:
52 percent of the renters who carry renters insurance say they have it because they want to feel protected.
Renters' two biggest fears are fire and theft, at 41 percent and 31 percent, respectively. A zombie apocalypse is a fear for 3 percent of renters.
24 percent of renters admit they would save their laptops before anything else — including family heirlooms — in the event of a catastrophe.
30 percent of renters don't realize that house party disasters may be covered by renters insurance, including broken doors or injured guests.
"For the $20 renters spend on items such as coffee and streaming video, they can get excellent coverage to help protect their belongings," Jauchius says.
The survey was conducted by market research firm Harris Interactive.
What's all the stuff in your apartment worth? Read our primer on purchasing renters insurance.
Follow me on Twitter: @CrissiPonder.