Student Credit Card Reviews
At Bankrate we strive to help you make smarter financial decisions. While we adhere to strict , this post may contain references to products from our partners. Here's an explanation for . The content on this page is accurate as of the posting date; however, some of the offers mentioned may have expired. Terms apply to the offers listed on this page. Any opinions, analyses, reviews or recommendations expressed in this article are those of the author's alone, and have not been reviewed, approved or otherwise endorsed by any card issuer.
A student credit card can help you enjoy financial flexibility, earn rewards and build up a credit file during your college years. The best credit cards for students offer credit limit increases for on-time payments, cash-back on purchases, 0% intro APR offers, low-APR balance transfers and even cash bonuses for good grades.
To get started, you need to find a student credit card that fits your spending and financial management needs. To stretch a tight student budget, look for a cash-back card that pays you back on daily expenses like groceries, take-out and fuel. For large purchases or school fees, a student credit card with a 0% intro APR offer can help you avoid interest charges while you pay off balances.
Our Bankrate experts rated the best credit cards for students based on several factors. Accessibility and credit requirements, credit-building features, fees, APR and perks like cash-back rewards are the key criteria we used to make our evaluations. In our credit card reviews below, you can compare offers and find expert recommendations for your budget and spending habits.
Featured Card
Intro Offer: Unlimited Cashback Match™ - only from Discover. Discover will automatically match all the cash back you've earned at the end of your first year! So you could turn $50 cash back into $100. Or turn $100 into $200. There's no minimum spending or maximum rewards. Just a dollar-for-dollar match.
Discover it® Student Cash Back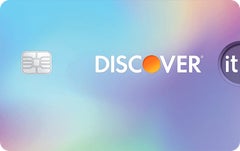 Discover it® Student Cash Back
Featured card comparisons