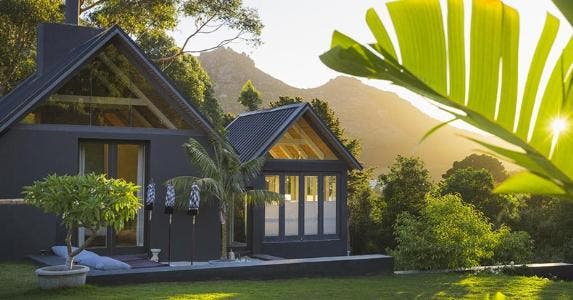 Portra Images/DigitalVision/Getty Images
If you're a frequent traveler to destination resorts, a time-share sales pitch is almost inevitable.
For a free dinner or other perks you'll be pushed to make an on-the-spot purchase at a price typically good for that day only — payable by cash, a credit card or personal loan from a lender working with the developer.
Personal loans through a lender working with the developer are the choice for most time-share buyers. They pay an average of $20,000 for a new time share though prices can range from less than $10,000 to more than $85,000. Interest rates average 14% for a term of almost 10 years, according to the most recent statistics from the American Resort Development Association (ARDA) in Washington, D.C.
Avoid developer financing
But that's the less savvy way to get a time-share loan.
"Most (consumers) I hear from are using the developer's financing as they are unaware of any other alternatives," says Lisa Ann Schreier, founder of the consumer consulting company Timeshare Insights in Clermont, Florida. "If a consumer can obtain a personal loan (elsewhere) for the time share, the interest rate can be significantly lower as typical developer financing runs 15% to 19%."
The sooner you realize that buying some type of vacation time slot — "time share" is a generic term — is like buying a car or big furniture set, the better you'll understand how you'll finance it and what it'll provide you. (But unlike a dining room set, time shares also carry maintenance fees that average $880.)
Because time-share sales are geared to people who make the purchase while on vacation, it's tough to go home to get a personal loan and then go back to the resort. Your best bet is to get the loan before your next vacation, so you're ready to sign off on your purchase right away. You'll have a right of rescission on the deal, which varies by state from 3 to 15 days.
"It's smart, and the more savvy consumers understand that that's an option," says Todd Nelson, business development officer at LightStream.com, the online consumer lending division of SunTrust Bank.
But not all lenders welcome loans for time shares nor are time shares mortgaged like your house is.
Lenders won't mortgage a time share
"There is no direct lending market for time-share buyers," ARDA said in a letter to the Consumer Financial Protection Bureau (CFPB) in 2012 when the bureau was drafting new mortgage-lending rules.
Lenders won't mortgage a time share because they haven't been successful in resales or in their valuation, says Patricia Hayhurst, mortgage consultant for Capital Bank in Coral Gables, Florida. "They are considered high-risk lending."
Personal loans can be made, but borrowers may go through the same vetting process — tax returns, credit scoring and income verification — as they would for a mortgage. But because personal loans are unsecured, time shares won't be used as collateral, Hayhurst says.
RATE SEARCH: Check out personal loan rates for a time share today.
Nelson says LightStream considers what a borrower will use the loan for but, like most personal loans, greater emphasis is placed on good credit and an ability to show that you can save money. If borrowers can show that, "we'll give them $20,000, regardless of whether it's for a horse, to adopt a child or buy a time share," he says.
The loan also will cost less than a developer's loan. According to LightStream's website, a loan for $10,000 to $24,999 carries an interest rate of 5.99% to 11.34% for terms ranging from 24 to 72 months.
Resale not easy with time shares
But financing might be the least tricky aspect of time shares. Expect your time share to grow in value or be an easy sell to another happy vacationer, and you'll be sorely disappointed.
Both issues play into a continuing problem with time-share loan defaults.
You should buy a time share to use — not invest in — because they typically don't increase in value, the Federal Trade Commission says. And getting rid of the thing can be very difficult and make you a juicy target for scam artists.
RATE SEARCH: Want to buy a time share? Consider a personal loan. 
A time share's value "is by use and not spending money on hotels, bed taxes and eating out at restaurants," says Howard Nusbaum, ARDA president and chief executive officer. "But if you buy it to use for 3 years and have a loan and try to sell it, you won't be happy."
In fact, loan defaults have risen every year since the Great Recession from an average 10% to as high as 30%, says Brian Rogers, founder of The Timeshares Users Group in Orange Park, Florida, a time share-owner advocacy organization.
LightStream's Nelson declined to state the company's default rates but says Rogers' statistics "sound about right."
A constant battle against loan defaults
"Resorts fight a constant battle with (loan defaults) because owners discover that selling a time share sucks," Rogers says. "A lot of them end up with scammers who tell them they'll get $30,000 for their $18,000 units, but they want money upfront, and then they don't do anything."
According to Nusbaum, most owners are current on their personal loans, but he also cites the high creditworthiness of developers' buyers. So the issue of loan defaults depends on what and where you own. And if owners aren't current on their loans, they can't use the time share, Nusbaum says.
As for the resale "value" of time shares, Rogers says they are extremely low. Buyers of resale time shares will pay from 0% to 10% of the original purchase price, and typically that's in an upfront cash deal. Resale time shares can be had for $1 to $1,000, he says.
Secondary vs. prime resorts
Resale prices depend on location, Nusbaum says. A decades-old "legacy resort" in what he calls a "secondary location," without a sales division, might be tough for resale. But top resorts have exit programs for owners. Some demand the right of first refusal to buy back the time share or sell it for owners, he says. Developers also offer owners the ability to transfer ownership into rewards points or cruises that may not transfer if owners sell outside the resort system.
You rarely can ever make money on a time share. "If I bought a 2-bedroom time share for $3,000 in 1982 on Sanibel Island (on the southwest Florida coast), I could probably sell it for $15,000, but that's the exception," Nusbaum says.