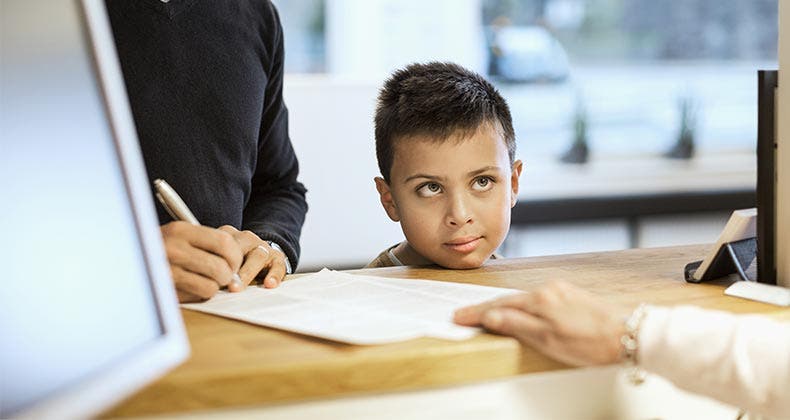 No, crossing your fingers doesn't make it OK to lie on a loan application.
A lender might not check your inflated income claim on a personal loan application, but that doesn't mean it's OK to say you earn more than you do. That's fraud, and it can have real consequences.
An example: The Michigan attorney general's office this week filed criminal charges against a state representative accusing him of producing fake income statements when he applied for a personal loan in 2010.
Rep. Brian Banks was charged with 2 counts of uttering and publishing false information and 2 counts of using "a false pretense" to get the $3,000 loan from Detroit Metropolitan Credit Union. The most serious of the charges carries a prison term of 14 years upon conviction.
Fairly elaborate fakery
An unidentified witness told authorities that Banks paid her to create 2 phony pay statements that the man used to demonstrate that he was employed at the time of the loan application. Banks, who claimed a monthly gross income of $7,392, was not employed by the company, which "never had sufficient revenue to hire regular staff," according to an affidavit filed by an investigator with the attorney general's office.
"In making her decisions on Banks' loan (the loan officer) relied on the pay statements that Banks submitted and the letter from (the purported employer) stating that Banks' pay would be directly deposited into" an account at the credit union, investigator Peter Ackerly wrote. The loan officer "called the telephone number on this letter to verify the information in it and spoke to a woman that verified Banks' employment and the direct deposit as provided in the letter."
What happened next
Banks was approved for the loan, then made just 1 payment. He repaid the loan only after the credit union sued him, according to the affidavit.
An attorney for the lawmaker, who has prior felony convictions for writing bad checks, told the Detroit Free Press the charges were politically motivated.
"He took out a $3,000 loan in 2010 and paid it off in 2013, and now 3 years later he's being prosecuted," the attorney said. "It just stinks. It's a political witch hunt."
RATE SEARCH: Let Bankrate help you find the best personal loan rates today.
Income not always verified
When you fill out a loan application, you'll be asked to provide your salary and employer information. You also may be asked to provide pay stubs, tax returns or bank statements, but that doesn't always happen.
For example, online lender Prosper Marketplace says it verifies employment, income or both on about 58% of its loans. The firm cautions investors against relying on self-reported information when making investment decisions.
"Applicants supply a variety of information regarding the purpose of the loan, income, occupation, and employment status that is included in borrower listings," the company wrote in its prospectus. "We do not verify the majority of this information, which may be incomplete, inaccurate or intentionally false."
Another online lender, Lending Club, says it conducts income and employer verification on about 72% of its loans. Verification may be triggered:
"Based on select information" on the credit profile or application.
By "conflicting or unusual" information found in the application, like a stated income that appears inflated relative to the stated job title.
When fraud is suspected.
"We believe that verifying a borrower's income or income source may be useful in certain circumstances for screening against exaggerated income and for validating the borrower's ability to repay a loan," the company says on its website. "However, we believe it is not necessary to verify this information for all borrowers."
What happens if you get caught
Going to prison for lying on an application is rare, but it does happen. For instance, a North Carolina woman was sentenced to 60 months in prison in 2015 after she pleaded guilty to providing false information regarding her income and assets to obtain personal loans. Prosecutors allege she used the money to help finance a $1.85 million home.
And in 2014, an Ohio woman was sentenced to 14 years in prison for using other people's identities to take out loans at Lending Club and other institutions.
Even if your intent isn't criminal, you could lose your loan.
Prosper says 11% of the applications it verifies contain false or insufficient employment or income information. In those cases, the company cancels the loan before it is funded.
Meanwhile, Lending Club says that if it learns after a loan has been funded that a borrower made any "material misrepresentation" or committed fraud, it could demand immediate repayment.