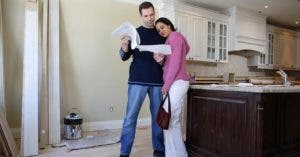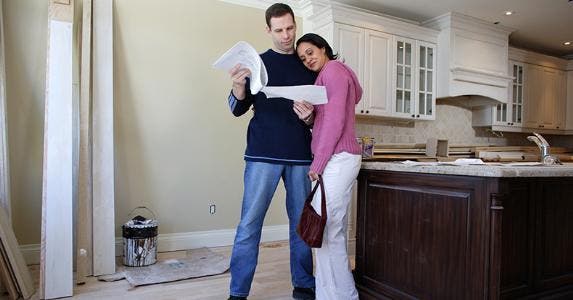 In a 2017 study, AARP found that 95 percent of people ages 65 and older preferred to stay in their own homes as they aged. It's a process known as aging in place – in which older homeowners retrofit their homes to accommodate growing older. It's a popular alternative to relocation, whether it's to a nursing home or retirement facility.
Staying in your own home as you grow older offers many benefits. Homeowners can enjoy a stronger sense of safety, comfort, independence, and privacy. Though the renovation cost may be high, it can still be cheaper to age in place than it would be to move to an assisted-living facility.
For a room-by-room guide on aging-in-place renovations, check out AARP's HomeFit Guide.
For the budget-minded homeowner, there are a number of ways to finance the aging in place process, including:
Home equity loans/home equity lines of credit (HELOC)
Reverse mortgages
Government grants and loans
It is best to begin planning for aging-in-place renovations early, before you retire. If you haven't, there are still financial steps you can take in order to remain in your home. Our fully accessible aging in place financial guide can help you comfortably grow older in your own home.
What's your current situation? Choose an option below.
I'm still employed, and I haven't retired yet
I'm retired and on a fixed income
I'm moving in with a family member
I'm still employed and I haven't retired yet
Best for you: home improvement loans or home equity loans/HELOC
If you're still employed but considering aging-in-place, retirement may be on the horizon. At this point in life you may own a home. Maybe you're also considering renovating your property.
If you are, you can incorporate aging in place into your renovations. Renovating your home for old age doesn't have to result in a cold and clinical design. In fact, according to Home Advisor, it's better to integrate aging in place into other home improvement projects. This way you can have the interior design you want – while laying the groundwork for future renovations.
For example, let's say you're redoing the cabinets in your kitchen. Perhaps you could consider replacing the knobs with D-shaped pulls to make gripping easier as you age. Small steps like that can help prepare for larger aging in place renovations in the future.
Currently, men and women both reach their peak earning years in their 40s. So your credit score may be the highest it's ever been, and you may have the most equity in your home.
Your two best financing options may be to consider a home improvement loan, or a home equity loan. The option that works for you will vary according to your financial situation.
There's benefits and drawbacks to both types of loans:
Home improvement loans are personal loans taken out for funding home renovations. These loans are unsecured, and rely entirely on your credit score / history. You won't have to tap into your home's equity. But since home improvement loans are unsecured, interest rates are generally higher.
Home equity loans and HELOCs do tap into your home's available equity. Since they're secured by your home, the interest rates should be lower.
Home improvement loans work best for short-term expenses. Home equity loans/HELOCs tend to come with repayment periods of anywhere from 15 to 30 years. If you are at all unsure if you will continue to live in your home past retirement, but still want to plan just in case, we recommend a home improvement loan.
I'm retired and on a fixed income
Best for you: home equity loan/HELOC, government assistance, reverse mortgages
At this point, you may need renovations for the direct purpose of aging in place. For example, AARP recommends that older homeowners install nonslip flooring as well as a low rise shower with a no-step entry.
But how can you finance these renovations after retirement?
For many retirees, Social Security is their only source of steady income. But you may still be unsure about where you want to live — and it might be more difficult now to begin the renovation process.
It's still possible to fund a home improvement project after retirement, but you'll need a different strategy. Taking out a home improvement loan may result in higher payments than you can afford. Instead, consider capitalizing on your hard work.
Your best options may be to utilize the equity you've build up in your property, or find more favorable rates in government-based loans.
Examine your savings before taking out any loan that taps into your equity. You may be able to pay for some renovation costs up front, while still ensuring you can live comfortably in the future.
If you choose to tap into your home's equity, you should be sure that you're going to remain in your home for as long as possible. Home equity loans/HELOCs have an average lifespan of 15 to 30 years. And a reverse mortgage will come due when the borrower either dies, sells the home, or permanently moves out.
These loans do still need to be repaid, but you may get a better interest rate than with a home improvement loan. Each loan is secured by your property, and your equity helps determine the value of your loan. And as always, never borrow more than you need.
If you think you can qualify, the Department of Housing and Urban Development offers several federal loans. For example, Title 1 Property Improvement Loans let borrowers take out a loan from eligible lenders. Each loan is insured by the federal government, so borrowers may be able to find a lower rate than they would elsewhere.
I'm moving in with a family member
Best for you: Proceeds from your home sale, personal loan, low-interest credit card
Best for your loved one: Home equity loan/HELOC
Moving in with a family member or loved one may mean you have fewer options for customizing your living space. It may not be the most ideal for aging in place, but gives you the chance to live with your loved ones and have a home within a home. To start, talk with your loved one about potential renovations they might allow to make the property safer and more accessible.
The most important changes will be in the room or suite you'll be staying in. These can include things like:
Installing motion-activated lights or lighted switches

Switching out door knobs for levers

Replacing tile with carpet or other non-slip flooring options

Widening doorways for walkers and wheelchairs

Removing blinds and hanging light window coverings to maximize natural light

Installing handrails on or near the bed
If they're amenable to these smaller updates, you may also want to speak with your loved one about renovating any common areas. Open shelving in the kitchen, grab bars in the bathrooms and a ramp at the front stoop can all be small but effective adjustments to help you age safely in your new home.
Naturally, you'll want to help your loved one pay for these renovations or cover them in full. If you're selling your home before move-in, the sale proceeds can go toward any renovation costs you might encounter. If you're not selling a property, you may consider a personal loan or a low-interest credit card to cover the costs.
If you're on the other end of the equation — and an aging loved one is moving into your existing home — then carefully consider the space in which they'll live. If you don't have a dedicated room they can stay in, then you might consider adding a mother-in-law suite or accessory dwelling unit on the property.
If you do have an available room, make an effort to improve its accessibility before they move in. The small changes above are a great place to start, as are updates to the bathroom they'll be using. These can include:
Adding a fold-down seat in the shower

Installing handheld showerheads

Adding grab bars in the bathtub and around the toilet

Putting non-slip mats or tread in showers and tubs

Installing a taller toilet
A home equity loan can help you cover the costs of these improvements, as well as any your loved one may require later as they age. You may also consider a home equity line of credit, depending on your financial situation.
Accessibility notice
Our assistive guide was developed to accommodate the special needs of older homeowners. The content was created for complete interpretation by all readers including those with visual, hearing, and other physical disabilities. It was built to work with voice assist and other assistive technologies.
This guide was published in conformance with Web Content Accessibility Guidelines 2.0, which can be found at http://www.w3.org/TR/2008/REC-WCAG20-20081211/, and meets Level A conformance guidelines. Currently, we only claim conformance for the content specifically found on this webpage: https://www.bankrate.com/loans/personal-loans/aging-in-place-renovations/