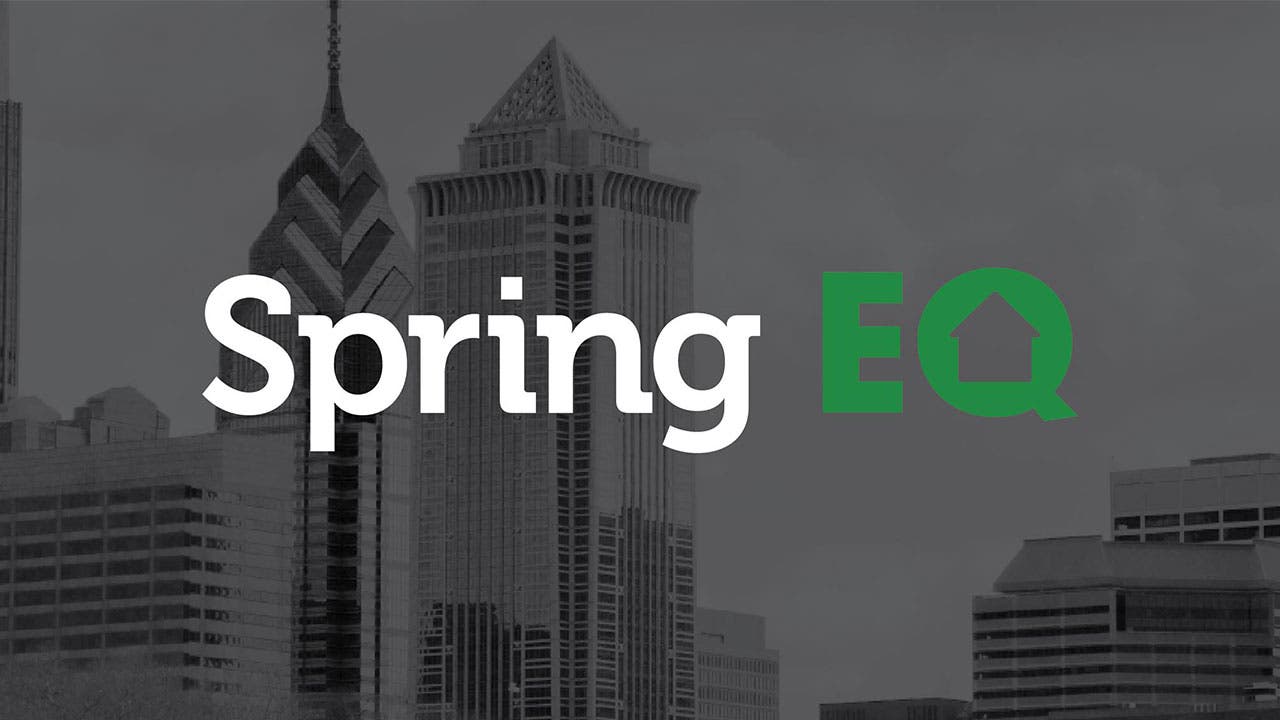 Founded in 2016, Spring EQ offers home equity loans with quick funding and high loan maximums. The lender is headquartered in Philadelphia and operates in 33 states plus the District of Columbia.
Spring EQ's online approach to home equity lending simplifies the process by eliminating stacks of paperwork and getting borrowers the money they need in as little as 12 days. Here's what you need to know about Spring EQ to find out if it's right for you.
Lender snapshot
If you need a home equity loan fast, Spring EQ may be a good fit. Here's what you need to know before you apply:
Offers only home equity loans
Requires a minimum FICO credit score of 640
You can borrow up to a combined loan-to-value (CLTV) ratio of 100 percent
Loans range from $20,000 to $500,000
Repayment terms go as long as 30 years
View home equity rates
Tap into the value you have in your home to get the funds you need.
Pros and cons
As we dug deeper into what Spring EQ offers, here are some of the benefits and drawbacks to consider when deciding whether to work with the lender.
Pros
Fast funding: The lender offers instant loan qualification and funding in as little as 12 days. Most customers, however, receive their funds within three weeks.
Borrowing flexibility: Spring EQ offers loans of up to $500,000 to borrowers who qualify. What's more, you can qualify with up to a CLTV of 100 percent, which is much higher than the typical 80 percent limit.
Competitive interest rates: Compared with other top home equity lenders, Spring EQ's interest rates are relatively low. As of May 2019, the lender's APRs start at 6.57 percent.
Easy application process: You don't need to visit a bank branch to speak with a loan officer. Instead, you can get a quote online and speak with a loan officer over the phone to finish the process.
Cons
No HELOC option: The lender offers only home equity loans, which won't help if you prefer a home equity line of credit, or HELOC.
No in-person service: If you prefer speaking with a loan officer face to face, you may want to work with a lender that has physical branches.
Not the lowest APRs: While Spring EQ's starting APR is below-average, it's not the lowest in the business. Discover, for example, has fixed-rate home equity loans starting at 4.99 percent APR. Be sure to shop around and compare rates before you settle on a lender.
Mortgage products
Spring EQ only offers fixed-rate home equity loans ranging from $20,000 to $500,000. Repayment terms include 15, 20, 25 and 30 years, and you can borrow up to 100 percent of your home's value between your mortgage and a home equity loan.
When determining your home's value, Spring EQ accepts appraisals that were completed in the last 12 months. If you don't have one and your loan is less than $175,000, the lender does a drive-by appraisal, which bases your home's value on its exterior and the surrounding homes.
Once you apply, you'll receive an instant response, and you can receive the funds in as little as 12 days.
Lender fees
Spring EQ charges a $799 administrative fee, plus some other fees that can vary based on the characteristics of your loan. Here are some of the fees you may be assessed along with the estimated amount:
Credit report and flood certification: $8
Document preparation: $30
Title report/title 365: $80
Notary/disbursement/title 365: $290
Recording fee: $90 to $200
Drive-by appraisal: $149
Full appraisal: Varies by state
You'll get a list of fees for your loan within three days of applying for a loan.
Spring EQ's interest rates can vary based on a few factors, including your credit score, repayment term and CLTV. The lender offers a 30-day rate lock for free and up to 75 days total.
Borrower requirements
Spring EQ requires a FICO credit score of at least 640 to get approved. It also has a maximum debt-to-income ratio — your total monthly debt payments divided by your gross monthly income — of 43 percent.
The lender allows borrowers to have a CLTV of up to 100 percent, and it doesn't require any cash reserves when you close the loan.
How to apply
You can apply for a home equity loan with Spring EQ online through its website. You can also call the lender at 833-374-2274 to speak with a loan officer. You'll start by getting a quote, which requires just a soft credit check.
To do this, you'll need to provide your:
Name
Email address and phone number
Address
Credit score
Property type
Home value
Mortgage balance
Desired loan amount
Employment and credit information
Once you receive your quote, you'll then call or receive a call to complete the application process over the phone.
After you officially apply and get approved, you'll need to provide a form of identification, mortgage and homeowners insurance statements, and proof of income.
Get started
As always, it's best to get quotes from at least a few lenders before settling on one. But if you've done that and want to work with Spring EQ, you can start the application process with the lender through its website.
View home equity rates
Tap into the value you have in your home to get the funds you need.
If you have questions during the process, you can call and speak with a loan officer at 833-374-2274. If you call after hours, you can leave a message and get a call back. Alternatively, you can submit questions via a contact form or the website's live chat feature. If a representative isn't available, you can request an email when they send a response.
How Bankrate Rates Spring EQ
| Overall Score | 3.0 |
| --- | --- |
| Availability | 3.9 |
| Affordability | 2.5 |
| Customer Experience | 2.5 |
Editorial disclosure: All reviews are prepared by Bankrate.com staff. Opinions expressed therein are solely those of the reviewer and have not been reviewed or approved by any advertiser. The information, including rates and fees, presented in the review is accurate as of the date of the review. Check the data at the top of this page and the lender's website for the most current information.