Investment in real estate appears to be a double-edged sword for Gen Xers.
Homeowners in Generation X experienced the largest decline in home equity during the economic downturn that began in 2007. But those born between 1965 and 1980 saw their fortunes rebound more than those of other generations as house and stock prices rose, according to a new analysis from Pew Research Center.
Families who bought their homes in their 30s and early 40s benefited from holding down their debt levels and the rise in national home prices, says Richard Fry, senior economist at Pew Research Center.
"Part of the reason they've been able to recover is because they have rising home equity levels," Fry says. "All the generations with the exception of the millennials – they never really lost any home equity – have seen rising home equity since 2010, but it's particularly noteworthy among Gen X."
Gen Xers are the only generation to recover the wealth they lost during the Great Recession, according to the Pew analysis of Federal Reserve data.
Median household net worth in 2016 dollars
2007
2010
2016
Source: Pew Research Center analysis of Survey of Consumer Finances public-use data.
Millennial
$5,500
$6,800
$12,300
Generation X
$63,400
$39,200
$84,200
Baby boomer
$224,100
$164,900
$184,200
Silent generation
$267,500
$230,800
$150,000
Home equity more than doubled for Gen X
Those in Generation X who did not sell or suffer foreclosure watched their home equity — the difference between how much the house is worth and any debts against the home — take a roller coaster ride after the financial crisis.
The median home equity of Gen X homeowners fell 43 percent from $66,000 in 2007 to $37,600 in 2010. Home equity levels then climbed back up, more than doubling since 2010 to $75,000 in 2016, according to Pew.
Nationally, owner's equity in real estate soared past pre-recession levels from $13.1 trillion on average in 2006 to $14 trillion, according to the Board of Governors of the Federal Reserve System.
Median home equity in 2016 dollars
2007
2010
2016
Source: Pew Research Center analysis of Survey of Consumer Finances public-use data.
Millennial
N/A
$21,000
$44,000
Generation X
$66,000
$37,600
$75,000
Baby boomer
$139,000
$100,600
$120,000
Silent generation
$162,100
$138,200
$150,000
Gen X diversified after housing crisis
In 2007, about half (47 percent) of the assets Gen Xers owned were in the value of their primary residence. Households headed by baby boomers and those in the silent generation stored and invested more of their money in checking and retirement accounts and other financial assets, according to Pew.
"Are they in a better place today? Are they more diversified? Yes," Fry says. "If you look at Gen X households only about 30 percent of their assets are now in their primary residences."
Those in Generation X increased their financial asset holdings. The age group has benefited from gains in the stocks and bonds markets as they climb toward peak earning ages, according to the data.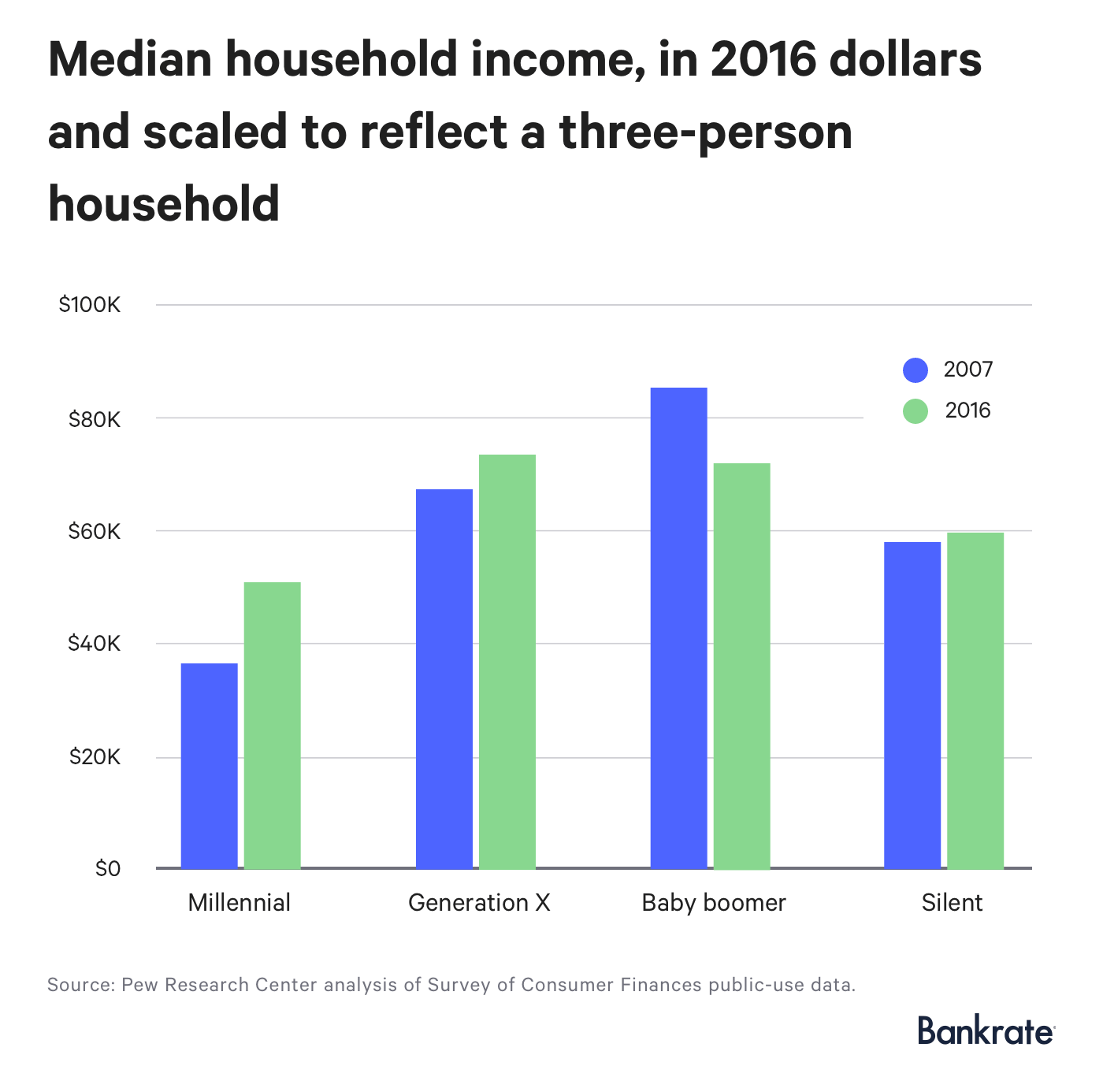 Borrowing on home equity
Economists are watching to see if homeowners tap into their rising home equity levels as banks offer home equity loans, home equity line of credits (HELOCs), and reverse mortgages.
"For a while, households were not using their homes to take on more debt. Part of that was because the banks and creditors would not allow it," Fry says. "From the lenders' standpoint, there's evidence the period of real tight credit has passed. They are starting to open the spigot a little bit."
Homeowners held 4.2 million home-equity loans and 10.3 million HELOCs collectively as of March, the lowest numbers in each category since at least the first quarter of 2008, according to Equifax Inc.
"We'll see," Fry says. "There may be a sort of a wiser sense of the pitfalls of aggressively borrowing on your home."
Learn more:
Current home equity rates
What is home equity debt?
See Bankrate's home equity line of credit hub
See Bankrate's home equity loan hub