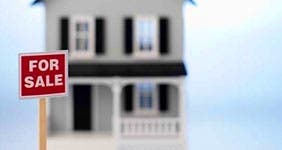 Homebuyers are out there, but they're finding fewer homes for sale than they were a year ago, according to the latest data from Realtor.com.
In February, the number of homes listed for sale rose a meager 0.5 percent from January, but fell 22 percent from the same time last year. The median time a home spent on the market fell nearly 10 percent to 111 days, indicating they're selling faster. Demand for homes typically ramps up toward spring, when many buyers want to complete the transaction and be settled in by the time school starts.
Prices also rose to reflect demand. Of the 146 markets tracked by Realtor.com, 106 of them saw an increase in asking price of 6.8 percent overall since last year. The median asking price of the 1.78 million homes nationwide is $188,000.
Chicago led the markets where asking prices dropped, with a 7.6 percent decrease. It was followed by Knoxville, Tenn., and three markets in California: Orange County, Sacramento and Los Angeles. Inventories of homes for sale rose in 86 markets.
While a spokesman for Realtor.com says the drop in inventory and increase in prices and demand shows some promise for a housing recovery, many potential sellers are still waiting for prices to rise further before listing their homes. With approximately 11 million homeowners owing more on their mortgage than their home is worth, selling while prices are still low is a money-losing venture.
Keep up with your wealth and mortgages and follow me on Twitter.
Get more news, money-saving tips and expert advice by signing up for a free Bankrate newsletter.