Barclaycard Visa® with Apple Rewards
At Bankrate we strive to help you make smarter financial decisions. While we adhere to strict editorial integrity, this post may contain references to products from our partners. Here's an explanation for how we make money.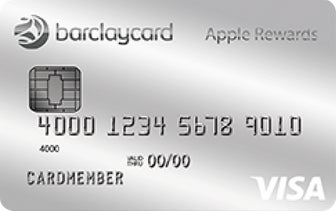 Annual Fee:

$0

Purchase Intro APR:

N/A

Regular APR:

13.99%, 19.99% or 26.99% variable based on your creditworthiness.
Bankrate Rating
Our writers, editors and industry experts score credit cards based on a variety of factors including card features, bonus offers and independent research. Credit card issuers have no say or influence on how we rate cards.
This card offer is currently unavailable on Bankrate. To see more cards in this category, please visit our fair credit category page.
The Barclaycard Visa with Apple Rewards is Apple's version of a store card. With this card you can earn rewards towards future Apple or iTunes products and take advantage of a one-time financing option to make a sizable purchase when you open the account. If you're tempted by the thought of owning an iPhone X, but find the $1,000 price tag unpalatable, this card could help you pay it off over time without accruing extra interest.
Review
The Barclaycard Visa with Apple Rewards offers a one-time 0 percent interest financing deal with a term based on how much you're spending. Purchases of $1,499 and higher will receive 24 months interest free, purchases of $999 to less than $1,499 will receive 18 months interest free, purchases of $499 to less than $999 will get 12 months, and $499 or less will have six months without interest charges.
Although this may seem like a great deal if you're longing for a new laptop or you've been yearning for the latest iPhone, at Bankrate we don't look favorably upon a credit card offer that encourages you to spend beyond your means.
In the long term, the main thing you need to consider is how much money you spend every year on Apple products. You'll earn 3 points for every $1 spent at Apple Stores, apple.com, iTunes, or via phone by calling 1-800-MY-APPLE. With this card you'll also earn 2 points for every $1 in net restaurants, and 1 point per $1 on all other purchases.
For every 2,500 points you earn, you'll automatically receive your choice of either a $25 Apple gift card or a $25 iTunes gift card. This is a just-OK rewards system that's truly designed for the Apple enthusiast.
Additionally, the terms and conditions state that if you don't use the card for six months, you may not be eligible to earn rewards when you use it again. This is another example of potentially encouraging unnecessary spending and it raises a big red flag to us.
If you have great credit, you can qualify for 13.99 percent APR; not bad compared to the average variable APR, which hovers between 16 percent and 17 percent. But if your credit isn't that great, you'll either get an APR of 19.99 percent or an even worse 26.99 percent. If you carry a balance with this card, especially at one of the higher interest rates, it will far outweigh the benefits of the rewards.
We don't think the rewards structure of this card or the intro financing offer is worth it. You'd be better off with a cash-back card that also has an introductory 0 percent APR offer — or a rewards card like the Amazon Prime Rewards Visa Signature Card, which pays 5 percent back on all purchases made on Amazon.com, including Apple products.
Who should get this card
Someone who uses iTunes and buys Apple products frequently throughout the year may benefit from the rewards structure of this card.
Fees and APR
There's no annual fee to own this card.
This card has a variable APR on purchases and balance transfers of 13.99 percent to 26.99 percent, depending on your creditworthiness.
There's an introductory 0 percent APR offer on purchases made within 30 days of opening the account. The length of the offer ranges from 6 to 18 months depending on how much you spend.
There's a balance transfer fee of of either $5 or 3 percent of the amount being transferred, whichever is greater.
Foreign transactions will be charged a 3 percent fee.
Late payments won't affect your APR but you may be subject to a penalty fee of up to $37.
Extras, perks and using points
Points are automatically redeemed when you accumulate 2,500. A $25 Apple or iTunes gift card will be mailed to you either electronically or via mail, depending on which you chose at sign-up. There is no fee to redeem your points and they do not expire as long as your account is in good standing.