Barclaycard Ring® Mastercard®
At Bankrate we strive to help you make smarter financial decisions. While we adhere to strict , this post may contain references to products from our partners. Here's an explanation for . The content on this page is accurate as of the posting date; however, some of the offers mentioned may have expired. Terms apply to the offers listed on this page. Any opinions, analyses, reviews or recommendations expressed in this article are those of the author's alone, and have not been reviewed, approved or otherwise endorsed by any card issuer.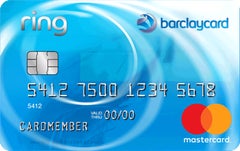 Barclaycard Ring® Mastercard®
Editor's note: this offer is no longer available as of May 17, 2019.
Barclaycard Ring Mastercard Overview
The Barclaycard Ring Mastercard recently updated its balance transfer offer, making it an unattractive choice compared to other balance transfer cards in the market.
This card advertises a 0% intro APR for 15 months on balance transfers made within 45 days of account opening. After that, a variable 14.24% APR will apply. However, you will be charged $5 or 2% of the transferred balance. On the other hand, if you make a balance transfer beyond 45 days of opening an account, you won't have to pay a balance transfer fee, but your APR will be a variable 14.24%. What this boils down to is that you are either going to be paying a balance transfer fee, or you will be charged the regular APR on your balance transfer. It's a lose-lose situation, and you would be better off with a card that has a stronger introductory balance transfer offer.
A deeper look at the current card offer
As a balance transfer card, the Barclaycard Ring Mastercard falls short compared to the competition. The card is able to redeem some of its value as a low-interest card, but there are plenty of better options on the market for consumers looking to decrease their debt payments.
It's one stab at a reward effort is its Giveback program, which was designed to share some card profits with cardholders. Unlike traditional rewards programs, there are no guaranteed rewards, and Barclay's says it may discontinue the program at any time. You may also designate any Giveback rewards to charity.
We do like that this card preaches transparency and that cardholders are both alerted to upcoming changes and are offered an opportunity to vote on certain card features.
Fees and APR
You'll pay no annual fee with the Barclaycard Ring Mastercard.
You will be charged either $5 or 2% of the amount of each transfer, whichever is greater on balance transfers that post to your account within 45 days of account opening.
There are no foreign transaction fees for purchases made outside of the U.S.
The card includes a variable 14.24% APR for purchases and balance transfers.
Key cardholder perks
The Barclaycard Ring Mastercard touts itself as a "community-minded" credit card and has a dedicated website featuring tips and tools for money management as well as a place to start a discussion or submit an idea. The card also has a profit-sharing feature that gives an opportunity to either get a statement credit, donate your earnings to charity, or a combination of both. Keep in mind that, according to the fine print, any payouts are at the discretion of Barclay's and it's not a guarantee that any payouts will actually occur.
Who should get this card
With a lackluster balance transfer offer, this card is best suited for consumers with good to excellent credit scores that are looking for a long-term low-interest credit card.
* See the online application for details about terms and conditions for these offers. Every reasonable effort has been made to maintain accurate information. However all credit card information is presented without warranty. After you click on the offer you desire you will be directed to the credit card issuer's web site where you can review the terms and conditions for your selected offer.
Editorial Disclosure: Opinions expressed here are the author's alone, and have not been reviewed or approved by any advertiser. The information, including card rates and fees, is accurate as of the publish date. All products or services are presented without warranty. Check the bank's website for the most current information.