Which bank should I choose?
Get personalized bank recommendations in 3 easy steps.
This page includes information about the Discover it® Balance Transfer product which is no longer offered by Discover. This page includes information about Discover products that are not currently available on bankrate.com and may be out of date.
Discover has some of the best credit cards offering zero interest for people who want to transfer a balance. For example, the Discover it® Balance Transfer, offers an 18-month 0% intro APR window on balance transfers if you transfer your balance within a specific time frame after opening the account (followed by a variable APR of 13.49% – 24.49%).
But how do you make a balance transfer with Discover? Balance transfers take just a few quick steps to complete, whether you prefer to handle the process online or over the phone. Here's what you need to know about balance transfers.
Which Discover card are best for balance transfers?
If you already have the popular Discover it® Cash Back card, you might not be aware that it offers 14 months of 0% APR on balance transfers when you make a transfer within a certain time frame after opening your account. You'll pay a 3% intro balance transfer fee, up to 5% fee on future balance transfers, and you'll also get the benefit of 14 months of 0% APR on purchases.
After the intro period ends, the standard APR is a variable 13.49% – 24.49%. (If you've had your Discover it Cash Back card for a while and are no longer eligible for that offer, you'll still be able to transfer a balance — follow the steps listed above to see which offers are currently available.)
Plus, you'll be eligible to participate in the Discover it Cash Back rewards program. Upon enrollment each quarter, you'll earn 5% cash back on quarterly rotating categories such as gas stations, Lyft and Uber, and Amazon, for up to $1,500 in purchases per quarter; 1% cash back on all other purchases; and Discover will match all the cash you earn during your first year as a cardholder.
Discover it Cash Back is an excellent cash back card — it was named one of Bankrate's best zero interest credit cards — and the fact that it's a great balance transfer card is like a bonus on top of your Cashback Match.
Can you transfer balances between Discover cards?
If you are carrying a balance on a Discover credit card, you won't be able to transfer that balance to another Discover credit card. Instead, you'll want to transfer it to one of our other top balance transfer credit cards.
How to do a Discover balance transfer online
If you'd like to do your Discover balance transfer online, log in to your Discover account. Look for the drop-down menu labeled "Manage" and select the "Balance Transfer" option.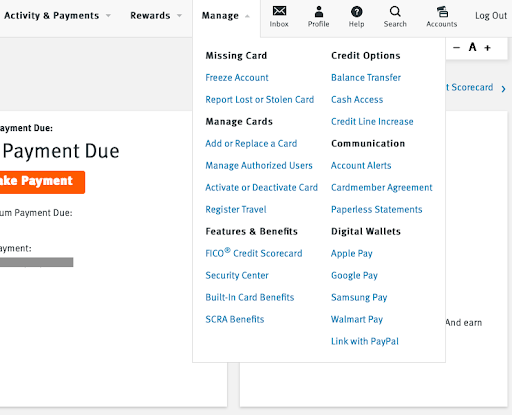 From there, depending on which Discover credit card you have and what special offers are currently associated with that card, you might get taken to a page that asks you to choose between two options for balance transfer. Discover will try to estimate how much money you'll save with each option, but make sure you use the "customize savings calculations" button to determine which option would be better for the balance you plan to transfer to the card.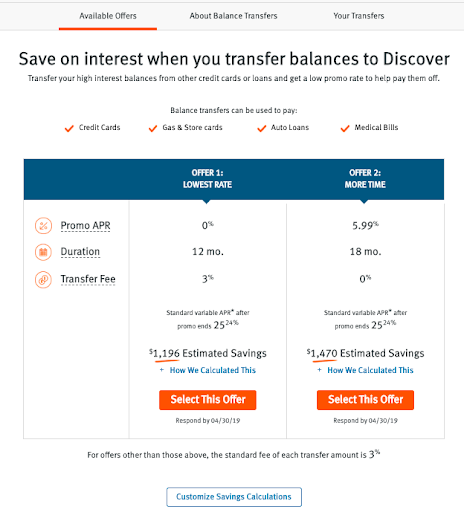 Finally, all you need to do is tell Discover where you're transferring the balance from — have your credit card or loan account number ready! — and how much you plan to transfer to the card. Then accept the terms and conditions to complete the balance transfer process.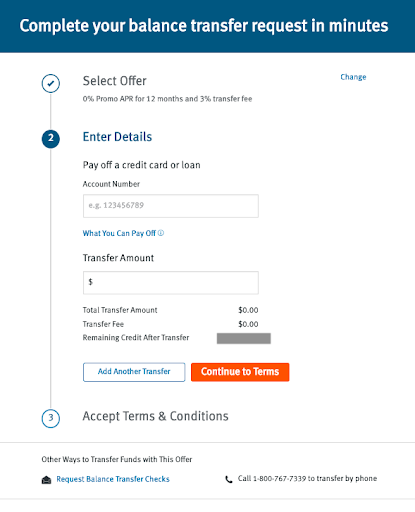 If you're using the Discover Mobile app, the process is nearly identical. Select "Account" on the left-hand drop-down menu to locate the balance transfer link, then follow that link to review any special offers and complete your balance transfer.
You can also complete a Discover balance transfer over the phone. Simply call the number on the back of your card and follow the steps provided by Discover customer service.
How long does it take to process a Discover balance transfer?
According to Discover, most balance transfers are processed between 7 and 10 days. For any individual balance transfer, Discover cannot guarantee that it will be processed within that time frame, so yours might take longer — but the odds are that it'll process in a week or so.
Discover also suggests to check back on the accounts you transferred balances from, to make sure you don't owe any additional interest that may have accrued between when you started the balance transfer process and when it completed. It could take 30 days for that interest to appear in your credit card accounts, so keep track of those accounts and make sure you pay off any interest charges right away.
Is a balance transfer worth it?
If you have a large credit card balance that you're hoping to pay down, a balance transfer is a good way to make payments on that balance without paying interest. You can also transfer multiple balances from multiple cards — as long as you don't go over your Discover card credit limit, you can keep transferring balances, consolidate your debt, and get that debt paid off within the introductory period.
Some people wonder whether a balance transfer will affect their credit score. Balance transfers can hurt your credit score in two ways:
If you transfer a balance to a new card and close the old card, you'll have both a higher credit utilization ratio (the amount of credit you're using vs. the amount of credit available to you) and a shorter age of credit. This could cause you to lose credit score points.
If you keep transferring the same balance from card to card without ever paying it off in full, you create what's called a revolving balance. This can also lower your credit score. However, if you've been trying and failing to pay off a credit card balance for a while, you already have a revolving balance — so why not transfer it to a balance transfer card and get it paid off? (Just make sure you pay it off before the interest-free grace period runs out, so you don't have to transfer it to a second balance transfer card.)
Balance transfers can also improve your credit score. By opening a balance transfer card, you increase the amount of credit available to you, which lowers your credit utilization ratio and raises your credit score. Your credit utilization ratio will continue to increase as you pay down your balance — and if you pay everything off and get out of credit card debt, your credit score may end up being higher than it's ever been before.
Be sure to check out our list of best balance transfer credit cards and read the rest of our experts' balance transfer advice.
This editorial content is not provided or commissioned by any of the referenced financial institutions or companies. Opinions, analysis, reviews or recommendations expressed here are the author's alone, not those of any financial institutions or companies, and have not been reviewed, approved or otherwise endorsed by any such entity. All products or services are presented without warranty. Bankrate.com is an independent, advertising-supported publisher and comparison service. This post contains references to our partners, and Bankrate may be compensated in exchange for featured placement of certain sponsored products and services, or your clicking on certain links posted on this website.