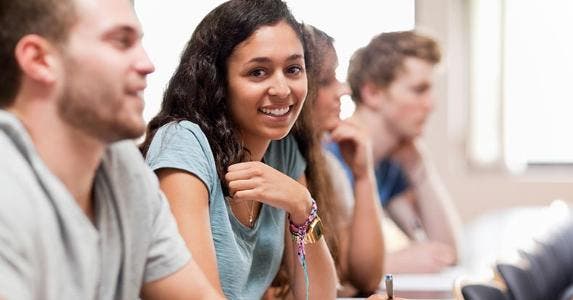 The rising cost of college is leaving many graduates saddled with student loan debt.
In fact, members of the 2014 graduating class have been called the most indebted class ever, owing an average of $33,000, according to an analysis of government data by Edvisors, a site that provides information about how to plan and pay for college.
The U.S. Department of Education provides more than $150 billion in federal grants, loans and work-study funds each year to more than 15 million students paying for college or career school, notes Denise Horn, assistant press secretary for the Department of Education.
Technology also is creating new opportunities for students. More companies are offering social media-based scholarships to help students foot the bill for tuition, says Kevin Ladd, vice president of Scholarships.com, a site that helps students find money for college and provides information about the financial aid process.
"Given the current state of technology and communication, as well as the age and generation to whom many scholarships are targeted, social media has become a more and more viable — even necessary — way to reach scholarship candidates," Ladd says.
Here are five social media scholarship opportunities on which students can cash in.
Scholarships.com scholarships
Scholarships.com uses Facebook, Twitter and other social media, as well as the site's free app, to communicate and connect with scholarship hopefuls, Ladd says.
Scholarships.com's Short and Tweet Scholarship asks entrants to submit a 140-character answer to a specific question via Twitter. Currently, the site question is: " What was the most important thing you learned this year *AND* why?" First place gets $1,000, while second and third places each get $200.
Scholarships.com also promotes Facebook-based scholarships, including the Awkward Back-to-School Photo Contest and the You Like Me … You Really Like Me Facebook Scholarship.
All these scholarships run about three times per year and include cash rewards, or in some cases, a Kindle Fire.
Ladd has a few suggestions for winning the Short and Tweet Scholarship: Read the tweets of past winners, follow the instructions to the letter and be original.
Bankrate #FutureSelfie Scholarship
Where will you be 10 years from now? Through the Bankrate #FutureSelfie Scholarship, students can earn up to $3,000 by snapping a photo of their future selves. The scholarship asks entrants to envision themselves 10 years from now in their dream career, take a selfie and post it on social media.
Post to Twitter, Instagram, Vine, Tumblr, Facebook or directly on the Bankrate scholarship page with the hashtag #FutureSelfie. The personal finance site is offering a $3,000 scholarship and two $1,000 scholarships.
"It can be hard to see the end of the tunnel with student debt looming over your head, so we wanted to encourage kids to visualize their future and have an image of what their hard work and investment will net in the long run," says Brandon Duncombe, promotion manager for Bankrate.com.
In order to stand out in the competition, Duncombe urges students who seek the scholarship to be as different, creative and expressive as possible. A dash of humor doesn't hurt either.
Future selfie photos for the latest round must be submitted by Oct. 31.
CollegeNET.com scholarships
CollegeNet.com awards weekly scholarships to those who participate in the site's discussion forums. Several students have accumulated more than $20,000 in combined scholarships, says Jill Thacker, director of communications for CollegeNET.com.
Students who need a scholarship, or former students who need to pay off a student loan, can write about topics that interest them in the forum. Those writers can then win scholarships that are determined by a peer voting system.
"Whereas other scholarships are usually decided by a foundation or committee, CollegeNET.com provides a more democratic judging process and gives all participants equal opportunity to win money for school," Thacker says.
Participants vote for students they believe most deserve a scholarship. Those vying for the scholarships earn points for each vote received and for each vote they cast. Points are tallied at the end of each election cycle, and the candidate with the most points is awarded a scholarship.
The site makes it easy to participate. Students simply sign up for an account, create a personal profile and then start posting messages.
DoSomething.org scholarships
DoSomething.org offers scholarships for completing "campaigns" on its site.
The site's campaigns offer students the chance to support a cause, such as recycling or making a birthday card for a child experiencing homelessness, while earning money for college.
Students who complete a campaign send in a photo of their work for a chance to win a scholarship. They are also entered into the $10,000 seasonal scholarship.
Texting campaigns, like The Bully Text, utilize a text message game to make students think about the decisions they would make if they were in a bullying situation. Participants team up with friends via text messaging to win the game.
Winners are recognized on the site's social media outlets.
"Unlike typical scholarships, which award money based on merit or need, DoSomething.org's scholarships are awarded based on actions that make a difference to make the world suck less," says Kellie Wagner, a member experience associate at DoSomething.org who oversees the scholarship program.
Those looking to win the seasonal scholarship should complete as many campaigns as possible, says Wagner.
Dr Pepper Tuition Giveaway
Dr Pepper offers students the chance to win up to $100,000 in tuition by using Facebook to submit an answer to the question, "What do you dream of achieving?"
To compete, students between the ages of 18 and 24 tell Dr Pepper their one-of-a-kind goal via Facebook. Once a student's goal receives 50 votes, he or she is eligible to submit a video to demonstrate why the student deserves to be a contestant.
From there, finalists are selected at random to compete in a throwing competition at a college football championship game. The winner gets cash for college.
Additionally, those who make the top five of the leaderboard in votes are eligible to win $5,000. Individuals who are 25 and older are eligible to compete for the leaderboard prize as well.
Students can visit the official Dr Pepper Tuition Giveaway site and click "Enter Now" to start competing. Or, individuals may nominate a student to compete.