Even with a free checking account, you can still get charged huge fees just for withdrawing your cash from an ATM.
What's more, you could get smacked with 2 charges for the same transaction.
When you use your bank's ATM, the transaction is free. It's when you are not near any bank branch that ATM fees pile up, as both your bank and the ATM operator could charge you a fee for using an out-of-network machine. Combined, Americans pay on average $4.52 for each out-of-network ATM transaction, according to the Bankrate 2015 Checking Survey.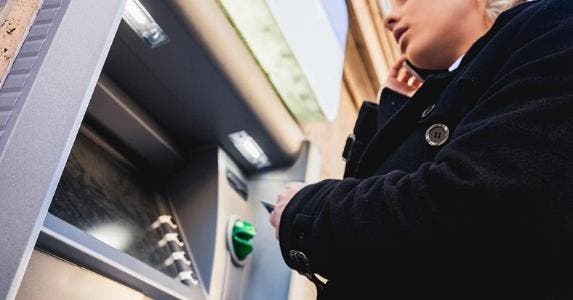 iStock.com
Of course, banks are free to charge whatever they want.
"So far, there are no federal restrictions on ATM fees, except on specific government benefit or payroll debit cards, although ATM fees must be disclosed to you by law," says Suzanne Martindale, staff attorney and banking policy specialist with Consumers Union, the publisher of Consumer Reports.
That disclosure may dissuade many people, but a 2014 report on ATM fees by financial services firm Personetics found 30% of all withdrawals were still made at out-of-network ATMs. That adds up to big money for the banks. The 20 banks and thrifts that charged the highest service fees made nearly $420 million off ATM fees in the 2nd quarter of 2015 alone, according to a study by SNL Financial.
Luckily, you can dodge this ATM double whammy.
How to avoid ATM fees completely
Find a bank or credit union that doesn't charge ATM fees.

A number of online banks, regional banks and credit unions don't charge ATM fees. Some even reimburse out-of-network ATM charges.

Read account disclosures carefully.

Understand your bank's ATM fee reimbursement rules, out-of-network ATM charges (even if an ATM is fee-free) and other account fees to compare bank accounts.

Check the back of your debit card and stick to the network.

That's where the fee-free ATM networks such as Allpoint, CO-OP, MoneyPass, NYCE and STAR are listed. Some have apps and all can be searched on a GPS-enabled smartphone.
Where to get fee-free access to your cash

Allpoint has 55,000 surcharge-free ATMs, worldwide.
CO-OP is the largest credit union ATM network with nearly 30,000 surcharge-free ATMs nationwide.
MoneyPass offers more than 20,000 fee-free ATMs nationwide.
The NYCE network offers the SUM Surcharge Free Program, which provides consumers with fee-free access to more than 7,500 NYCE ATMs.
The STAR network has more than 57,000 fee-free ATMs nationwide.
Get free cash back from a debit purchase.

Avoid ATMs entirely by requesting cash back (usually restricted to amounts under $100) when paying for your weekly groceries, gas or at any retailer.

Use free iPhone and Android apps to reduce your cash needs and find fee-free ATMs on the go.

The Personetics report also found that less than half of customers who use their bank's website or app search the ATM locator. Be on the right side of that statistic.
"Take a few minutes to search, download and learn to use any apps that apply to your bank accounts and your banking or cash needs to save yourself $10 to $20 per month in ATM fees," Martindale says.