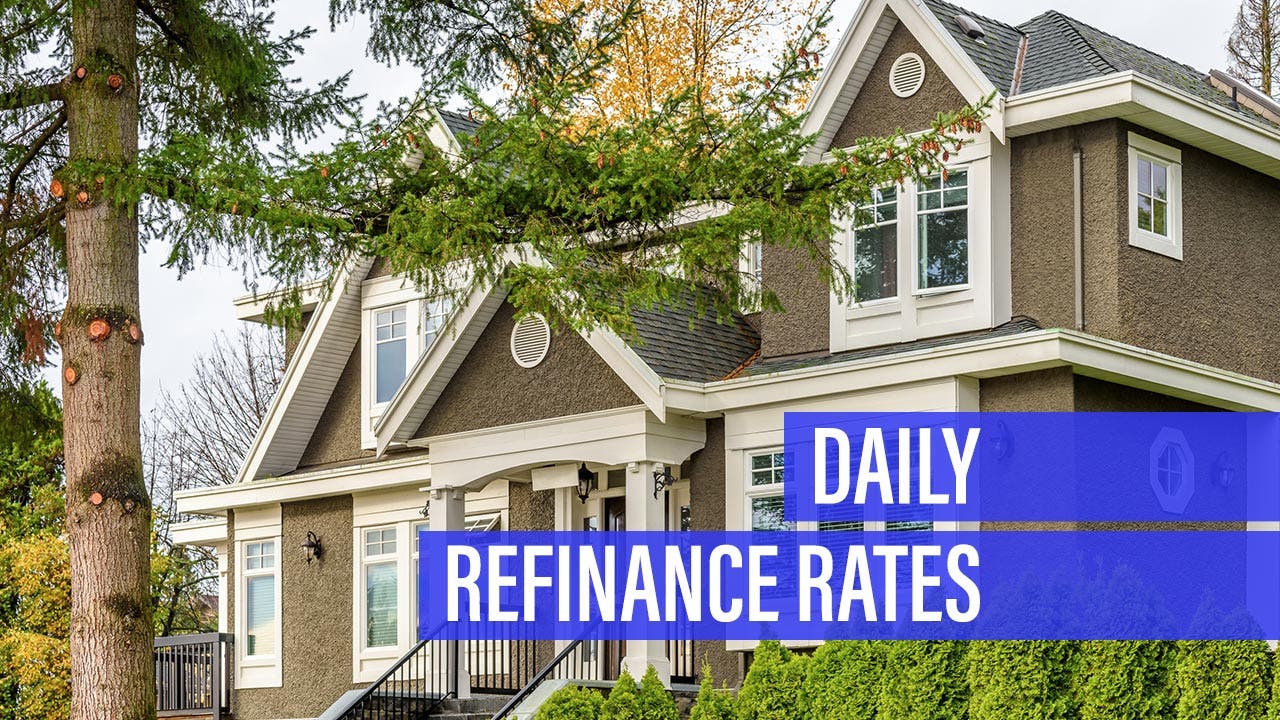 Mortgage refinance rates were mixed, but one key rate ticked up.
The average for a 30-year fixed-rate refinance ticked up, but the average rate on a 15-year fixed remained steady. Meanwhile, the average rate on 10-year fixed refis held steady.
Refinancing rates are constantly changing, but they continue to represent a bargain compared to rates before the Great Recession. If you're in the market to refinance, it may make sense to go ahead and lock if you see a rate you like.
See refinance rates for a variety of loan options here.
30-year fixed refinance
The average 30-year fixed-refinance rate is 3.19 percent, up 2 basis points since the same time last week. A month ago, the average rate on a 30-year fixed refinance was higher, at 3.34 percent.
At the current average rate, you'll pay $431.92 per month in principal and interest for every $100,000 you borrow. Compared with last week, that's $1.09 higher.
You can use Bankrate's mortgage calculator to figure out your monthly payments and see the effect of adding extra payments. It will also help you calculate how much interest you'll pay over the life of the loan.
15-year fixed refinance
The average for a 15-year refi is currently running at 2.74 percent, unchanged over the last seven days.
Monthly payments on a 15-year fixed refinance at that rate will cost around $678 per $100,000 borrowed. That's obviously much higher than the monthly payment would be on a 30-year mortgage at that rate, but it comes with some big advantages: You'll save thousands of dollars over the life of the loan in total interest paid and build equity much more rapidly.
10-year fixed refinance
The average rate for a 10-year fixed-refinance loan is 2.77 percent, unchanged over the last seven days.
Monthly payments on a 10-year fixed-rate refi at 2.77 percent would cost $955.03 per month for every $100,000 you borrow. That hard-to-swallow monthly payment comes with the benefit of paying even less interest over the life of the loan than you would with a 15-year term.
Where rates are headed
To see where Bankrate's panel of experts expect rates to go from here, check out our Rate Trend Index.
Want to see where rates are right now? Lenders nationwide respond to Bankrate's weekday mortgage rates survey to bring you the most current rates available. Here you can see the latest marketplace average rates for a wide variety of purchase loans:
Rates as of July 29, 2020.
Want to see where rates are right now? See refinance rates for a variety of loan options here.
Should you lock a mortgage refinance rate?
A rate lock allows you to freeze the interest rate your lender extends to you for a specified period of time. Between the time you apply for a mortgage refinance and close on it, the rate lock will protect you from rising rates.
What influences mortgage refinance rates
Economic factors such as inflation and unemployment can impact refinance rates. Generally, higher inflation leads to higher interest rates. The opposite is true; lower inflation typically leads to lower refinance rates. The dollar loses value when inflation rises. That, in turn, drives investors away from mortgage-backed securities (MBS), causing the prices to decrease and yields to increase. When yields move higher, refinance rates get more expensive.
A strong economy usually means more people buying homes, which drives demand for mortgages. This increased demand can push rates higher. The opposite is also true; less demand can trigger a drop in rates.
Current refinance rate environment
Refinance rates have been volatile since the COVID-19 pandemic upended the U.S. economy, but overall they have been very low. Mortgage rates can rise and fall from week to week, but rates are consistently below 4 percent and even dipping into the mid to low 3s. This is an especially good time for people with good to excellent credit to lock in a low rate for a purchase loan. However, lenders are also raising credit standards for borrowers and demanding higher down payments as they try to dampen their risks.
Methodology: The rates you see above are Bankrate.com Site Averages. These calculations are run after the close of the previous business day and include rates and/or yields we have collected that day for a specific banking product. Bankrate.com site averages tend to be volatile — they help consumers see the movement of rates day to day. The institutions included in the "Bankrate.com Site Average" tables will be different from one day to the next, depending on which institutions' rates we gather on a particular day for presentation on the site.
To learn more about the different rate averages Bankrate publishes, see "Understanding Bankrate's Rate Averages."