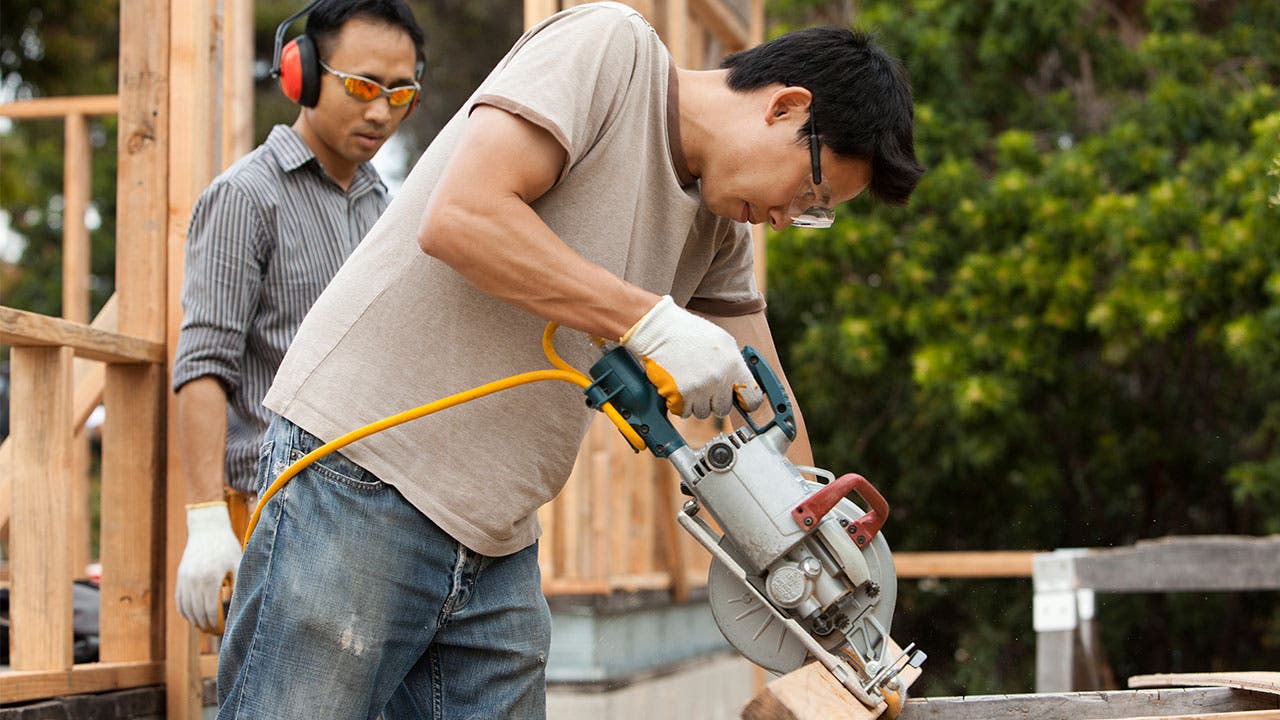 Remodeling your next home and getting a mortgage for the fixer-upper can be easily accomplished in the same transaction with a Federal Housing Administration home loan.
The FHA home loan program offers a mortgage which combines both goals, the FHA-insured Section 203(k) loan. If living in a home while it is undergoing a makeover sounds appealing, then this loan could be the right fit for you.
Benefits for homebuyers
Homebuyers who are taking advantage of cheaper sales prices from short sales and foreclosures often focus on older properties that need to be remodeled or updated extensively. Obtaining one loan for the purchase and the renovation can be cheaper and it ensures that you have money for the repairs.
"This can be used when buying a home that is in need of major repairs before it can become inhabitable, and will save time and money because you get one loan that covers both the purchase price and the costs of the ongoing repairs," says Greg McBride, CFA, chief financial analyst for Bankrate.
There is one catch – the total amount borrowed must still be within FHA loan limits for the area where the home is located, he says.
A 203(k) FHA loan is a good fit for older homes, but not ones that are fairly new since a minimum of  $5,000 must be spent for renovations.
"This can be beneficial for those who anticipate the need for making costly repairs but want to avoid taking on additional home equity loans," says Bruce McClary, spokesperson for the National Foundation for Credit Counseling, a Washington, D.C.-based non-profit organization.
The 203(k) loan also offers solid refinance rates for cash-strapped homeowners who either cannot or do not want to tap their home equity.
Limited vs. standard 203(k) loan
The FHA offers two kinds of 203 (k) loans.
   A streamlined or limited 203(k) has an easier application process and the repairs or improvements must total $35,000 or less.
   The standard 203(k) requires additional paperwork and applies to improvements costing more than $35,000.
Either type of 203(k) loan requires a minimum of $5,000 to be spent on rehabilitation of the home.
Generally, the maximum amount you can borrow for the mortgage is the lowest of the following:
   The FHA's maximum mortgage limit for the area.
   A calculation involving the home's "before" value plus improvement costs.
   A calculation involving the home's "after" value, including the improvement.
You must apply for a Section 203(k) mortgage through an FHA-approved lender.
The rules on 203(k) loans
While 203(k) loans can be used for refinancing as well as purchase loans, the main restriction is that the person seeking the mortgage has to be the owner or occupant. Investors are not eligible for this FHA loan.
The work must begin within 30 days of closing and be completed within six months.
"This loan isn't for everyone and there are some important restrictions," McClary says. "Repairs will need to be completed in six months and the loan is not for investors. It's a good idea to consider different types of financing if you are anticipating minor repairs since a 203(k) is better suited for major projects that are necessary to transform neglected properties into more habitable living spaces."
Contractors should be familiar with the program, especially the payment schedule and requirements.
When the renovations are completed, the mortgage borrower is required to provide a letter and a HUD-approved cost consultant conducts an evaluation. Consultants can be found through a lender or via the FHA website.
Kitchen remodeling, yes. New pool, no
The FHA program limits the projects to structural alterations and reconstruction and modernization and improvements to the home's function. Homeowners can replace plumbing, add or replace a roof or floors, finish a basement, remodel a kitchen or make energy conservation improvements.
There are projects that do not qualify for 203(k) financing including luxury items such as a swimming pool or a hot tub.
Qualifying for a 203(k) loan
FHA loans were created to allow people to buy a home with a smaller down payment. The minimum amount for a down payment is 3.5 percent of the total loan amount that includes both the cost of the house and renovations.
A credit score of at least 580 is needed to be approved for the loan. Keep in mind that many lenders require a score of 620 or higher. Shop around and compare rates.
The loans require an upfront mortgage insurance payment of 1.75 percent of the total loan amount, which can be wrapped into the financing.
Borrowers also pay a monthly mortgage insurance premium based on the loan-to-value ratio and length of the mortgage.
Learn more about choosing the best FHA lender for you.