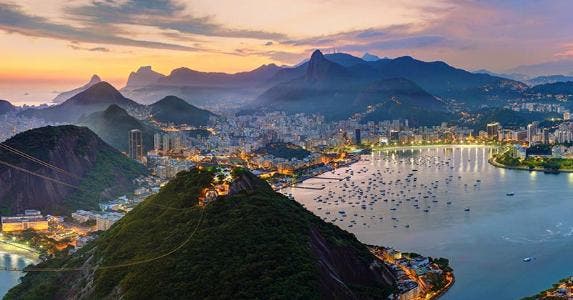 What you'll pay to see the Olympics
Is a trip to this summer's Olympic Games in Rio de Janeiro on your bucket list? If so, grasp the handle firmly, lest you kick it once you hear what that last tango in Rio could cost you.
The global appeal for any Olympics typically sends prices skyrocketing. When you add in that the Rio Summer Games mark the first Olympics to be held in South America, feature the return of golf, the debut of rugby sevens, and take place in one of the world's pre-eminent beach destinations, even seasoned travel agents are shaking their heads at the cost to attend. The high prices defy the news about Brazil's poor economy, its pollution problems and the threat of the Zika virus keeping some competitors away.
Brazil has graciously agreed to waive its mandatory visa requirement for U.S. … tourists from June 1 through Sept. 18.
The Olympic Games run from Aug. 5-21. Hotel prices alone are expected to meet or exceed the 400% markup normally reserved for Rio's other global attraction — Carnival — which took place in February.
RATE SEARCH: Determined to attend the Olympics? Go to Bankrate.com now to see how you can fund your trip to Rio with a personal loan.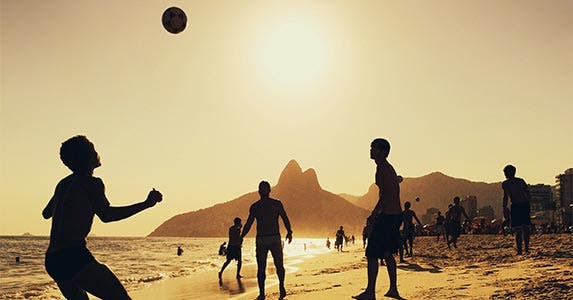 Packages not all-inclusive
Image Source/Getty Images
"What the public doesn't realized is that the Rio Olympic packages don't include the games tickets," explains travel agent Tracey Kleber of TravelStore, an employee-owned travel agency. "They sell the packages at such a high price that it discourages people. We had the same issue when Brazil hosted the World Cup in 2014; all the pricing was just crazy on the packages."
How crazy? This crazy: According to RoadTrips.com, a custom 4-night hotel package, including private car transportation to and from the games and 3 local tours, can be yours for $3,975 per person. Or perhaps you'd prefer the 6-night ultimate Summer Games Experience for $28,000 per person? And remember: These don't include airfare.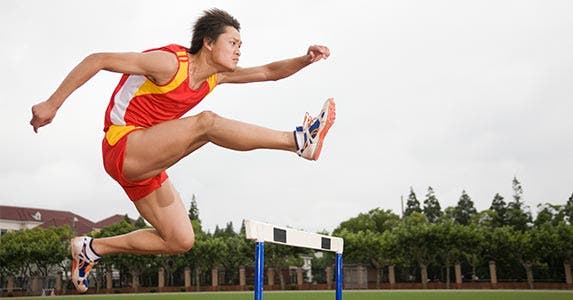 What it costs to fly
Image Source/Getty Images
Where air travel to Rio is concerned, saving time can cost you some serious scratch. As of mid-July, here's how TripAdvisor breaks out the per-person, round-trip rates (leaving Aug. 4, returning Aug. 22) and travel time, including layovers, from 3 U.S. hubs:
Airport, city
Cheapest flight
Fastest flight
JFK

New York
$1,740 

30 hours down; 34 return

$6,051

10 hours down, 10 return

ORD

Chicago
$1,637

24 hours down; 22 return

$4,102

14 hours down; 15 return

LAX

Los Angeles
$1,327

38 hours down; 26 return
$2,277

16 hours down, 18 return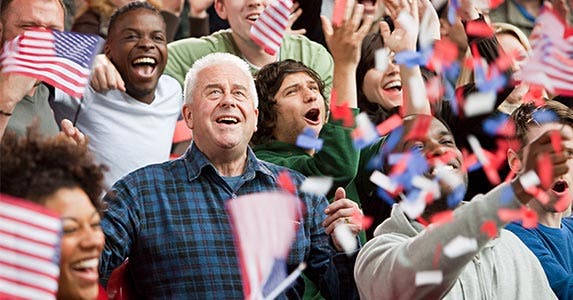 Cost of Olympic event tickets
Image Source/Getty Images
Next, let's consider the reason you're flying to Rio: the Games themselves. CoSport, the only authorized U.S. reseller of Rio 2016 and Paralympic event tickets, has been offering 7.5 million tickets in phases as they've become available from the Rio 2016 Organizing Committee. Tickets are available on a first-come, first-served basis.
The good news: Olympic event tickets started at around $6 U.S., with more than half priced at $20 or less. The bad news: They've gone up in price.
Here's more about ticket availability and prices for popular Olympic sessions:
Opening ceremony: SOLD OUT.
Closing ceremony: $306-$1,328.
Women's gymnastics final: SOLD OUT.
Equestrian jumping: $82-$276.
Men's soccer final: $434.
Men's basketball bronze medal game: $123-$306.
RATE SEARCH: Go to Bankrate.com now to see how you can fund your trip to Rio with a personal loan.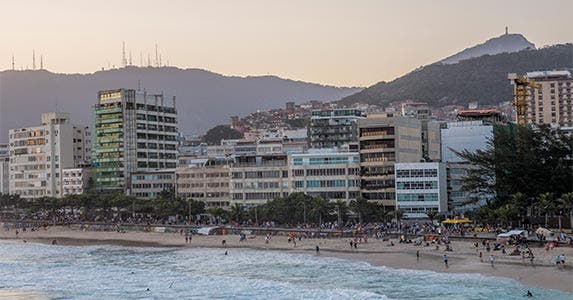 Costs for hotel stays
Leonardo Martins/Getty Images
CoSport also offers hotel only, hotel/hospitality and hotel/ticket packages that can save you money by situating you near the venue of your favorite Olympic sports.
Thinking of reserving your own lodging? Here's how Travelocity hotel per-room prices range in Rio's 4 main event districts for those arriving Aug. 4 and checking out Aug. 22:
Maracana (opening/closing ceremonies, soccer, track and field): $28-$924.
Copacabana (sailing, swimming, beach volleyball): $56-$4,091.
Barra da Tijuca (gymnastics, basketball, boxing, diving): $44-$683.
Deodoro (shooting, cycling, equestrian, pentathlon): $63-$1,834.
For more affordable options, TripAdvisor suggests checking into such non-event neighborhoods as Botafogo, Lagoa and Santa Teresa, where you may be able to save 85% on your hotel tab.
If you're game, there's yet another lodging avenue to explore: good old Airbnb, which last year signed on as the "official alternative accommodations" sponsor of Rio 2016, another Olympic first. The 2008 U.S. startup, which helps place travelers in private homes, apartments, condos and castles around the world, currently offers more than 300 rentals in Rio, at an average per-night price of $296. It anticipates housing for upwards of 20,000 Rio Olympic fans.
Could you actually beat the traditional hotel package deals with Airbnb?
"In this particular instance, probably yes, because there are so many people in Brazil who are willing to rent out their homes," says TravelStore's Kleber. "That's what happened at the World Cup; fans were just winging it, buying air tickets and going there and finding someone who would rent out their place! That's not ideal, but in this case, Airbnb is probably the least expensive route to go."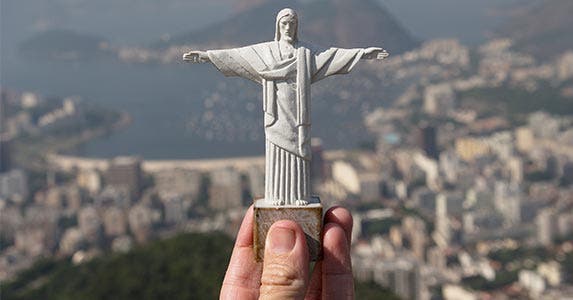 Don't forget trip insurance
Sam Diephuis/Getty Images
With some serious cash on the line for this once-in-a-lifetime experience, it's a good idea to protect your investment with travel insurance.
"On average, travel insurance would be about 5% to 7% of the total trip cost, depending on the product," says Beth Godlin, president of New York-based Aon Affinity Travel Practice. "For Americans, the Rio Olympics will be intercontinental travel, and that automatically means more complex travel with certain inherent risks."
Godlin's advice: Make sure your policy covers everyone in your party, including kids and extended family, and has your back financially if you're unable to attend for any reason.
"Since the Olympics are time-bound, if you were unable to go, rebooking travel for a later date might not be a viable option, since you might miss the games," she says.
So yes, attending Rio 2016 is going to cost — a lot.
But there is one ray of sunshine: Brazil has graciously agreed to waive its mandatory visa requirement for U.S., Canadian, Japanese and Australian tourists from June 1 through Sept. 18, saving Rio-bound American fans and their children $160 per person.
RATE SEARCH: Determined to attend the Olympics? Go to Bankrate.com now to fund your trip to Rio with a personal loan.