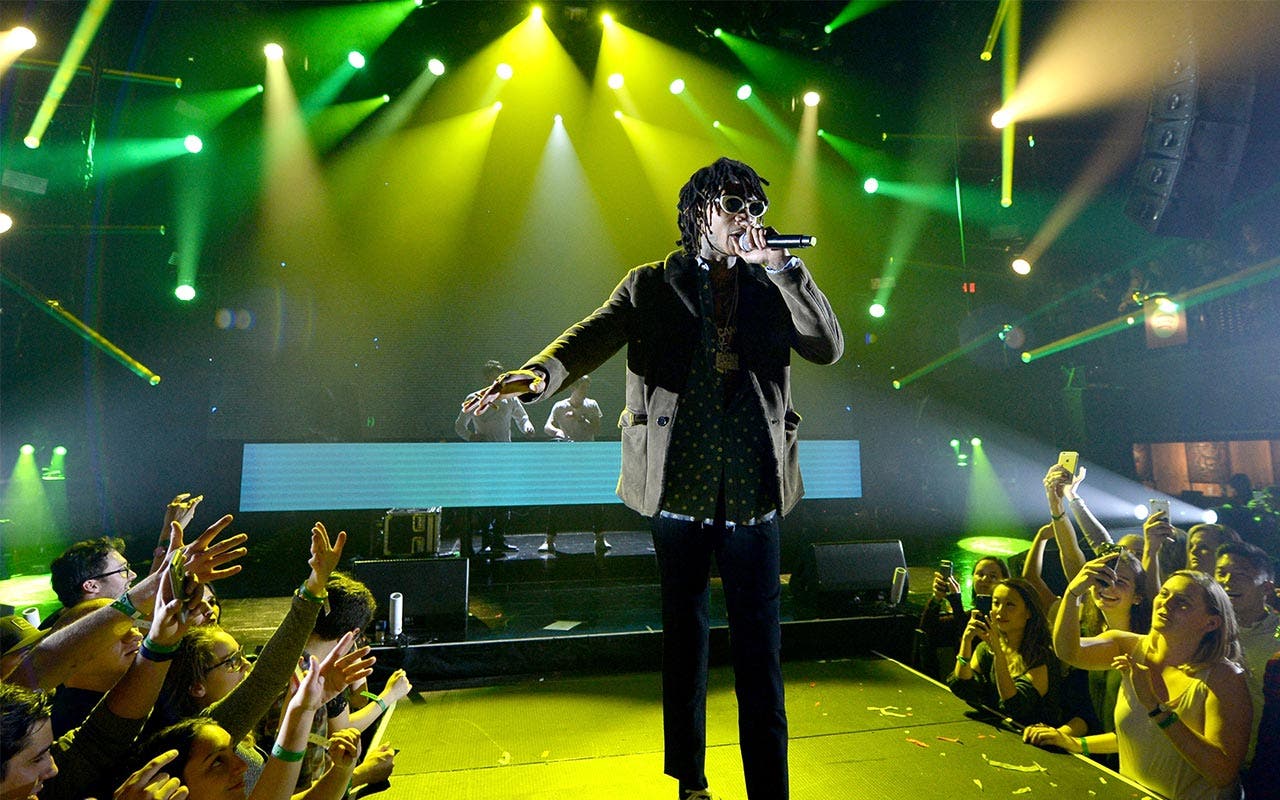 How Wiz Khalifa's net worth was built
Rapper, songwriter and actor Wiz Khalifa was born Cameron Jibril Thomaz to parents who were both serving in the military. Khalifa lived in Germany, the United Kingdom and Japan before his family settled in Pittsburgh. When he was 16 years old, his contribution to a mixtape of Pittsburgh artists caught the attention of Benjy Grinberg, founder of Rostrum Records. The following year, Khalifa released his own mixtape, and in 2006 he released his first full-length album, "Show and Prove," which earned him a nod from Rolling Stone magazine. As of early 2017, he has put out eight albums and made TV and movie appearances.
The bulk of Wiz Khalifa's net worth comes from concert ticket sales. Music sales, ad revenue from his popular YouTube channel and endorsements, including a deal with Converse, round out his income. He excels in merchandising, selling his branded products through online outlets such as Amazon. His net worth as of April 2017 is $45 million, according to Celebrity Net Worth.
You can use this net worth calculator to see your net worth.
Wiz Khalifa
Born: 1987
Birthplace: Minot, North Dakota
---
What he's up to now
Khalifa, a big advocate for the legalization of marijuana, released a mobile app in April 2017 called Weed Farm that lets players operate marijuana farms and reinvest the proceeds to grow their businesses. Khalifa also continues to record and is in the process of finalizing his next album, "Rolling Papers 2." In September 2016, he concluded a tour with Snoop Dogg and plans to start touring again this year. His company, Taylor Gang Entertainment, produces albums for artists such as Berner, Juicy J, Project Pat, Taylor Gang and Ty Dolla $ign, and creates licensing deals for merchandise.
---
Accolades
Khalifa won the BET Best New Artist award in 2011. He's won three Billboard Music Awards, has been nominated for 10 Grammys, and has won two Teen Choice Awards. In 2016, he was nominated for a Golden Globe award for Best Original Song for the tune "See You Again," which was featured in the movie "Furious 7" as a tribute to the late Paul Walker. He's also been nominated for several MTV Video Music Awards and two People's Choice Awards.
Wiz Khalifa knows how to grow his net worth. See how his fortune compares with that of his ex-wife, model and entrepreneur Amber Rose.