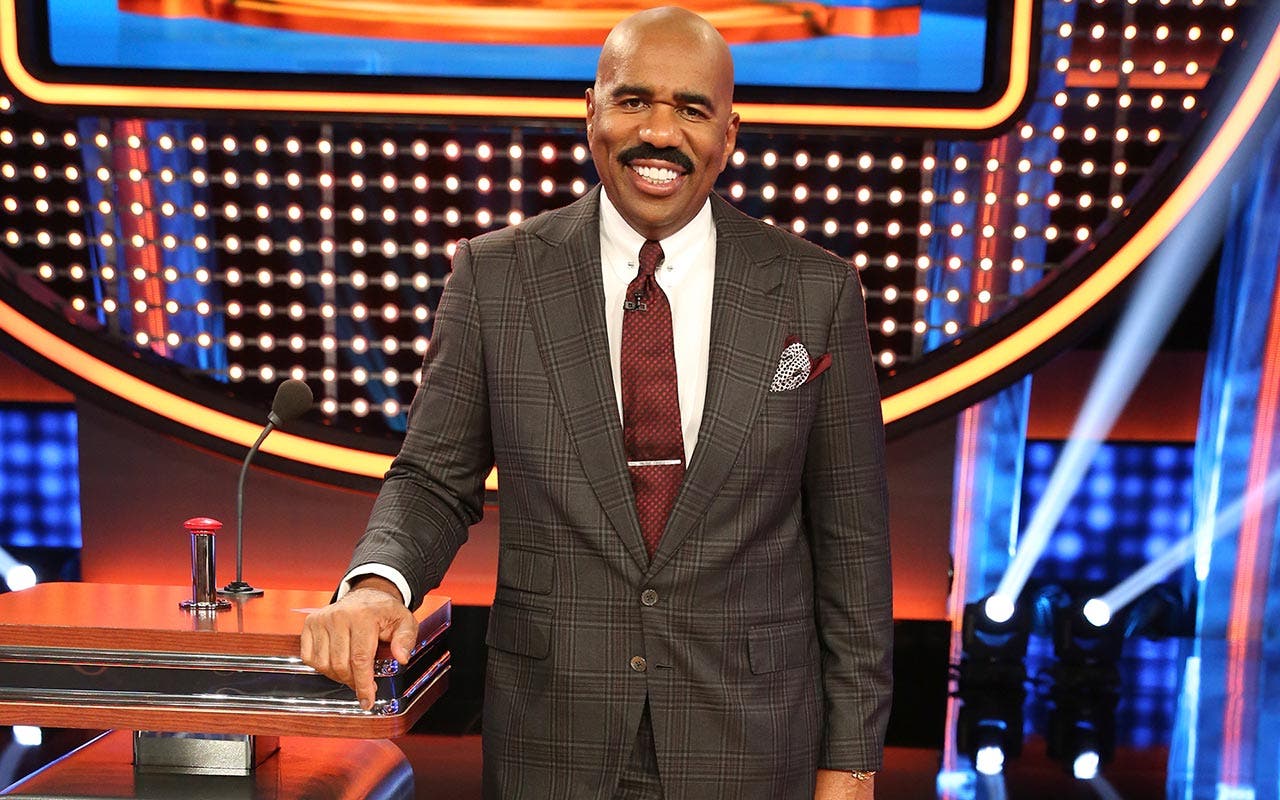 How Steve Harvey's net worth was built
Steve Harvey is a comedian, actor, radio host and writer. Born Broderick Stephen Harvey, he dropped out of college in his third year and held assorted jobs as a carpet cleaner, an auto plant assembly line worker and an insurance salesman before finding his calling in comedy. He got his first big break as host of "Showtime at the Apollo" from 1992 to 2000 (which is being revived for the 2017-2018 season). In addition, he starred on 122 episodes of "The Steve Harvey Show" between 1996 and 2002, and then began hosting a radio show which he continues today.
Since 2010 Harvey has hosted "Family Feud" and for five seasons, his popular daytime talk show "Steve Harvey." As his career progressed, Harvey became a host for multiple events, most notably the "Miss Universe Pageant," where in 2015 he famously announced the wrong winner (and later sought and received her forgiveness). Along with his comedic success, he is known for being a producer, director, actor and author of several books including the 2009 bestseller "Act Like a Lady, Think Like a Man," which was the basis of the romantic comedy, "Think Like a Man," a huge box office success. In his most recent book, "Jump: Take the Leap of Faith to Achieve Your Life of Abundance," Harvey shares his secrets of success.
Having appeared in several movies, Harvey starred alongside Bernie Mac, Cedric the Entertainer, and D.L. Hughley in Spike Lee's film, "The Original Kings of Comedy." Despite a $25 million setback with the IRS in 2008, Harvey manages to find many ways to use his multiple talents to bolster his finances. As of May 2017 he had a net worth of $120 million, according to Celebrity Net Worth.
You can use this net worth calculator to see your net worth.
Steve Harvey
Born: 1957
Birthplace: Welch, West Virginia
---
What he's up to now
Steve Harvey continues to host Family Feud, and is working on the revival of "Showtime at the Apollo." In addition he hosts "Little Big Shots" featuring the talents of precocious children.
His most popular show, "Steve Harvey," will relaunch in September.
---
Accolades
Harvey has won many awards throughout his career. In 2011, he won the BET Humanitarian Award for contributions in entertainment; in 2013, Harvey received a Hollywood Walk of Fame Star and is among an elite group of African American recipients.
Alabama State University granted him an honorary doctorate degree in 2016, and Harvey won two Emmy Awards — for Outstanding Game Show Host and Outstanding Talk Show.
Comedy can be lucrative. See how much Chris Rock is worth.