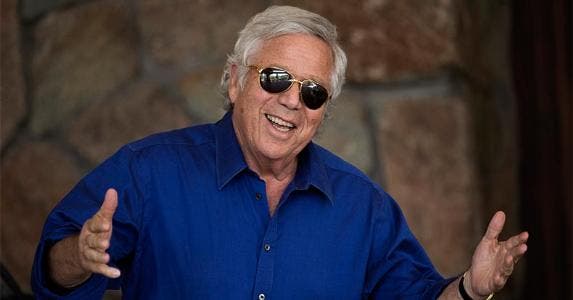 How Robert Kraft's net worth was built
Robert Kraft is an American business magnate. He is the chairman and CEO of a diversified holding company, Kraft Group, which has businesses in private equity, real estate, entertainment, sports, packaging and paper. Kraft is best known as the owner of the New England Patriots, a successful NFL franchise that he bought for $172 million in 1994. Today, the franchise is valued at more than $3.5 billion, which makes it the NFL's second-most valuable franchise behind Jerry Jones' Dallas Cowboys.
Kraft began his business career when he bought Rand-Whitney Group, a Worcester, Massachusetts-based company owned by his father-in-law that specializes in converting paper into containers and packaging for various products. In 1972, he established his own company called International Forest Products, which trades paper commodities. Kraft founded Kraft Group in 1998 to serve as an umbrella for his numerous interests. The company operates in more than 90 countries and has over 100 private equity investments.
Kraft used his revenue from the Patriots to grow his sports empire. He founded the New England Revolution, a Major League Soccer team, in 1996, and owns a stake in the UFC, a mixed martial arts promoter. He also owns Gillette Stadium, home of the Patriots.
Kraft's real-time net worth as of June 21, 2017, was $5.2 billion, according to Forbes.
Use Bankrate's net worth calculator to figure your own net worth.
Robert Kraft
Born: 1941
Birthplace: Brookline, Massachusetts
---
What he's up to now
Kraft continues to expand his sports empire and supports a variety of charities. In 2011, he donated $20 million to Partners HealthCare to establish a leadership and training center in community health in New England. Kraft also supports American Football Israel. In 2017, he contributed $6 million to build the first regulation-size American football field in Israel.
---
Accolades
Kraft has received a lot of honorary degrees from colleges and universities. He received the Theodore Roosevelt Award, which is the highest honor the NCAA confers on an individual. In 2012, he became the first NFL owner to receive the George Halas Award from the Pro Football Writers of America.
You think Robert Kraft is crazy rich? Check out the staggering net worth of Microsoft co-founder Paul Allen!