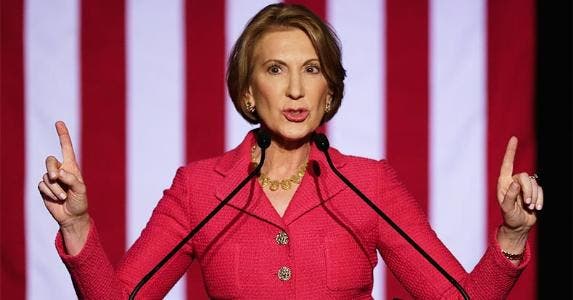 Carly Fiorina
Net worth: $59 million (as of February 2017)
Year of birth: 1954
Education: Stanford University, Robert H. Smith School of Business at University of Maryland, Sloan School of Business at Massachusetts Institute of Technology
---
How Carly Fiorina's net worth was built
Businesswoman turned politician, Carly Fiorina, became a household name during her candidacy as the only female Republican presidential nominee in 2015 and early 2016.
However, her net worth was built from her well-known positions as an executive at Lucent Technologies and as CEO and chairman of the board of directors for Hewlett-Packard.
Fortune Magazine called her the most powerful woman in business in 1998. Fast-forward six years later, she was named 10th on Forbes' list of "The World's 100 Most Powerful Women."
Fiorina is one of the few women who have run a Fortune 100 company, a feat she achieved after starting her career as a secretary for a real estate firm.
When she left Hewlett-Packard in 2005 due to the urging of the company's board of directors who were less than happy with the tanking stock price of the tech giant, she authored an autobiography, "Tough Choices."
Her net worth grew, when she was given a golden parachute of approximately $21 million when she left Hewlett-Packard.
Fiorina then made her way into politics, joining John McCain's 2008 U.S. presidential campaign, among other stints, before dropping out of the 2016 race in February.
You can use this net worth calculator to see your net worth.
---
What she's up to now
Fiorina continues to be an in-demand lecturer and speaker. According to her official website, Fiorina seems to have future plans to make sure her voice is heard fighting for Americans.
In December of 2016, Fiona met with her former rival, Trump, and said they had a "really productive meeting," adding it was an honor to meet him.
She was recently heard on an NPR radio program supporting Donald Trump's presidency and his female cabinet picks, and discussing the marches that took place in Washington in January this year.
---
Accolades
During Fiorina's business career, she gathered a number of awards. In 1999, Fiorina won a spot on Forbes' America's Most Powerful People list and Fortune Magazine named her Most Powerful Woman in American Business.
In 2001, London Business School named her an honorary fellow. In 2002, CRN Magazine named her one of its Top 25 Executives and she won an Appeal of Conscience Award in the same year.
In 2003, Fiorina won Concern International's Seeds of Hope Award, and in 2004, she took the Private Sector Council's Leadership Award and also the Electronics Industries' Alliance Medal of Honor.