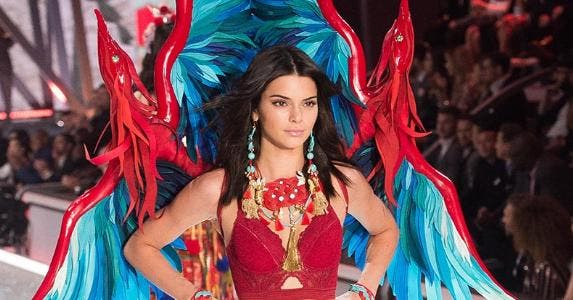 Kendall Jenner
Net worth: $18 million (as of January 2017)
Year of birth: 1995
Education: Sierra Canyon School
---
How Kendall Jenner's net worth was built
Kendall Jenner, daughter to Kris Jenner and Olympic athlete Bruce Jenner, grew up in Los Angeles in a wealthy family. Her mother's first marriage to Robert Kardashian also produced her half-sisters Kourtney, Kim, Khloé and Rob Kardashian.
Kendall first was exposed to the public eye when she began appearing on her family's hit reality television series, "Keeping up with the Kardashians."
When she was 14, her career in modeling was born when she was signed to Wilhelmina Models by her mother. She began doing fashion shoots for the popular clothing chain, "Forever 21." She received continuous work until she had built a reputable history of modeling in ad campaigns for large and popular brands.
Jenner now appears in high fashion runway shows and continues to model for many clothing brands and designers. She dabbles in acting and has begun to expand her brand to nail polish lines, shoes and handbags.
Compare your net worth with Kendall Jenner's by using Bankrate's net worth calculator.
---
What she's up to now
Jenner continues to model for well-known designers such as Marc Jacobs, Chanel and Givenchy. She was recently announced as the new face of Estée Lauder and has thus launched a new makeup line.
Alongside her achievements on screen and on the runway, Jenner continues to build her social media presence, with 68 million followers on Instagram. Her net worth builds with every post; it is estimated that she can earn up to $300,000 per post.
---
Accolades
This year, in 2016, Jenner has achieved a position on Forbes's list of highest paid models and won the Teen Choice Award for Choice Female Hottie.
In 2015, she won the Teen Choice Award for Favorite Model. In 2013, she won the Teen Choice Award for Choice TV Female Reality Star, largely due to her part in "Keeping Up with the Kardashians." Her sisters received nominations and victories in specific Teen Choice Award categories for their parts in their TV show, as well.
CARD SEARCH: Want to some new makeup from Kendall's Estée Lauder line? Compare the best credit card rates today.