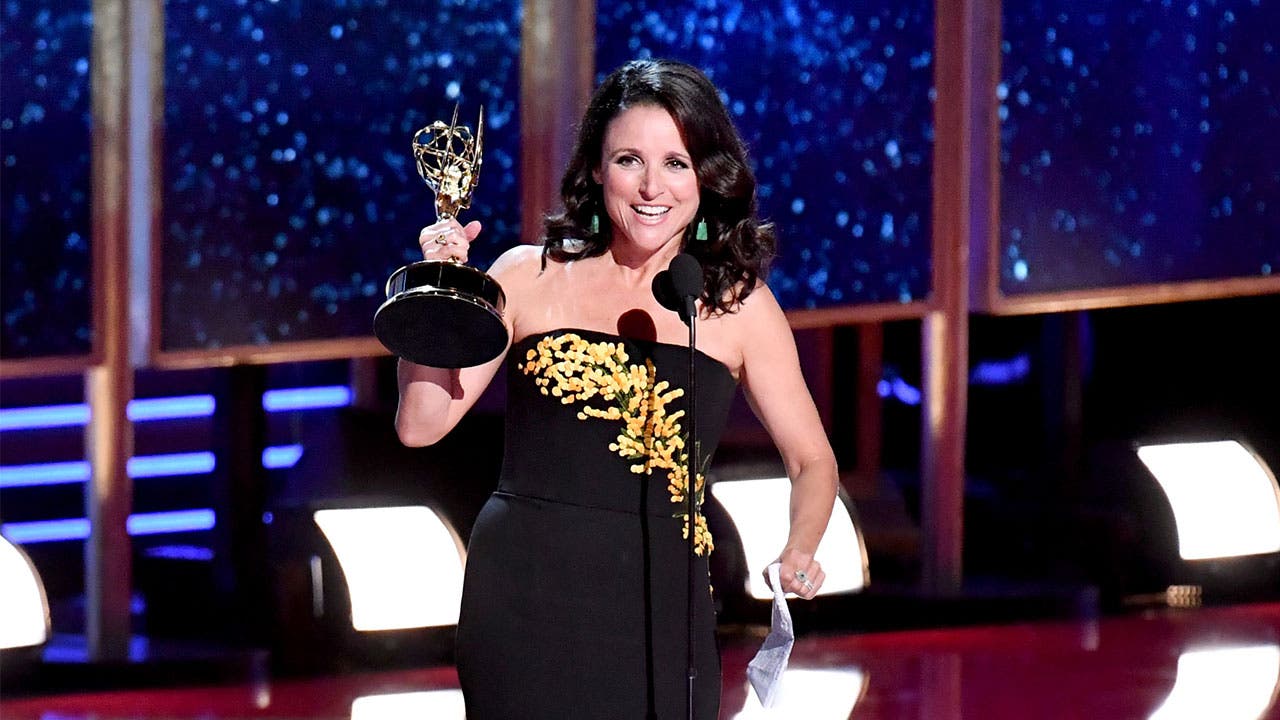 How Julia Louis-Dreyfus' net worth was built
Julia Louis-Dreyfus' acting career began in the early 1980s when she was a cast member of "Saturday Night Live" for three seasons. But it was her role as  Elaine Benes on the immensely popular TV sitcom "Seinfeld" in the 1990s that sent her star into the stratosphere.
Louis-Dreyfus was earning $150,000 per episode by the end of the show's nine-year run. After "Seinfeld," she continued to stay busy, with guest-star appearances on TV sitcoms "30 Rock" and "Curb Your Enthusiasm."
She had her own sitcom, "The New Adventures of Old Christine," from 2006 to 2010. She also did voice work for a number of animated films and TV shows, such as "A Bug's Life" and "The Simpsons."
Although she works mostly in television, Louis-Dreyfus has made a few movies. She starred opposite James Gandolfini in "Enough Said" in 2013 and was in the Woody Allen movie "Hannah and Her Sisters" in 1986.
Her net worth as of July 2017 is $200 million, according to Celebrity Net Worth.
You can use this net worth calculator to see your net worth.
Julia Louis-Dreyfus  
Born: 1961
Birthplace: New York City
---
What she's up to now
Since 2012, Julia Louis-Dreyfus has played the lead character in the HBO comedy series "Veep," a satirical sitcom headed toward its seventh and final season in 2018. Louis-Dreyfus plays former U.S. Sen. Selina Meyer, who becomes vice president — and more. (No spoilers!)
The actress now has six lead actress Emmy Awards for "Veep," a record number of wins by a performer playing the same role. She has two additional prime-time Emmys, and her total of eight ties Cloris Leachman's record for acting Emmy trophies.
In addition to her lucrative career in show business, Louis-Dreyfus stands to inherit a huge sum of money from her father, French businessman Gerard Louis-Dreyfus, who died in 2016. She gave a loving tribute to her father at the Emmys that year. The matter of her inheritance has not been settled yet, but her father's estate is worth about $4 billion. He was ranked No. 200 on Forbes' list of the world's billionaires in 2006.
---
Accolades
Louis-Dreyfus' two non-"Veep" Emmys are for best lead actress in the comedy "The New Adventures of Old Christine" in 2006, and for best supporting actress in a comedy series in 1998 for "Seinfeld." Louis-Dreyfus also won a Golden Globe for best supporting actress for "Seinfeld," in 1994.
Julia Louis-Dreyfus has some serious money. See how her net worth compares with that of Jerry Seinfeld, her former "Seinfeld" co-star.