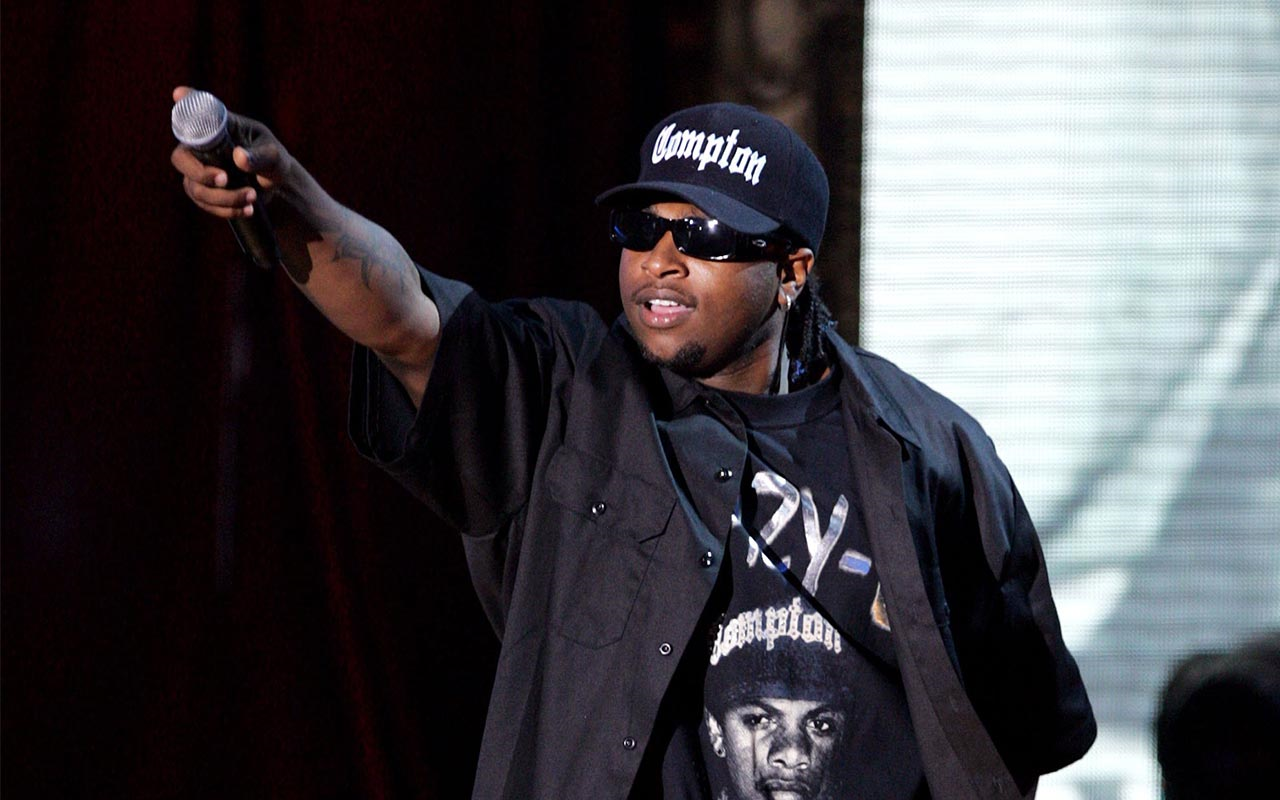 How Eazy-E's net worth was built
Eazy-E was born Eric Wright and grew up in a family burdened by financial struggles. He dropped out of high school to be a drug dealer and used the money he earned to co-found a record label called Ruthless Records with music biz insider Jerry Heller.
Eazy-E formed a trio with rappers O'Shea "Ice Cube" Jackson and Andre "Dr. Dre" Young. They wrote songs for Eazy's label, and after recording the hit single "Boyz-n-the-Hood," they decided to call the group N.W.A. and added rappers DJ Yella, MC Ren and The D.O.C.
Their debut album did marginally well, but their second album, "Straight Outta Compton," went double platinum and became their signature release. That same year, Eazy released the solo album "Eazy-Duz-It," which boosted his reputation as an artist and went double platinum.
In the early 1990s, N.W.A. disbanded over financial and personal controversies. Eazy continued to operate Ruthless Records until he died of AIDS at age 31. The net worth of his estate as of March 2017 is $8 million, according to Celebrity Net Worth.
You can use Bankrate's net worth calculator to see your net worth.
Eazy-E
Born: 1963
Birthplace: Compton, California
Died: 1995
---
Controversy remains
The death of Eazy-E is still controversial. He appeared to be in stable health until he announced he had AIDS. After that, his health deteriorated in a matter of weeks. On "Jimmy Kimmel Live!" in 2003, Suge Knight, owner of Ruthless Records' most hostile competitor, Death Row Records, and outspoken N.W.A.-hater, alluded to his chosen method of "assassination" by acquiring a blood sample from someone with AIDS and transferring it to his target.
---
Accolades
In August 1995, Eazy-E received a posthumous honor with The Source Awards' Lifetime Achievement Award. The untimely death of the rapper hung over the 1995 Source Awards ceremony, and many shared their thoughts on Eazy's legacy. A montage of Eazy's performances and special moments was shown during the ceremony. The release of the movie "Straight Outta Compton," which told the story of N.W.A., increased album sales for the defunct group. The 19-year-old album, "Straight Outta Compton," achieved triple-platinum sales following the movie's debut.
Eazy-E was a groundbreaker, paving the way for Big Sean and other rappers to get rich.