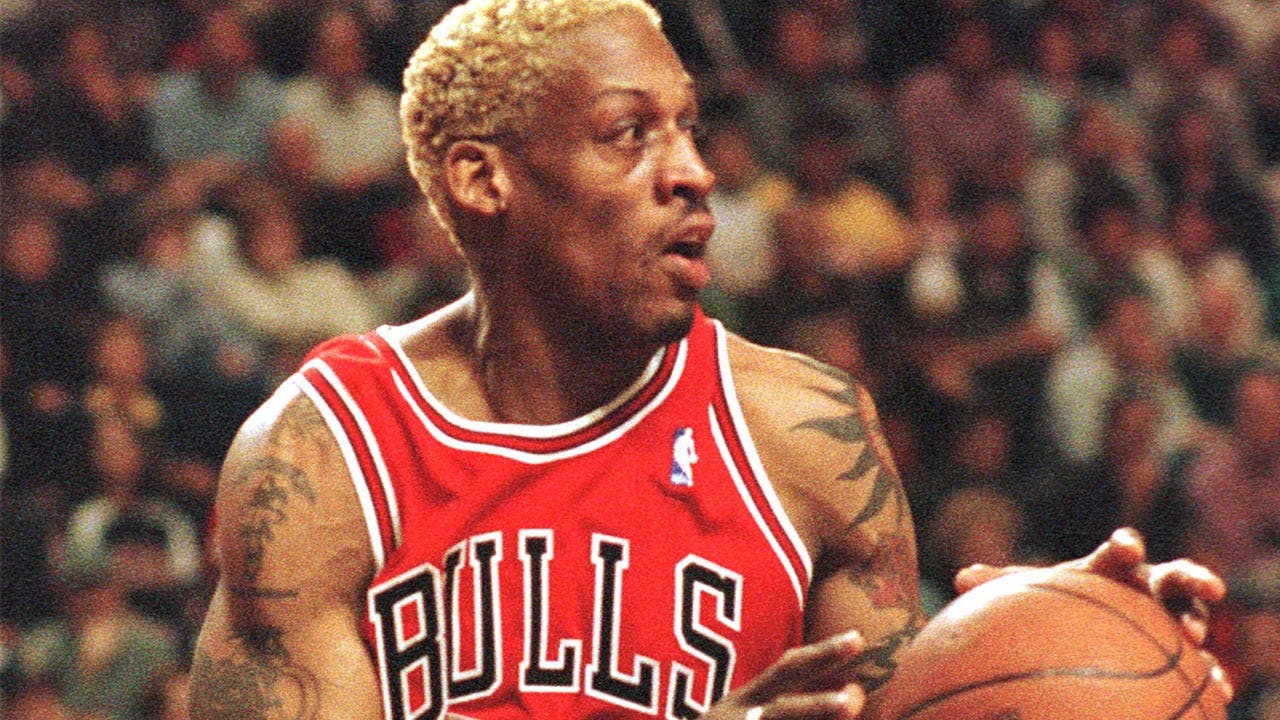 How Dennis Rodman's net worth hit negative numbers
Dennis Rodman's journey to fame began when the Detroit Pistons picked him in the second round of the 1986 NBA draft. As a tough defensive player, Rodman helped strengthen the team and transform it into an elite franchise. He was traded to the San Antonio Spurs in 1993, then to the Chicago Bulls in 1995. With the Bulls, Rodman dominated the court alongside Michael Jordan and Scottie Pippen. Toward the end of the 1999 season, Rodman joined the Los Angeles Lakers. The following year, he signed with the Dallas Mavericks, with whom he finished out his career.
Rodman reinvented his image around 1993 and started dying his hair in wild colors and sporting a lot of piercings and tattoos. A brief fling with Madonna and a brief marriage to Carmen Electra kept the celebrity gossip mill busy. His on-court antics drew attention, too. Rodman was often ejected from games for getting into fights with officials.
In the late 1990s, Rodman ventured into pro wrestling. He participated in a few matches alongside Hulk Hogan, Lex Luger and others. Rodman had his own reality TV show, "The Rodman World Tour," and appeared in other reality shows, among them "The Apprentice."
Rodman earned $29 million in the NBA, as well as millions more from endorsements and appearances. In 2013, Rodman's ex-wife filed suit to collect over $800,000 in child support. Rodman's lawyer said then his client was too broke to pay it. It's not clear where all Rodman's money went, but he's in the red, with a net worth of -$1 million, according to TheRichest.
You can use this net worth calculator to see your net worth.
Dennis Rodman
Born: 1961
Birthplace: Trenton, New Jersey
---
What he's up to now
Nike recently reissued Rodman's signature sneaker, called Air Shake NDestrukt, from his days with the Bulls. In November 2016, Rodman was charged with driving without a license, lying to police and other crimes after driving the wrong way on a California freeway. Rodman's 2013 visits to North Korea and his friendship with leader Kim Jong-un are still talked about. His effort to improve relations between the U.S. and North Korea by staging a historic basketball game between the two countries was documented in the film "Dennis Rodman's Big Bang in Pyongyang."
---
Accolades
Rodman was one of the most dominant rebounders in the NBA. He had nearly 12,000 rebounds and averaged 13.1 rebounds per game. Rodman is a five-time NBA champion and was named Defensive Player of the Year three times. Rodman joined the NBA All-Stars in 1990 and 1992. He was on the All-NBA Third Team twice and the All-Defensive First Team seven times. Rodman was inducted into the NBA Hall of Fame in 2011.
You think Dennis Rodman squandered a fortune? Check out the net worth of the once fabulously rich MC Hammer.