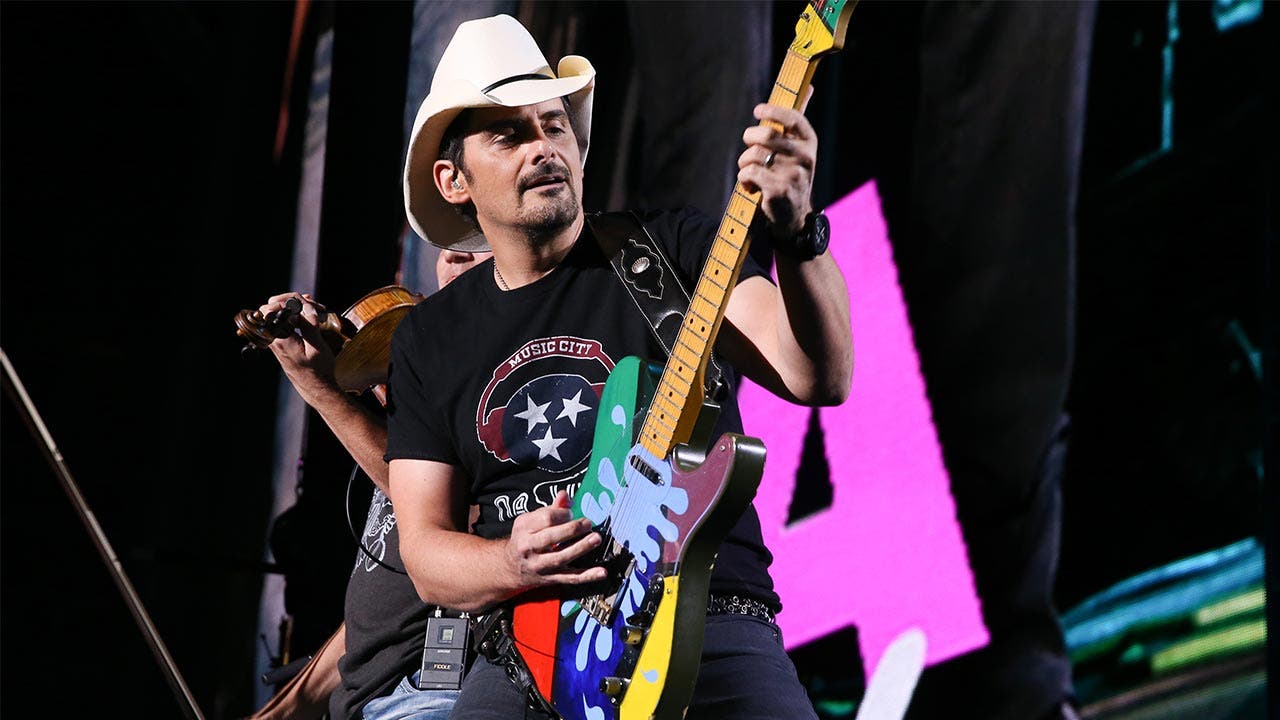 How Brad Paisley's net worth was built
Country music star Brad Paisley has been writing and performing since he was 12. After his band, the C-Notes, played for his hometown Rotary Club, he was invited to perform for a popular Saturday night radio show called "Jamboree USA," where he opened for stars like Roy Clark and the Judds.
His big break, however, came in 1999 when he played at the Grand Ole Opry for the first time. Months later, he had his first No. 1 song, "He Didn't Have to Be," from the album "Who Needs Pictures." Paisley has released 12 studio albums, with hit singles such as "I'm Gonna Miss Her," "Whiskey Lullaby," "Online" and "Then."
He had 10 consecutive singles reach No. 1 on the Billboard Hot Country Songs chart. The chart-topping debut of Paisley's album from 2014, "Moonshine in the Trunk," and 75 tour stops that grossed nearly $500,000 each, landed Paisley on Forbes' 2015 Country Cash Kings list.
As of June 2017, Paisley's net worth is $95 million, according to Celebrity Net Worth.
Calculate your net worth by using the Bankrate net worth calculator.
 Brad Paisley
Born: 1972
Birthplace: Glen Dale, West Virginia
---
What he's up to now
In the summer of 2016, Paisley launched a GoFundMe page to benefit victims of the historic flooding in West Virginia that year. He began the initiative by donating $100,000 of his own money. Throughout 2017, he will promote his album "Love and War," which features work by Mick Jagger and Justin Timberlake, among others. He continues to boost his net worth with product endorsements for Chevy, Sea Ray and SkinnyWater. Paisley will star in a special called "Brad Paisley's Comedy Rodeo," scheduled to air on Netflix on Aug. 15, 2017.
---
Accolades
Brad Paisley has a very long list of awards for his singing, songwriting, albums, videos and performances. In 2010, the music publishing company he co-founded, Sea Gayle Music, was awarded ASCAP Country Publisher of the Year. He has won three Grammy Awards; was named the Academy of Country Music's Best New Male Vocalist in 2000; was named best male vocalist in 2008 by both the Academy of Country Music and Country Music Association; and was the Country Music Association's entertainer of the year in 2010.
If you think Brad Paisley is rich, check out the net worth of Taylor Swift.