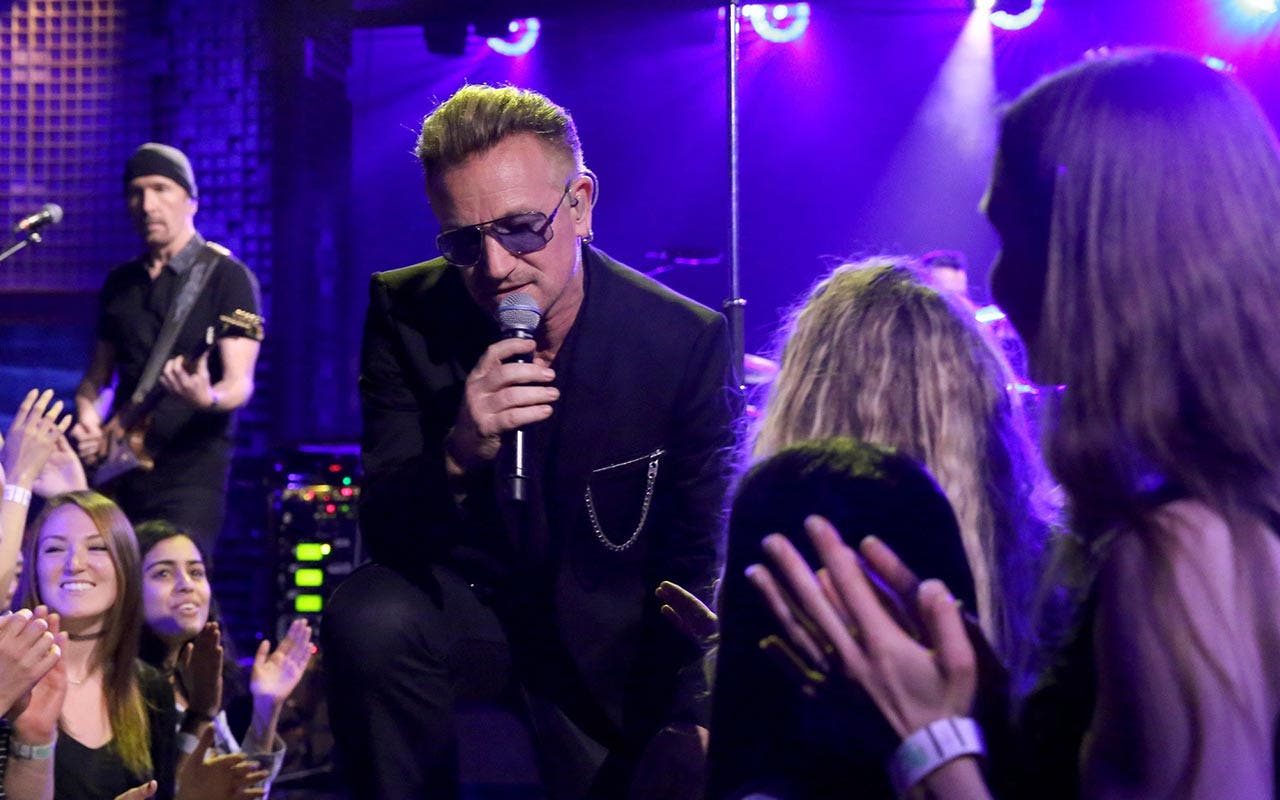 How Bono's net worth was built
U2 founder and front man Bono was born Paul David Hewson. There are a number of stories about how he got his stage name, one being that he was dubbed "Bono Vox" (good voice) while in high school.
Bono and his bandmates first started playing together in 1976, when they were teenage classmates. U2's debut album, "Boy," was released in 1980 and was followed by several others, but it wasn't until the fifth — "The Joshua Tree," released in 1987 — that the band found real critical and commercial success. Two singles from the album reached No. 1 in the U.S.: "I Still Haven't Found What I'm Looking For" and "With or Without You."
Bono writes most of U2's lyrics, focusing on political and religious themes.
Besides his music earnings, Bono has a large real estate portfolio and is a co-founder and board member of Elevation Partners, a private equity firm that made a lucrative pre-initial public offering investment in Facebook. Bono and his wife, Ali Hewson, founded EDUN, a socially responsible clothing line. It is now part of LVMH, a company that brands luxury products.
Bono also has his hands in publishing. He wrote an introduction for American economist Jeffrey Sachs' 2005 book, "The End of Poverty." In 2007, he published his own vision of world aid in a book called "On the Move." As of May 2017, Bono had a net worth of $700 million, according to Celebrity Net Worth.
You can use this net worth calculator to see your net worth.
Bono
Born: 1960
Birthplace: Dublin
---
What he's up to now
U2 will make its way to stadiums in North America and Europe this year with a tour celebrating the 30th anniversary of the iconic "Joshua Tree" album. The band's 15th studio album, "Songs of Experience," was due out this year. But Bono and the group decided to delay its release after Donald Trump won the presidential election. U2 says it now will have "a chance to think about the songs and make sure they're really what we want to put out." Bono also will be featured in a documentary coming out this year paying tribute to Prince.
---
Accolades
Bono is well-known for his global charity efforts, especially for the African AIDS crisis and world poverty. Bono was named a Person of the Year by Time Magazine in 2005, and in 2007, Queen Elizabeth II made him an honorary knight. Bono's many music awards include one of his firsts, a 1996 ASCAP for songs in the movie "Batman Forever." In 2014, Rolling Stone named "Songs of Innocence," a free album streamed in collaboration with Apple and iTunes, as best album of the year, and it was also nominated for Best Rock Album at the 57th Annual Grammy Awards.
It's hard to match Bono's net worth, but English musician Ed Sheeran is working on it.