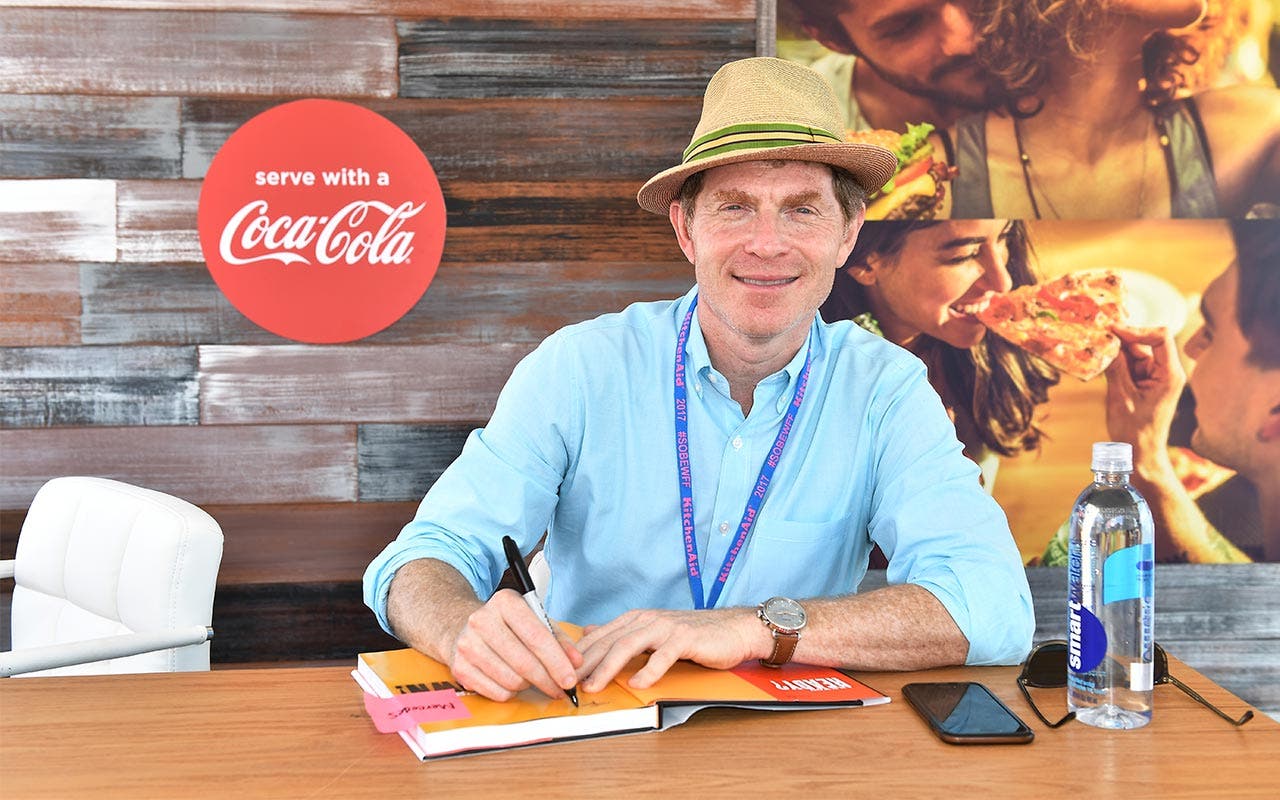 How Bobby Flay's net worth was built
Celebrity chef, restaurateur, author and TV personality Bobby Flay attributes his success to his work ethic. It began when he was 10 and he got an Easy-Bake oven for Christmas. His love of cooking prevailed over his education, and he dropped out of high school and worked at the Joe Allen Restaurant in Manhattan making salads. Owner Joe Allen, impressed with Flay, sent the young cook to culinary school.
After graduating from the French Culinary Institute, his career took off and he met restaurant icons such as Wolfgang Puck. He caught the attention of restaurateur Jerome Kretchmer, who offered Flay the chance to open his own restaurant. His Mesa Grill debuted in 1991.
Then came his second celebrated restaurant, Bolo, in 1993. He expanded into Las Vegas in 2004 when he opened a Mesa Grill in Caesars Palace. Then came Bar American in New York (2005), followed by Atlantic City's Bobby Flay Steak (2006) and a Mesa Grill in the Bahamas (2007). His success as a chef led to cookbooks, cooking programs and a succession of TV hits.
Flay's net worth as of April 2017 was $20 million, according to Celebrity Net Worth.
You can use this net worth calculator to see your net worth.
Bobby Flay
Born: 1964
Birthplace: New York City
---
What he's up to now
Flay debuted on the Food Network in 1994 and continuously hosts cooking programs, including his current series "Bobby Flay's Barbecue Addiction," "Brunch @ Bobby's" on the Cooking Channel, "Food Network Star," "Iron Chef America," "Worst Cooks in America, "Bobby Flay Fit," and "Beat Bobby Flay," which has been on the air since 2013. Since going through a bitter divorce in 2015, Flay has been focusing on his career and trying to unload his lavish Manhattan home.
---
Accolades
Flay's Mesa Grill won New York Magazine's 1992 Restaurant of the Year. The French Culinary Institute's Outstanding Graduate Award went to Flay in 1993, as did the James Beard Foundation's Rising Star Chef award. In 1995, he won the International Association of Culinary Professionals Award. Flay won two James Beard Foundation Awards (2005, 2007) and then two Emmys for "Boy Meets Grill" (2004, 2005) on the Food Network. In 2009, "Grill It! With Bobby Flay" won an Emmy for Best Culinary Program. In 2015, Flay was the first chef to receive a star on Hollywood's Walk of Fame.
Bobby Flay has a hefty fortune, but Skinnygirl founder Bethenny Frankel is worth even more!