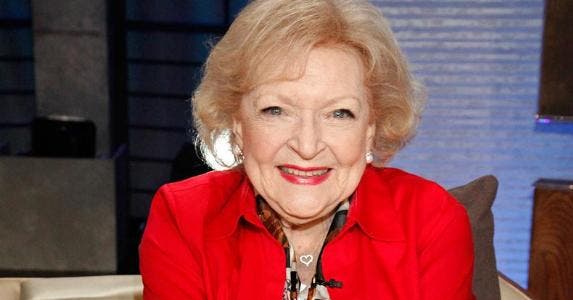 Betty White
Net worth: $45 million
Year of birth: 1922
Education: Beverly Hills High School
---
How Betty White's net worth was built
The adored, multiple Emmy-winning actress has amassed an estimated net worth of $45 million, according to Celebrity Net Worth. She can attribute her fortune to her long lifetime in show business.
RATE SEARCH: Earn some interest on your savings beginning today by shopping money market accounts.
White was born in Illinois, but her family relocated to Los Angeles when she was just 2 years old. Her first gig in the entertainment industry was as an assistant at a local television station.
She co-hosted a live daily TV variety show starting in 1949 and got her first Emmy nomination in 1951. The following year, she starred in her first sitcom, "Life with Elizabeth." She was seen on various TV series and game shows throughout the 1950s and '60s, and her career got a major boost in the mid-1970s when she landed the role of Sue Ann Nivens — "The Happy Homemaker" — on the "Mary Tyler Moore" show. It won her two Emmys.
In the 1980s, White got another big career bump when she starred on the hit sitcom "The Golden Girls." In addition to being a top-ranked show, it brought home another Emmy for White.
Her most recent series, "Hot in Cleveland," ran for six seasons, ending in 2015. White also has picked up supporting roles in major films, like the 2009 romantic comedy "The Proposal." She even hosted "Saturday Night Live" in 2010, proclaiming that she was "88 1/2 years old" — and she took home yet another Emmy for that appearance.
Check out Bankrate's net worth calculator to see how your net worth compares with Betty White's.
---
What she's up to now
When she's not on-screen, White is an avid animal advocate. For more than 40 years she has worked with the Los Angeles Zoo and the Morris Animal Foundation to help animals.
White also is an author with several books under her belt, including "Betty White: In Person" and "Here We Go Again: My Life in Television."
Beloved by her fans, she recently she made headlines when a man from Spartanburg, South Carolina, made a GoFundMe page to "Help protect Betty White from 2016" following a series of celebrity deaths late last year.
---
Accolades
Besides her five Primetime Emmy Awards, White also is the winner of three American Comedy Awards. Plus, she has two Daytime Emmys, three Gold Derby Awards and an award from the Gay and Lesbian Entertainment Critics Association. That's in addition to a slew of honors from other or organizations. But while she has been nominated four times for a Golden Globe, she has yet to take one of those trophies home.
ADVISER SEARCH: Need some professional help managing the money you've got? Find a financial adviser today