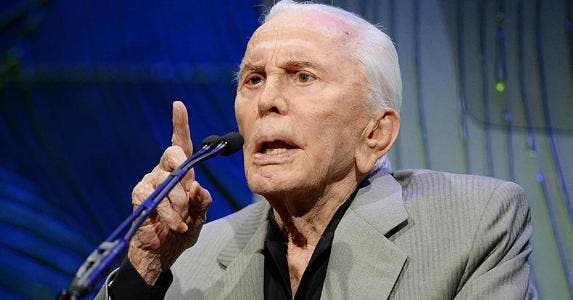 Kirk Douglas
Net worth: $60 million (as of December 2016)
Year of birth: 1916
Education: St. Lawrence University, American Academy of Dramatic Arts
---
How Kirk Douglas' net worth was built
Kirk Douglas' net worth is estimated at $60 million as he turns 100 years old. His acting roles in major films generated the bulk of his wealth. Other work in television and as an author and film producer increased his earnings.
Quite the success story, Douglas was born Issur Danielovitch and grew up poor in Amsterdam, New York. He worked odd jobs to put himself through St. Lawrence University and study acting at the American Academy of Dramatic Arts. After serving in World War II, Douglas made radio and television commercials, paving the way to his acting career.
He made his first film in 1946: "The Strange Love of Martha Ivers." His first of three Academy Award nominations came for his portrayal of boxer Midge Kelly in the 1949 film "Champion." His other notable movies include "20,000 Leagues Under the Sea," "Spartacus" and "Tough Guys." He was given an honorary Oscar in 1996.
Douglas' side career as an author started in 1988 when he wrote the best-selling autobiography, "The Ragman's Son." He has authored 10 books, including "Dance With the Devil," "The Gift," "Climbing the Mountain: My Search for Meaning" and "My Stroke of Luck."
RATE SEARCH: Earn some interest on your savings beginning today by shopping money market accounts.
---
What he's up to now
Though he has reached the century mark, Douglas isn't showing signs of slowing. In 2009, he performed on stage in a one-man show, sharing stories about his life in "Before I Forget." He also does a lot of philanthropic work through the Douglas Foundation, contributing generously to charities like the Los Angeles Mission's women's center and the Children's Hospital Los Angeles.
---
Accolades
Though he never won a competitive Oscar, Douglas has racked up quite a collection of honors. He has a star on the Hollywood Walk of Fame, is No. 17 on the American Film Institute's list of greatest male screen legends, and he has two Golden Globe awards. The Screen Actors Guild and the American Film Institute have given him lifetime achievement awards.
ADVISER SEARCH: Need some professional help managing the money you've got? Find a financial adviser today.