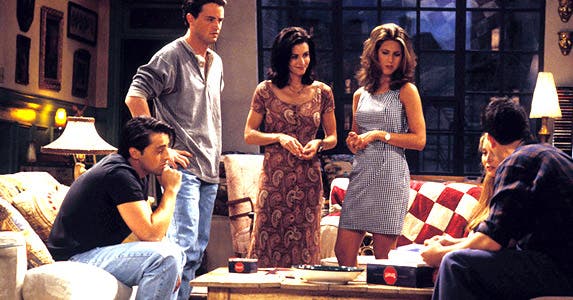 Could the casts afford their TV homes?
Ever look at the homes from classic TV shows and wonder: Could they really afford that?
From the Greenwich Village apartment on "Friends" to the mansion in "The Fresh Prince of Bel-Air," many of the '90s TV shows featured memorable homes.
And, on some shows, like "Home Improvement" and "Family Matters," the residents were destroying and rebuilding them regularly.
But how much did those famous, fictional homes cost their inhabitants way back when?
And, if you could even find something similar in the real world, what would they cost today?
View Today's Lowest Mortgage Rates
Here's the real-life low-down on nine iconic homes from '90s TV favorites.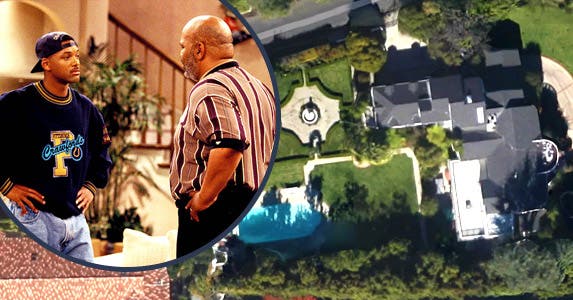 'The Fresh Prince of Bel-Air' (1990-96)
Inset: © Globe Photos/ZUMAPRESS.com; Google Maps: © 2014 Google
With "Bel-Air" in the title, this house had to be top-dollar. And it did not disappoint.
From the White House-style portico to its own pool and tennis courts (complete with pool house apartment) to a British butler, it had all the bells and whistles.
It's also spot on for Bel-Air, says Chad Rogers, real estate agent with Hilton & Hyland/Christie's International Real Estate.
Likely built in the 1930s, the traditional house is typical of what you would see in both Bel-Air and Brentwood, he says.
In the early 1990s, the house would have cost "north of $3 million," Rogers says. These days, the price would be more than $10 million, he says.
While Uncle Phil and Aunt Viv earned their money before the dot-com boom, it was still a realistic choice for the fictional L.A. power couple. He was a high-profile lawyer (later a judge), while she was initially a college professor. So making the mortgage would not be a problem, says Rogers.
And, the frequent references to neighbors who were household names?
Totally plausible, since Bel-Air is known as a haven for celebrities and super-successful, high-earning professionals, Rogers says.
Like the Fresh Prince himself would say, "Yo, homes, to Bel-Air!"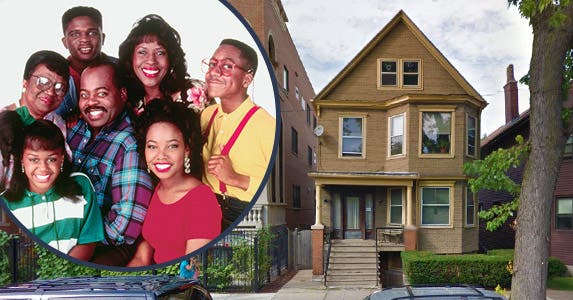 'Family Matters' (1989-98)
Inset: WARNER BROTHERS/PR NEWSWIRE/Newscom; Google Maps: © 2014 Google
This sitcom featured a down-to-earth, blue-collar Chicago family, their wacky, genius neighbor — and a lot of crazy inventions.
And while Steve Urkel's "transformation chamber" was totally sci-fi, the Winslow home was pure Chicago.
"If you went down any North Side or South Side street, that's what you'd see, says Matt Laricy, managing broker with Americorp Real Estate, a Chicago firm. "And, from my memory of the show, it was a realistic depiction of a Chicago neighborhood."
The Winslow's comfortable Cape Cod appears to date from the 1940s or '50s, and would probably be about 3,000 square feet, he says. While it would likely fetch between $400,000 and $450,000 today, it likely would have cost anywhere from $100,000 to $150,000 in the early 1990s.
So it would have been a practical choice for Carl, a police sergeant, and Harriette, a working mom.
Another point the show got right: As an employee of Chicago, Carl would have been required to live in the city. And after the municipal residency requirement went into effect, an influx of city buyers sent home values up, says Laricy.
No telling what living in the vicinity of Urkel would do for home insurance rates, though. ("Did I do that?")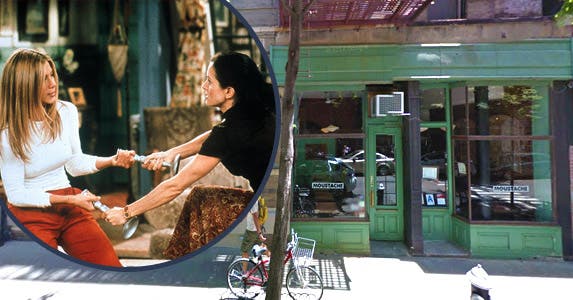 'Friends' (1994-2004)
Inset: © Globe Photos/ZUMAPRESS.com; Google Maps: © 2014 Google
Is there anyone with a TV who doesn't remember this apartment?
The hand-me-down, rent-controlled, Greenwich Village two-bedroom with purple walls, a turquoise kitchen and lots of exposed brick and parquet was iconic. Down to the gold picture frame around the peephole.
And it became the goal for a generation (or two) of 20-somethings who realized they could never make rent alone.
But was it realistic?
If you're lucky enough to inherit a rent-controlled apartment, sure. And you don't mind a view of an ugly naked guy. Otherwise, not so much.
In the 1990s, as now, the West Village was a desirable neighborhood, says Mary Vetri, associate broker with Brown Harris Stevens. A similar apartment would have rented for $1,800 to $2,200 in the 1990s, absent rent control, she says.
At that time, the neighborhood was home to "a really good cross section of people," Vetri says.
Today? Figure more like $5,200 to $5,600 a month, says Vetri. Which means you'd need a combined household income "north of $180,000." And similar apartments are often home to groups of finance and tech execs, or young high-dollar, double-income families, she says.
These days, the gang from "Friends" would more likely be trading quips in a Brooklyn coffee shop, downstairs from their flat in Williamsburg or Bushwick, Vetri says.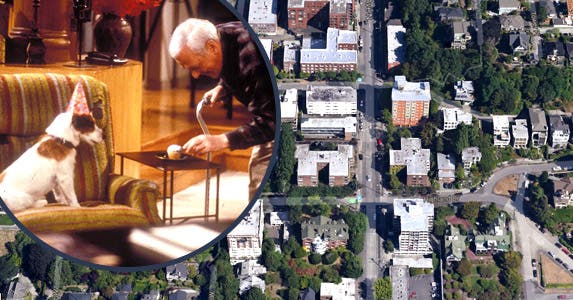 'Frasier' (1993-2004)
Inset: © Globe Photos/ZUMAPRESS.com; Google Maps: © 2014 Google
With killer views of the Space Needle, floor-to-ceiling glass, oceans of oak and one very modern fireplace, it has to be one of the most beautifully designed homes on television.
Even with the ratty recliner.
And, according to The Seattle Times, Frasier Crane's fictional condo helped inspire future developers and homebuyers.
But in the 1990s, when the show aired, there weren't any high-rise residential buildings in the Queen Anne Hill neighborhood, where Frasier's condo was most likely set, says Tyler McKenzie, president-elect of the Seattle-King County Association of Realtors and managing broker for John L. Scott Real Estate.
Similar homes in adjacent neighborhoods were bringing about $575,000, he says.
These days, Queen Anne Hill has its own luxury high-rises, and Frasier's home would cost roughly $1.4 million, says McKenzie — though that three-bedroom, 3 1/2-bath floor plan would be rare in something other than a penthouse, he notes.
So could Frasier have afforded his 1990s mortgage? (I'm listening.)
Very much so, says McKenzie. And, he adds, for a Harvard-educated psychiatrist with a popular radio show, endorsement deals, investments and a taste for the finer things, it would have been a smart choice.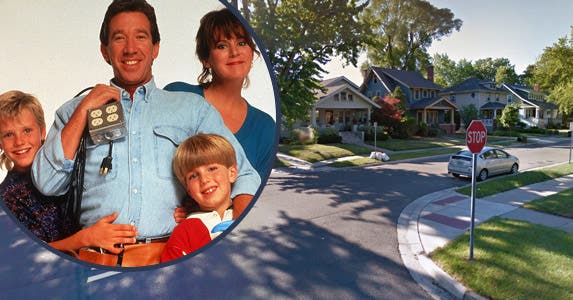 'Home Improvement' (1991-99)
Inset: © ABC/Newscom; Google Maps: © 2014 Google
Detroiters have a special affinity for this series, says Frank J. Tarala, president-elect of the Greater Metropolitan Association of Realtors and president/CEO of Principal Brokers Network.
"It was Detroit in prime time," says the Motor City native.
For the most part, it got the real estate right, too, Tarala says.
The family house — home to Tim "the Tool Man" Taylor, wife Jill and their three growing boys — was widely believed to have been situated in Royal Oak. And it's typical of the town's 1960s colonials, Tarala says.
If they purchased it in the late 1980s, that three-bedroom with 1,600 to 1,800 square feet would have cost about $140,000 in prime condition, he says. Or roughly $120,000 for a fixer-upper — which the Tool Man probably would have preferred, Tarala says.
That would also explain the existence of a few modern ("More power!") upgrades that are rarely original in local houses from that era, such as the fireplace and the glass doors to the patio, he says.
The price would have been totally realistic for a two-income working family, Tarala says. Now a similar home would go for around $250,000.
Also right on the money: friendly neighbors chatting over the fence. It's the kind of place, he says, "where people know their neighbors."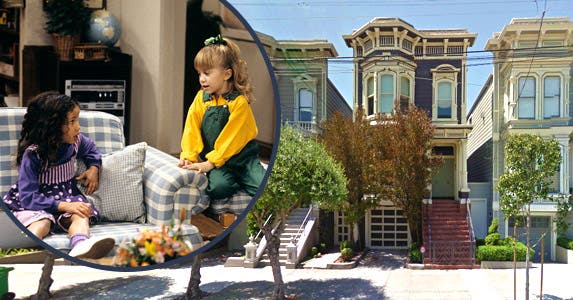 'Full House' (1987-1995)
Inset: © Jerry Fitzgerald/Retna Ltd./Corbis; Google Maps: © 2014 Google
This one really lived up to its title.
After eight years, when the series ended, there were nine people sharing the fictional Tanner home.
And "it wasn't a huge house," says San Francisco native Justin Fichelson, luxury broker with Decker Bullock Sotheby's International Realty.
It was likely 2,400 square feet, which is about right for the Italianate Victorian shown in the opening credits, he says.
The interior, shot on a sound stage, was a fairly good representation, but TV glossed over some of the details, he says. For instance, that staircase the kids were always going up and down would have been a lot steeper and narrower, Fichelson says.
And the rooms were "a little more spacious" than a true Victorian, he says. The two front parlors would have been light and bright, as they were in the show, but the bedrooms and closets would have been smaller, he says.
Financially, it was right on target. If the Tanners had bought the house in family-friendly Noe Valley in the late 1980s, it would have cost roughly $325,000, says Fichelson. A two-income couple "with decent jobs could afford that," he says. Luckily, for the Tanners, they had Uncle Jesse and Uncle Joey to help Danny with the payments.
The price tag today: at least $2.3 million, Fichelson says.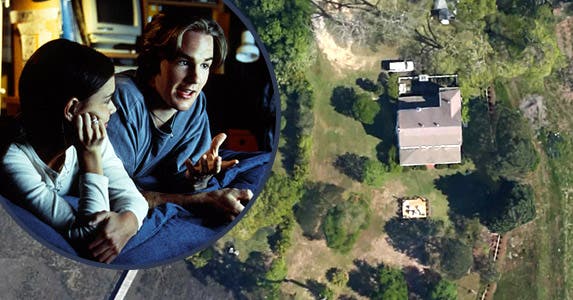 'Dawson's Creek' (1998-2003)
Inset: © Globe Photos/ZUMAPRESS.com; Google Maps: © 2014 Google
Forget the boatloads of teen angst. When it comes to home values in the fictional Cape Cod community of Capeside, it's all about "the creek."
Dawson Leery's family home is a roughly 2,000-square-foot colonial, built "in the late 1800s or early 1900s," says Kathleen Fuller, operating principal for Keller Williams Realty, Cape Cod and the Islands.
But its cost "would really depend on what that creek accessed," she says. "Because it depends on what you can do with the water."
At a minimum, the price tag would have been $350,000 to $400,000 in the late '90s, when the series began, and between $450,000 and $500,000 today, Fuller says.
If the creek fed a river flowing into Cape Cod Bay or Nantucket Sound, you're talking $500,000 to $600,000 then — and $800,000 to $850,000 now, she says.
And it was a realistic option for the family because the mother was a successful newscaster, Fuller says.
But Capeside itself looks more like its North Carolina stunt double. Town buildings are brick instead of New England white clapboard or shingle, she says.
And on the Cape, downtown retail areas are "typically a few blocks from the water," Fuller says. "You don't just stroll across the street." Unless you're Joey, strolling over to climb up to Dawson's window.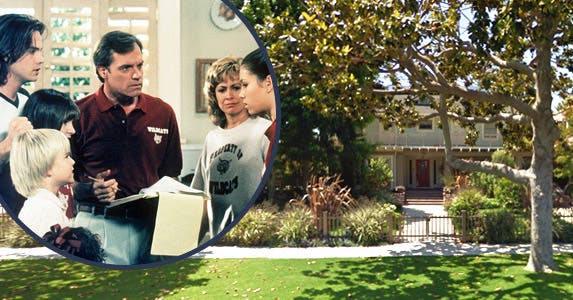 '7th Heaven' (1996-2007)
Inset: © Globe Photos/ZUMAPRESS.com; Google Maps: © 2014 Google
This family drama was so engrossing you didn't stop to wonder: How are they affording that house?
In the series, a minister, his stay-at-home wife and their seven children live in a gorgeous, sprawling suburban home in the fictional town of Glen Oak, outside greater Los Angeles.
But the home, a traditional that likely dates to about 1914, would have cost roughly $550,000 in the mid-1990s (when the show aired), even in a less-expensive suburb, Rogers says.
"I don't see a minister affording this house unless he won the lottery," he says.
The monthly note, for either Camden or his small church, would have been roughly $2,500 to $3,500, says Rogers.
More realistic: The same very traditional style in a smaller house, but "a baby version," Rogers says. Either that or move it out of the L.A. area to another part of the country, he says.
The Camden home would sell for about $5 million today, says Rogers.
And that's almost enough to put seven kids through college.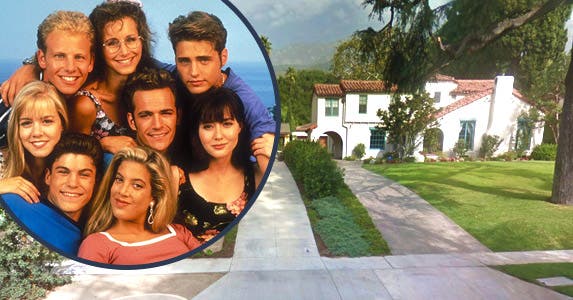 'Beverly Hills, 90210' (1990-2000)
Inset: © Globe Photos/ZUMAPRESS.com; Google Maps: © 2014 Google
Often a smart move: buying the least expensive house in a more expensive neighborhood.
In this case, it also provided the premise for a 10-season series. And insured that an entire generation will always remember the ZIP code for Beverly Hills.
The Walsh family's Spanish-style home, which likely dates to the late 1920s, would have sold for $1.25 million to $1.5 million in the 1990s, Rogers says. And with a father who's a successful accountant, it was definitely affordable, he says.
A running plot point: Siblings Brandon and Brenda are the least affluent kids in their high school. So it's a given that theirs was one of the least expensive homes in the neighborhood.
While the home probably had four bedrooms, four bathrooms and about 3,200 square feet, the rooms were fairly close together — just as they'd be in real life, Rogers says. The Walsh family was close-knit and "low-key, and the house would be very low-key in that area."
The price tag today: over $5.5 million, Rogers says. That would pay for a lot of meals at the Peach Pit.