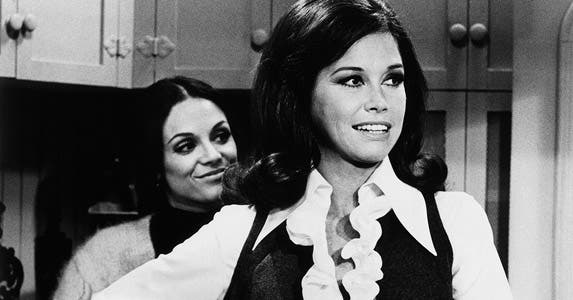 7 dy-no-mite TV homes of the '70s
Gas cost 50 cents a gallon, stamps sold for 8 cents and polyester leisure suits were all the rage.
Welcome to the '70s.
Hairstyles went from long, straight hair to mullets to wings. Denim found its way into shirts and flared jeans, while the wrap dress adorned women's bodies. Some of the TV homes were truly groovy.
From Mary Richards' singleton studio apartment in "The Mary Tyler Moore Show" to the trendy, family split-level in "The Brady Bunch," the 1970s gave us an abundance of memorable TV pads.
So what would they have cost in real life, then and now? We look at 7 iconic homes from classic '70s shows.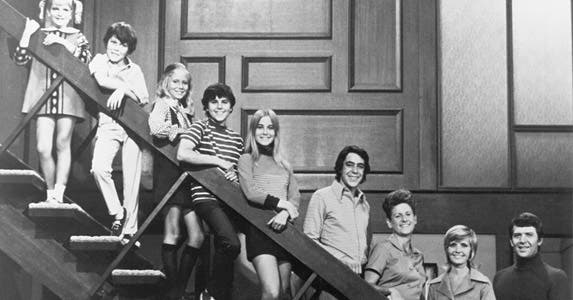 'The Brady Bunch'
© Corbis
What do you remember most about this '70s classic?
The tic-tac-toe board of happy faces? That upbeat ear-worm of a theme song? Or maybe it's the iconic, California split-level that housed the whole "bunch."
On the outside, the home was portrayed by a cutting-edge 1959 house in Los Angeles' Studio City. The soundstage interior — with its open staircase, groovy shag carpet, rock accent walls and plenty of paneling — was a 1970s dream (or a 2015 nightmare).
With 4 bedrooms, a den for Dad, and 3 bathrooms — including 1 shared by all 6 kids — it appeared the family was stretching the space limit.
But in real life, what should have been about 2,500 square feet looked more like twice that, says Chad Rogers, real estate agent with Hilton & Hyland/Christie's International Real Estate.
And that cozier version would have still cost about $45,000 (or $310 a month), he calculates.
But an architect, who would have been earning around $1,000 a month, never could have supported 8 people, covered the cost of live-in help and made the mortgage, Rogers says.
So what would that very Brady home go for today?
Roughly $1 million to $1.3 million, says Rogers. Even with Alice's avocado and orange kitchen.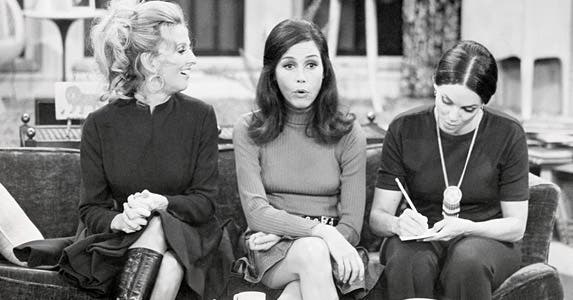 'The Mary Tyler Moore Show'
© Corbis
Wish you could live in Mary's cute studio apartment?
While the attic loft was a set on a studio soundstage, the real Minneapolis Victorian — the house shown in all the exterior shots — exists and is on the market.
"This one is photogenic, and it's got personality and style," says listing agent Barry Berg, a Realtor with Coldwell Banker Burnet.
"It is known locally as the 'Mary Tyler Moore house,'" he says.
The 9,500-square-foot home, built in 1900, has 7 bedrooms, 9 bathrooms and a 3-car garage, plus a finished attic, he says.
While larger homes weren't subdivided into apartments in this Minneapolis neighborhood, it was more common in areas a few miles farther from downtown, he says.
That sweet attic studio, if it had existed, could have rented for a few hundred a month, he says — affordable for a successful TV news producer on her way up in the world.
In the 1970s, the home would have sold for $135,000 to $140,000, Berg estimates.
Today's asking price: $1,995,000.
That's more than a 14-fold increase in value. And that definitely calls for tossing a beret.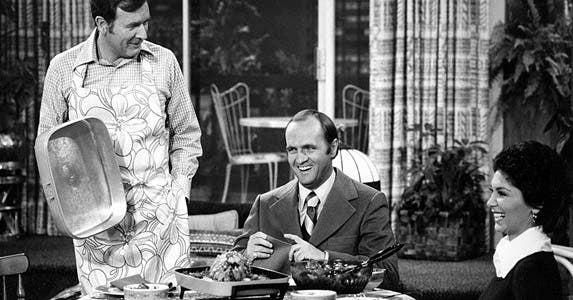 'The Bob Newhart Show'
© Globe Photos/ZUMAPRESS.com
The premise: A collection of kooky characters orbited around Bob Newhart's unflappable, deadpan psychologist, Bob Hartley, and his even-keeled wife, Emily.
But no matter how wacky their lives got, their home — a luxury apartment in a Chicago high-rise — always looked gorgeous. With an open floor plan, breakfast bar and views of the city, the apartment seemed modern.
The exterior is actually a condo building in the city's Edgewater neighborhood, says Matt Laricy, managing partner with Americorp Real Estate in Chicago. A similar home in that neighborhood would have run anywhere from $50,000 to $60,000 in the 1970s, he says.
So whether Bob and Emily were renting or paying a mortgage, it would have been totally affordable for a successful doctor and a schoolteacher.
Today, an entry-level two-bedroom in a '70s-vintage building would likely cost over $400,000, says Laricy. And something similar in a new building would run at least $750,000, he says.
And both of those options would typically have a doorman, pool, fitness room and dry cleaners on-site, says Laricy.
No wonder Bob revisited the Chicago apartment in the finale of his next series, "Newhart." Who wouldn't be homesick?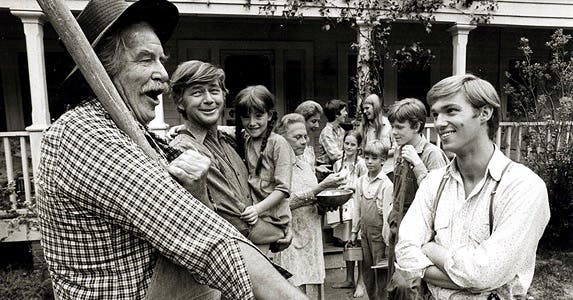 'The Waltons'
© Globe Photos/ZUMAPRESS.com
This show gave us the pop culture phrase "Good night, John-Boy."
Filmed in the 1970s, the series takes place in Virginia's Blue Ridge Mountains in the 1930s. Based on show creator Earl Hamner's childhood in Schuyler, Virginia, the Depression-era drama also echoed many of the financial and social struggles of the '70s.
In the show, the close-knit Waltons — 7 kids, their parents and their paternal grandparents — live together in a modest but beautiful 5-bedroom, 1-bath mountain home.
While an indoor bathroom would have been a rarity in a farmhouse of that era, the overall floor plan was practical and popular, says Bill Bailey, associate broker with Better Homes and Gardens Real Estate III in Charlottesville, Virginia. Especially the big front porch where the family gathered, he says.
The simple home was a "4 over 4," with 4 rooms downstairs and 4 upstairs, he says. And the 3,000-square-foot home would have cost $500 to $600 during the '30s and '40s — affordable for the Depression-era family, he says.
Today, that same home, on 1/3 of an acre, would sell for $350,000 to $375,000, Bailey says.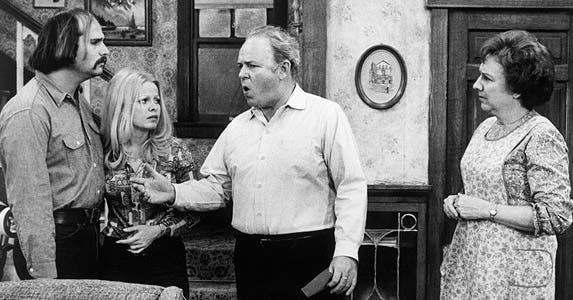 'All in the Family'
© Bettmann/CORBIS
This one oozed realism as one of the few shows on TV where characters actually watched TV.
From those establishing shots in the opening — to the strained strains of Archie and Edith singing "Those Were the Days" — you knew the show took place in an Astoria, Queens, row house.
Though it looks cramped compared with today's TV homes, the Bunker house was actually roomier than its real-life counterparts, says George Halvatzis, broker/owner of Halvatzis Realty.
Those Astoria duplex row houses are typically 20 feet wide, 30 feet long, and 2 stories — for a total of 1,200 square feet, he says. In the 1970s, the homes sold for $40,000 to $50,000, well within reach of someone making $30,000, says Halvatzis.
"We're not comparing apples to apples," he says. Now interest rates are 4% instead of 15%, so "money is cheaper, but prices are higher, and salaries are higher," he adds.
Today, those same duplexes fetch $850,000 to $950,000 — and that's sometimes for a house that needs to be gutted, he says.
While many young adults, like Mike and Gloria, fled Astoria in the '70s, today it's a hot neighborhood, says Halvatzis. "Now they all want to get back there."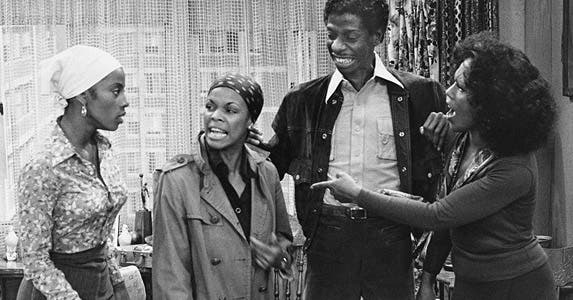 'Good Times'
© Corbis
For the resilient Evans family, home was a small but memorable apartment in the Chicago projects.
Shots of the Cabrini-Green public housing high-rises were used in the opening credits. Inside, the apartment had 2 bedrooms and 1 bathroom — and most of the show's action took place in the living room or the kitchen.
At that time, it would have been an affordable option for a family struggling financially, says Laricy.
One touch that wasn't true to life: While they lived in a high-crime area, the Evanses seldom locked their door.
Today, Cabrini-Green's public high-rises are gone. The area has become a mixed-income, mixed-development neighborhood — home to hot restaurants, shops and movie theaters, as well as some very pricy housing, says Laricy. "Cabrini-Green is one of the most expensive areas in the city."
And if one of the uber-successful Evans kids wants to move back to the old neighborhood, that mortgage won't come cheap.
A vintage 2-bedroom apartment, which would be totally renovated and updated, would likely go for between $400,000 and $600,000, he says. Add an extra bedroom and it would be $600,000 or more, Laricy says.
As J.J. would say: "Dy-no-mite!"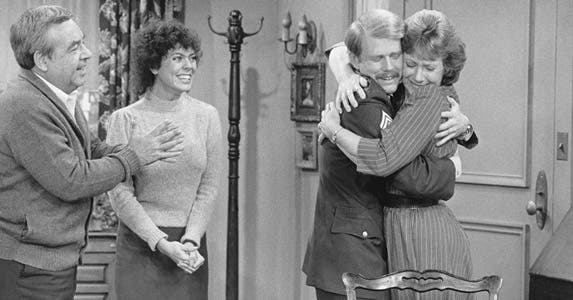 'Happy Days'
© Corbis
In the 1970s, boomers longed for their youth, making '50s nostalgia popular, and this series capitalized on the craze.
Every week, viewers tuned in to see the Cunningham family navigate an Eisenhower-era world populated with drive-ins, hula hoops, poodle skirts and diners.
The exterior of their home was really a Los Angeles 6-bedroom from 1923. But it could have easily been Milwaukee, says Betsy Head, chairwoman of the Greater Milwaukee Association of Realtors and Realtor with Realty Executives.
The Cunninghams' community looked like the Shoreline neighborhood, and likely would have had 3 or 4 bedrooms and 1 bathroom, she says. In the mid-'50s, it would have cost roughly $28,000, Head says.
That price makes the home a practical choice for hardware store owner Howard, homemaker Marion and their family.
One aspect that wasn't realistic: Fonzie's apartment over the garage. In an area where small, 1-car garages were the norm, there's no way that apartment would have been so spacious, Head says.
Today, the Cunningham house would bring $275,000, she says. And if the owners had updated the kitchen and added a family room and a bathroom (as many area homeowners have), it could go for $350,000, Head says.
The Fonz would give that a big thumbs-up.