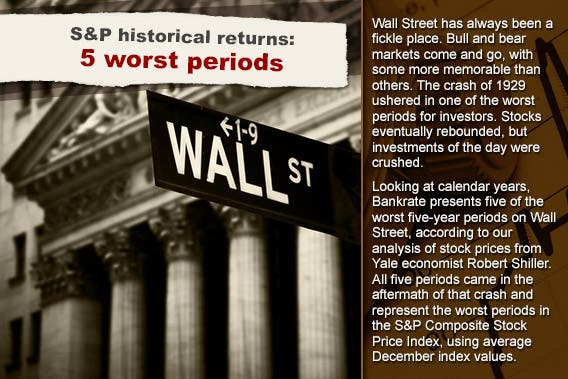 Wall Street has always been a fickle place. Bull and bear markets come and go, with some more memorable than others. The crash of 1929 ushered in one of the worst periods for investors. Stocks eventually rebounded, but investments of the day were crushed.
Looking at calendar years, Bankrate presents five of the worst five-year periods on Wall Street, according to our analysis of stock prices from Yale economist Robert Shiller. All five periods came in the aftermath of that crash and represent the worst periods in the S&P Composite Stock Price Index, using average December index values.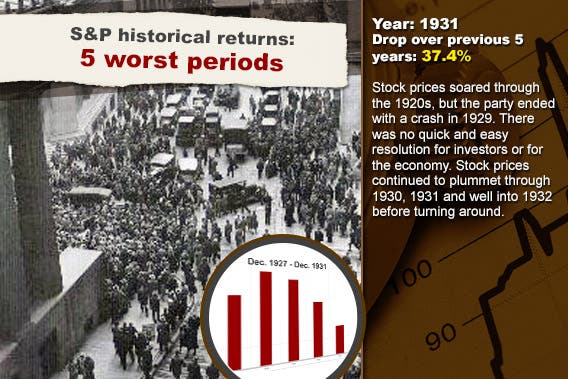 Graph source: Robert Shiller
Year: 1931
Drop over previous 5 years: 37.4 percent
Stock prices soared through the 1920s, but the party ended with a crash in 1929. There was no quick and easy resolution for investors or for the economy. Stock prices continued to plummet through 1930, 1931 and well into 1932 before turning around.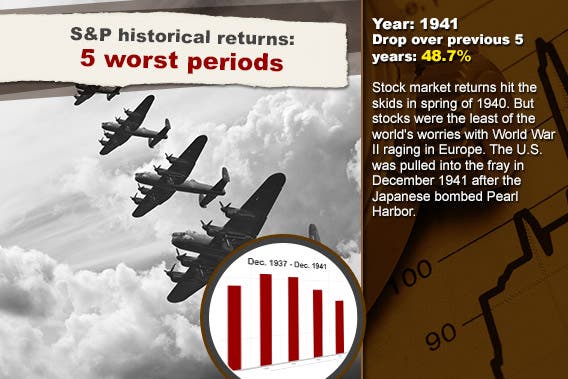 Graph source: Robert Shiller
Year: 1941
Drop over previous 5 years: 48.7 percent
Stock market returns hit the skids in spring of 1940. But stocks were the least of the world's worries with World War II raging in Europe. The U.S. was pulled into the fray in December 1941 after the Japanese bombed Pearl Harbor.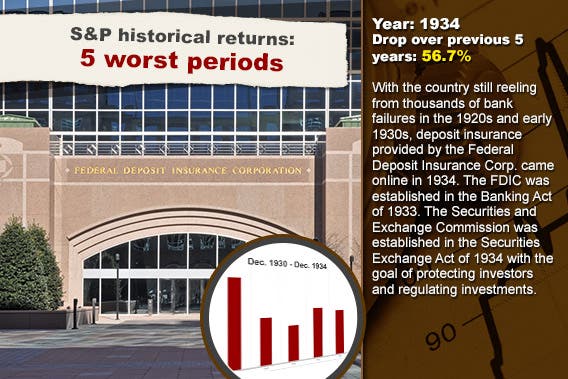 Graph source: Robert Shiller
Year: 1934
Drop over previous 5 years: 56.7 percent
With the country still reeling from thousands of bank failures in the 1920s and early 1930s, deposit insurance provided by the Federal Deposit Insurance Corp. came online in 1934. The FDIC was established in the Banking Act of 1933. The Securities and Exchange Commission was established in the Securities Exchange Act of 1934 with the goal of protecting investors and regulating investments.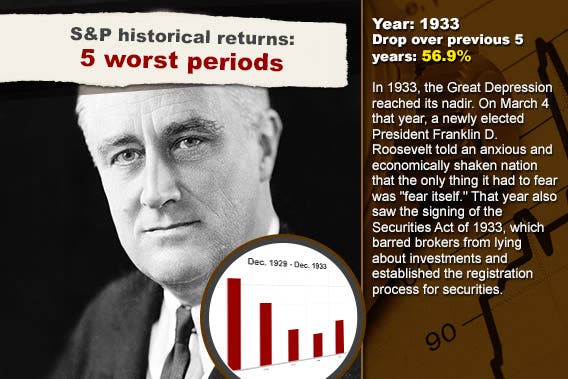 Graph source: Robert Shiller
Year: 1933
Drop over previous 5 years: 56.9 percent
In 1933, the Great Depression reached its nadir. On March 4 that year, a newly elected President Franklin D. Roosevelt told an anxious and economically shaken nation that the only thing it had to fear was "fear itself." That year also saw the signing of the Securities Act of 1933, which barred brokers from lying about investments and established the registration process for securities.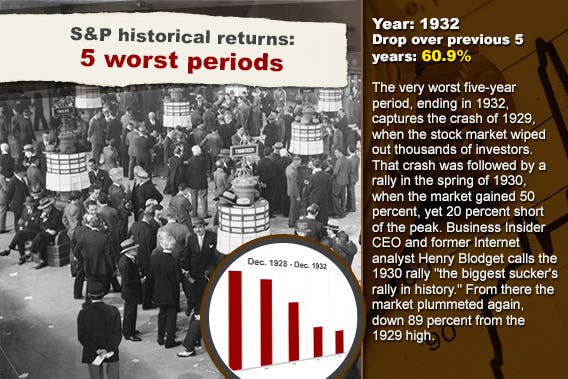 Graph source: Robert Shiller
Year: 1932
Drop over previous 5 years: 60.9 percent
The very worst five-year period, ending in 1932, captures the crash of 1929, when the stock market wiped out thousands of investors. That crash was followed by a rally in the spring of 1930, when the market gained 50 percent, yet 20 percent short of the peak. Business Insider CEO and former Internet analyst Henry Blodget calls the 1930 rally "the biggest sucker's rally in history." From there the market plummeted again, down 89 percent from the 1929 high.