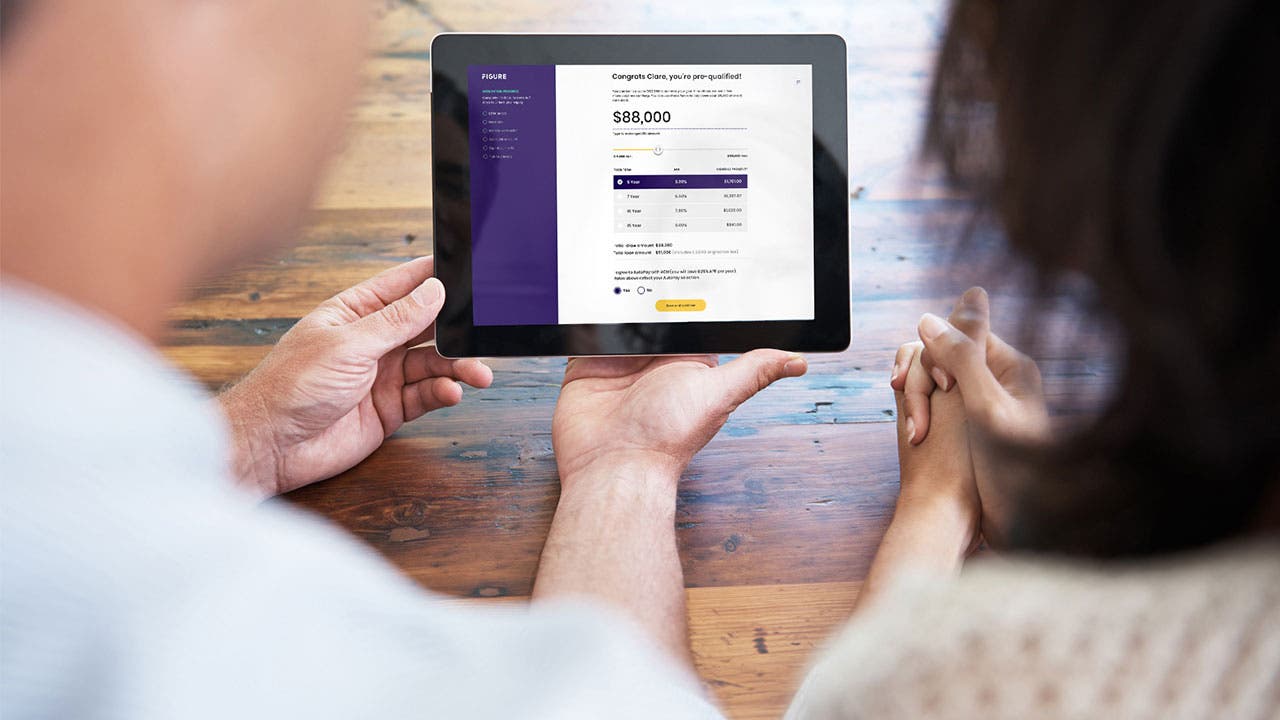 The following post contains affiliate links for which Bankrate may receive compensation when a user opens an account after clicking on specific links. The products and/or services referenced and linked on this post are made at the sole discretion of the author, and the compensation received will never influence the content, topics or posts made on this site.
Founded in January 2018, Figure.com is a new player among a growing number of what are known as "fintech," or financial tech, companies. These businesses generally aim to provide streamlined financial services through the use of technology.
Figure offers home equity loans for any use including home improvement and debt consolidation.  The Home Equity Loan PLUS, as Figure calls it, is the first such all-digital product, offering a home equity loan decision in five minutes and funding in five days. It's a hybrid loan, combining the traits of a traditional home equity loan and a home equity line of credit (HELOC).
View home equity rates
Tap into the value you have in your home to get the funds you need.
In addition to its home equity loan product, Figure recently launched Figure Home Advantage, a reverse mortgage alternative. The product is live in 12 cities: Atlanta; Cincinnati; Cleveland; Dallas; Houston; Jacksonville, Florida; Philadelphia; Phoenix; Pittsburgh; Reno, Nevada; San Antonio; and Tampa, Florida. The company also has a wealth management product in the works.
Figure officially launched on Oct. 9, 2018, so it doesn't yet have long-term portfolio values to report on. But it's already garnered a lot of attention, especially since it was founded by Mike Cagney, who also founded SoFi, the online personal finance company.
While Figure is a pioneer in the all-digital home equity space, there are other companies offering partial online home equity loan experiences, ranging from smaller non-bank lenders like Spring EQ to bigger, large-scale lenders like Discover. Yet, Figure truly stands out with its use of blockchain technology to originate loans, making the process faster and cheaper. In July 2018, it originated the first loan ever via blockchain technology.
Snapshot of Figure.com's Home Equity Loan PLUS
Products: Fixed-rate hybrid loans with terms from five to 15 years.
Average APR: 4.99 percent to 11.25 percent.
Minimum FICO: 680.
Minimum CLTV: Lends up to 80 percent CLTV.
Minimum assets needed: No minimum.
Approval time: As few as 5 minutes.
Loan amounts: $15,000 to $100,000.
Appraisal: Automated valuations.
How Figure's Home Equity Loan PLUS works
With its home equity product, Figure.com targets those who want to tap the equity in their home for things like remodeling and debt consolidation. It also aims to please those who don't want to go through the traditional and sometimes lengthy home equity loan process.
Because the main goal of Figure is to make the loan process faster, easier and more convenient, it's put   effort into making its website sleek and easy to navigate. The process to get a home equity loan through the company is smooth and straightforward.
Here's what the overall process looks like with Figure:
Find my rate: To start the process, you'll first click on the "Find My Rate" button on the site. There's a soft credit check involved, to find out your rate, but it won't impact your credit score. You'll also need to fill out some information, including your property address, property type, financing purpose, legal first and last name, date of birth, yearly income and email address.
Choose your rate, term and amount: If you're prequalified by the system, you'll next choose your rate, term and amount. Terms include five-, seven-, 10- and 15-year options.
Verify your identity: To verify your identity, and protect it, Figure requires that you upload photos an approved ID.
Connect your bank: The system will take you through an automated process to connect your bank account so that Figure can send funds once you're approved.
Notarize: You'll connect with Figure.com's eNotary to e-sign your loan and other documents via video. Figure requires that you have a webcam to complete the process. If you don't have a camera on your computer, you may need to use your smartphone.
Figure's Home Equity Loan PLUS is a hybrid home equity loan. Once approved, Figure will send the full amount of your initial draw into your bank. You can make additional draws on your home equity as you repay your initial draw amount within the first two years of the loan. Additional draws are limited to 10 percent of your total loan amount, or your credit limit, and those draws must be at least $500.
You can manage your account through Figure's website or mobile app.
Who Figure is best for
Figure is a good option for anyone who needs fast access to home equity and wants the certainty of a fixed rate.
It's a nice choice overall for those simply interested in a streamlined digital experience. If you're comfortable using a newer all-digital non-bank lender, Figure is worth consideration.
Qualifying for a loan
Figure requires a minimum FICO score of 680 to qualify for a loan. The maximum debt-to-income ratio the company accepts is 50 percent for consumers with a FICO score of 740 or above, and 43 percent for consumers with a FICO score below 740.
There are no minimum assets needed to qualify for a loan.
It only takes a few minutes to find out if you're prequalified for a loan, and it doesn't impact your credit score.
Features
Figure has several key features worth highlighting.
Fast approval and funding: Figure offers approval for a home equity loan in five minutes and funding in five days, all online. That compares with the weeks it can take other lenders to originate a loan.
Automated valuation model: Figure uses an automated valuation model to quickly calculate the appraisal value of a piece of real estate. These models generally use algorithms to create an accurate valuation. With this type of model, lenders are able to get appraisal values in seconds instead of days. That speeds up the lending process overall.
Streamlined process: The loan process with Figure is all online, and it's fast. Fill out a short form, get preapproved, select your desired loan amount and term and sign digitally. An eNotary finalizes all of the details.
Competitive rates and options: Homeowners can borrow $15,000 to $100,000 with loan terms of five, seven, 10 and 15 years. The annual percentage rates start at 4.99 percent.
Limited fees: The are no appraisal fees, late fees, pre-payment penalties or titles fees with Figure. The lender charges one origination fee that ranges from 0 to 3 percent of your loan amount.
Blockchain technology: Figure is notably the first all-digital loan product to originate loans completely on blockchain, which, according to Figure, helps reduce costs and risks, and drastically speeds the lending process.
Security: Figure uses a range of security and encryption techniques to keep client data secure. The privacy policy on their site details its security precautions.
Customer service: The loan process through Figure is all digital, but customer service can be reached via phone (888-819-6388), email (help@figure.com) or via chat on the site from 6 a.m. to 6 p.m. PT Monday through Saturday.
The drawbacks
There are a couple of minor drawbacks to Figure.
It's new to the lending scene. There aren't a lot of reviews or customer testimonies about the company found online yet. It's not a time-tested lender.
It's also the first all-digital home loan product on the market. That means there may be smaller obstacles or minor annoyances that you otherwise wouldn't experience with a traditional loan process. For example, if you don't have a webcam on your computer or a mobile phone with a camera, you may not be able to complete the loan. And while customer service is available, there's no dedicated loan officer guiding you through the loan process. If you prefer working with a loan officer in person, Figure probably isn't for you.
Alternatives
There are many lenders in the home equity space. Figure's primary competitors are financial institutions offering home equity loans and HELOCs, including big banks, regional players and even smaller online-based firms specializing in home equity. But when it comes to financial institutions offering an online experience for home equity loans, there aren't that many options. The pool gets even smaller among non-bank lenders offering online experiences. 
Figure vs. Spring EQ: Spring EQ was founded in 2016 as a non-bank lender specializing in home equity loans. Like Figure.com, it promises a faster approval process and a shorter funding window than the traditional home equity process. But it can't quite beat Figure on speed — Spring EQ offers funding in as few as 14 days, compared with Figure's as few as five. Figure requires a slightly higher minimum credit score than Spring EQ — 680 vs. 660, respectively. And Figure has a stricter combined loan-to-value ratio — it lends up to 80 percent CLTV while Spring EQ lends up to 100 percent. Perhaps the biggest difference between the two is the loan process overall. While much of Spring EQ's loan process is completed online, homeowners also chat over the phone with a dedicated loan officer for guidance, which differs from Figure's all-digital experience.
Figure vs. Discover: Both Figure and Discover offer fixed-rate home equity products with low to no fees. But you will find some differences. First, Discover offers traditional home equity loan options, whereas Figure offers a hybrid home equity loan. And unlike Figure, Discover's home equity process isn't solely an online experience. While the application process can be started online, you'll speak with a personal banker at Discover in order to carry out the full application. Fixed rates at Discover start at the same rate as Figure — 4.99 percent APR. And home equity loans from Discover range from $35,000 to $150,000 with terms of 10, 12, 15, 20 and 30 years. Figure's ranges are from $15,000 to $100,000 with terms from five to 15 years. If you're looking for a combination of an online experience and personal banking attention, or longer terms, Discover might be a good fit for you.
Bottom line
Figure is a new competitor in the home equity space, offering an alternative way to tap home equity. Its all-digital process based on blockchain technology promises to make the home equity loan process drastically faster and more convenient. Those who seek quick access to cash and the accessibility of an all-online experience might appreciate Figure's approach to lending. Still, it's important to remember that there are a lot of home equity loan options available. It's always wise to shop around before deciding on a lender.
The following post contains affiliate links for which Bankrate may receive compensation when a user opens an account after clicking on specific links. The products and/or services referenced and linked on this post are made at the sole discretion of the author, and the compensation received will never influence the content, topics or posts made on this site.