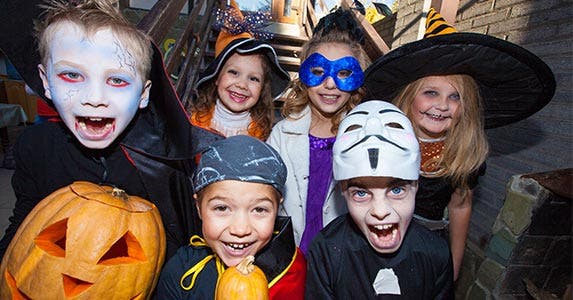 Halloween prices creep lower
Price of Fright: Down 0.6%
There's nothing too scary about Halloween costs this year. In fact, Bankrate's 4th annual Price of Fright index detects some devilish deflation haunting checkouts as shoppers stock up on ghoulish Halloween goodies.
Our spine-tingling survey finds that the cost of a typical shopping basket full of Halloween items — including 2 bags of chocolates, kid costumes, festive decor and the cost of a pumpkin — has crept down 96 cents, or 0.6%, from last year. And that's despite a frightful, double-digit-percentage jump in decoration prices.
Scaring up all of the stuff on our list would set you back an average $155.59 this year, down from $156.55 in 2015.
This change is less Freddy Krueger and more Casper the Friendly Ghost. Overall inflation as measured by the Consumer Price Index also is looking like "The Invisible Man." At last check, prices throughout the economy were rising at an annual rate of just 1.1%.
Join us, if you dare, as we share the dreadful details of our research and tell you how to keep a coffin lid on your Halloween spending.
RATE SEARCH: Find a credit card with low rates at Bankrate.com today.
Methodology: Bankrate's Price of Fright index annually tracks prices of: 2 40-ounce bags of Halloween chocolates, 1 pirate costume for a boy or girl, 1 pumpkin and 3 decorations (a light-up tombstone, a life-size hanging skeleton and a spooky lantern). Prices for all items but the pumpkin were obtained from multiple retail websites Sept. 27 and were averaged. Pumpkin weighted average price comes from the U.S. Department of Agriculture.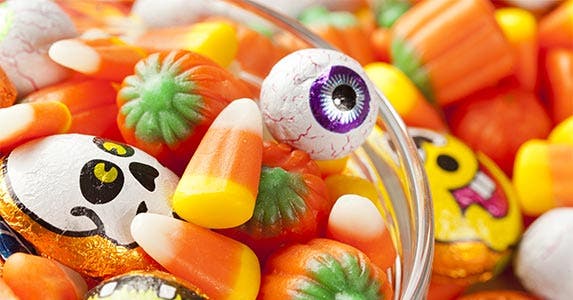 Prices sink in the candy aisle
© Brent Hofacker/Shutterstock.com
Candy: Down 1.2%
While some might say that the perfect costume defines Halloween, others know that candy is the most important part of the holiday. The annual sugar binge will cost you a little less this year, according to Bankrate's research.
The cost of 2 large bags of mini chocolate candy bars, weighing in at 40 ounces per bag, averages $22.08 this year, compared with $22.35 in 2015. That's a decline of a little over 1%.
According to a National Confectioners Association survey, 7 out of 10 Americans identify chocolate as their favorite Halloween treat. The trade group says candy corn runs a distant second. And kids might want to have the toilet paper ready for a few front yards, because half of U.S. households say they sometimes or often run out of Halloween candy.
Spooky saving tip: Shop around to find the best deals. When Bankrate checked retailers, the price for one 40-ounce bag of Halloween chocolates varied by as much as $2.56.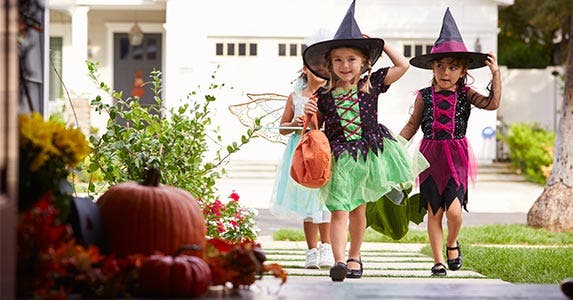 Chilling jump in costume costs
© Monkey Business Images/Shutterstock.com
Kid's costume: Up 2.5%
The price of getting your kid gussied up for a wild night of candy-fueled excitement is a little pricier this year.
We found that a typical kid's costume costs $33.44 on average, up from $32.64 in 2015. That's an increase of 2.5%.
Clothing doesn't typically experience a whole lot of inflation.
"The costs that fluctuate the most are the labor costs, the cost of sewing the garments and the cost of materials, which is mainly the price of cotton," says Erik Gordon, clinical assistant professor at the University of Michigan's Ross School of Business.
The most popular costumes this year will be superhero and comic book characters, according to a report from the National Retail Federation. Expect streets to be filled with Supergirls and Harley Quinns.
Costumes are for pets as well as people: 16% of Americans planning to celebrate Halloween say they're dressing up their animal friends, the retail federation says. Expect to see plenty of dogs decked out as pumpkins, hot dogs or bumble bees.
Spooky saving tip: Costumes don't have to cost a disembodied arm and a leg. Skip the pricey branded costumes and use your imagination with old clothes and makeup for a unique look.
RATE SEARCH: Saving for the perfect costume? Get interest on your savings now by shopping money market accounts.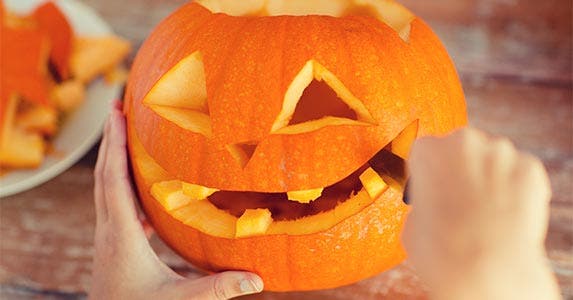 Oh my gourd! Lower pumpkin prices!
© Syda Productions/Shutterstock.com
Pumpkin: Down 10.3%
Jack-o'-lanterns, the iconic mascots of the holiday, were originally carved from turnips. Pumpkins are clearly better suited for the task.
According to the U.S. Department of Agriculture, or USDA, the price of the big orange gourds has fallen from last year. The average weighted price for a pumpkin is $4.29 this Halloween season, down from $4.78 in 2015. That's a more than 10% drop.
"Pumpkin pricing is driven by supply and demand," says Patty Johnson, global food and drink analyst at Mintel, a London-based market research firm. "Weather figures prominently in supply availability."
Spooky saving tip: Stick to medium-sized pumpkins if they're priced by the pound, and consider skipping the pumpkin patch. Though picking your own pumpkin may be a fun way to spend the afternoon, with admission and snacks it's almost certain to be more expensive than purchasing a pumpkin at the local market.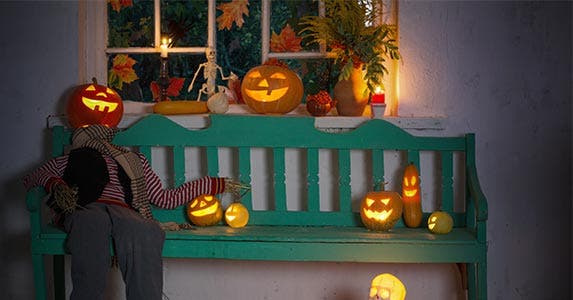 Paying less to haunt your home
© Maya Kruchankova/Shutterstock.co
Decorations: Down 1%
Total U.S. spending on Halloween is expected to reach a record $8.4 billion this year, up $1.5 billion from last year, according to the National Retail Federation's annual survey.
Boosting the fright factor in your home may cost less this year. Bankrate has checked the prices on a collection of 3 Halloween-themed decorative items and found that putting them together in your shopping cart will cost lower than last year.
| Decoration | 2016 price | 2015 price |
| --- | --- | --- |
| Light-up tombstone | $16.80 | $13.41 |
| Spooky lantern | $17.38 | $18.05 |
| Poseable skeleton | $61.60 | $65.32 |
Though prices for tombstone decor went up this year, the other 2 items fell in price, so the set of decorations will run you an average of $95.78 this year, down from $96.78 in 2015. That's a decline of 1%.
Spooky saving tip: Get creative with decorations. As long as it's safe for kids, antique junk can look pretty spooky. If brand-new and store-bought items are more your style, check several retailers for decorations because prices are all over the place. In Bankrate's survey, the cost of a life-size skeleton varied by almost $50, for example.
RATE SEARCH: Want to earn travel points or cash-back while you shop for Halloween? Find the right rewards credit card for you today.