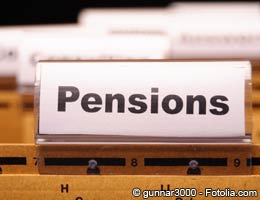 Small-business retirement plans
Defined benefit (pension) plans
Somewhat of a dying breed in plans for large firms, a defined benefit plan could be just the ticket for a small shop. Corporate America has largely moved away from pension plans and toward the defined contribution plans, such as 401(k)s, because employers make no guarantees about benefits available to 401(k) plan participants at retirement. Investment risk for 401(k) plans falls on plan participants rather than the employer.
With a defined benefit plan, however, the plan participant's annual retirement benefit is determined by the plan's benefit formula, generally based on tenure and pay. The maximum annual benefit allowed at retirement is the lesser of $200,000 (in 2012) or 100 percent of final average pay.
Of the different types of retirement plans, defined benefit plans are the most complex to set up and operate. These plans can delay vesting of benefits, meaning employees must work for a minimum time period before they're entitled to benefits. These plans can also exclude some employees from plan participation. An actuary has to certify annually the amount the employer must contribute to the plan. The plan has to file an annual return and meet annual nondiscrimination testing standards among eligible plan participants. These plans can be designed to allow plan loans to employees.