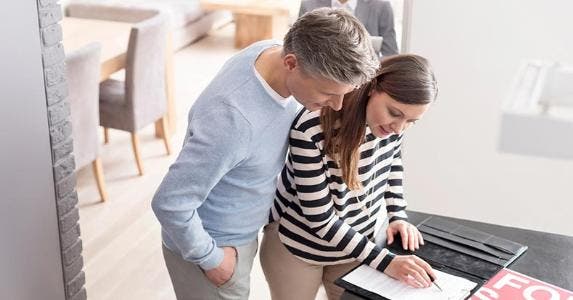 Dear Real Estate Adviser,
We plan to buy a home in Kansas with a closing date in a few weeks. However, my lender now says my husband isn't loan-eligible, even after we were issued preapproval. We're now going another route on the loan, so closing on the original date isn't realistic because we must also come up with a bigger down payment. But the seller's Realtor is threatening us about owing him money for all his time thus far. Is that possible?
— Leanne R.
MiltonBrown/Cultura/Getty Images
Dear Leanne,
It's highly doubtful you'll have to do anything other than wonder why a seller would retain such a bully for an agent, assuming this scenario is playing out as you say. Are you sure the seller isn't doing this on behalf of his clients and not himself?
Read the fine print
Sometimes, buyers reimburse sellers for closing delays because of the inconvenience, but it's relatively uncommon. Typically though, contracts allow reasonable buffer times since so many closings get delayed. Sometimes, sellers pencil in a contractual "time is of the essence" clause calling for monetary penalties of, say, $100 per diem — or even termination of the contract. Does your contract have any such contingencies? Either way, it's probably time you examine that document a little more closely.
RATE SEARCH: Get prequalified today with mortgage lenders you'll find on Bankrate.com.
Realtor's aria of woe
But if it's just the Realtor insisting, wow, what a diva! A practiced seller's agent is all too aware of closing delays caused by financing snafus and will typically roll with the punches, especially if the buyers are earnestly working to finance the deal as you are. They will also know a preapproval for a loan amount is still a conditional commitment from the lender, pending additional research on the buyers' financial histories.
Besides, my take is you're definitely going ahead with the deal. So, unless you aren't presenting proof of your renewed financing efforts, it's hard to understand the demands and animosity. Pay a Realtor for lost time while the deal is still in the works? Hardly!
Agents need to work together for resolutions, not issue threats. Trying to impose a penalty for an unexpected delay from any party never promotes good-faith dealings and, in fact, can have the opposite effect, clouding the spirit of cooperation needed to complete such major, time-consuming transactions. A call to this insistent agent from your agent for clarification is in order, as is possibly a call to the Realtor's agency, since there are ethical matters that he apparently needs to address.
Meantime, if you're worried about losing any earnest money you've put up, both parties must agree to cancel escrow. And if the seller still wants that money, the mediation clause in most standard contracts should kick in.
Delays are so common
There's a lesson here for potential homebuyers. Financing and other snafus are so common that you should always build extra closing time into your contract, assuming that the seller agrees. Some won't if they are getting multiple offers.
Besides the "usual suspects" causing closing holdups — underwriting, too-low appraisals, clouded titles and inspection findings — delays have been even more pervasive since recent changes to the 2010 Dodd–Frank Wall Street Reform and Consumer Protection Act took effect in October, backing up some deals for an extra week or so as parties adjust to the new regs.
All things considered, the impatient agent's insistence that you compensate him for his lost time is probably just a bluff, and a shortsighted and potentially counterproductive one at that.
Here's hoping your finances are coming together and you can close. Good luck.
RATE SEARCH: Ready to shop for a mortgage? Find the best deal today by searching Bankrate.com.
Ask the adviser
To ask a question of the Real Estate Adviser, go to the "Ask the Experts" page and select "Buying, selling a home" as the topic. Read more Real Estate Adviser columns and more stories about real estate.
Bankrate's content, including the guidance of its advice-and-expert columns and this website, is intended only to assist you with financial decisions. The content is broad in scope and does not consider your personal financial situation. Bankrate recommends that you seek the advice of advisers who are fully aware of your individual circumstances before making any final decisions or implementing any financial strategy. Please remember that your use of this website is governed by Bankrate's Terms of Use.