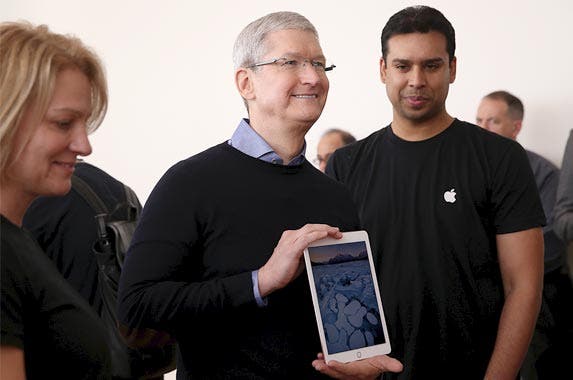 Apple goes smaller
Apple likes to make a splash. This time it's a smaller splash.
The items that Apple featured today at its special event were devices that shrank. For years,
Apple has gradually made its smartphones bigger, while deploying its iPad in various screen sizes. Now, the company is going in the opposite direction.
Before Apple CEO Tim Cook introduced the company's new products, he took a moment to lobby the audience over Apple's skirmish with the U.S. government over data stores on smartphones. In pleading his case, he said the company's position is that it has the responsibility to protect the user's data and privacy.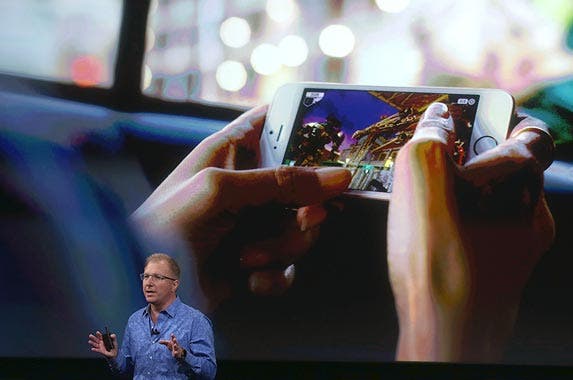 iPhone with a 4-inch screen
Justin Sullivan/Getty Images
The new Apple iPhone SE with a 4-inch touchscreen took center stage. It's smaller and more pocket-friendly than the iPhone 6s at 4.7 inches and 6s Plus at 5.5 inches, respectively, and closer to the iPhone 5s in size. Its aluminum case comes in 4 colors, including rose gold.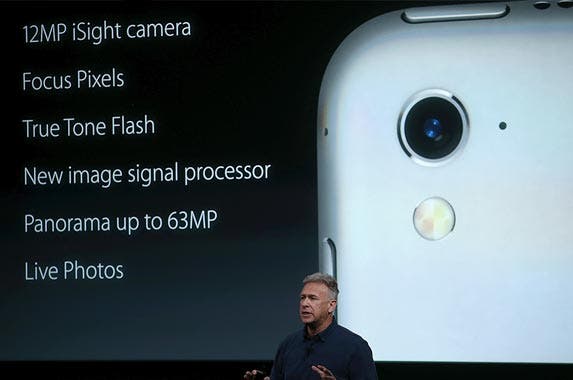 New camera for the iPhone
Justin Sullivan/Getty Images
The new iPhone has matte-chamfered edges and Touch ID and improved battery life, and it includes a 64-bit processor, faster Wi-Fi, a 12-megapixel camera with TrueTone, allowing for better photos in low- and bright-light situations, and 4K video. Its powerful A9 processor supports more graphic-intense video games.
Prices start at $399, and go up depending on the amount of storage.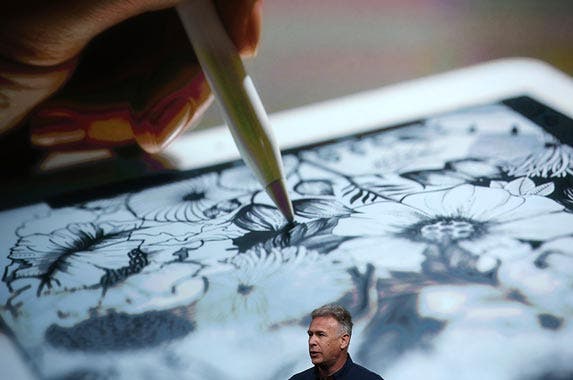 iPad Pro with a smaller screen
Justin Sullivan/Getty Images
Apple introduced a smaller iPad Pro tablet with a 9.7-inch touchscreen, like its Apple iPad Air, compared to the 12.9-inch screen. It also has a faster processor, making for a quicker screen refresh. In addition, the tablet can operate with the Apple Pencil, the company's computer stylus.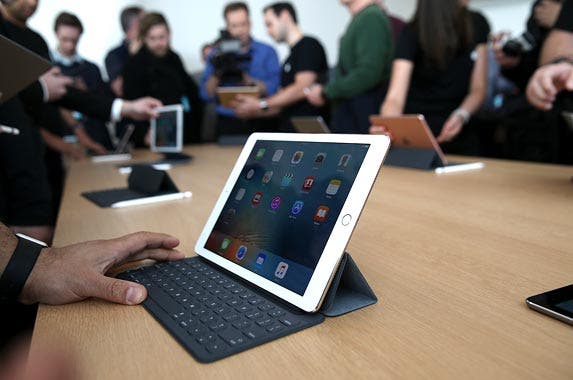 Snap-on smart keyboard for new iPad
Justin Sullivan/Getty Images
The new iPad Pro comes with a 12-megapixel camera, and it's capable of recording video with 4K resolution. It also comes with 4 speakers, 4 display sensors and a snap-on smart keyboard made specifically for the new iPad. Its TrueTone capability allows light sensors to pick up images that are warmer or cooler, depending on the environment. The advanced display is 25% brighter and 40% less reflective than iPad Air 2.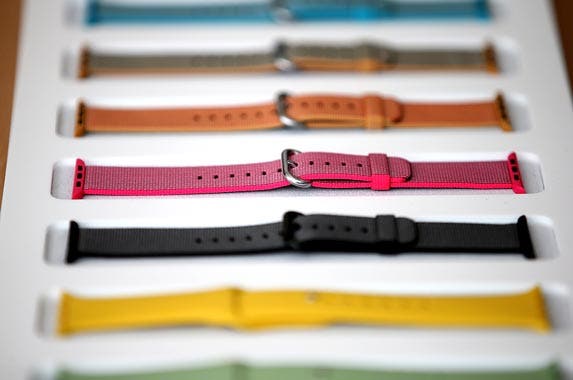 Flashy straps for the Apple Watch
Justin Sullivan/Getty Images
The Apple Watch straps are changing. The leather and woven nylon band will come in new sporty colors like "space black Milanese Loop" and offer a greater variety. The Apple Watch will start at $299.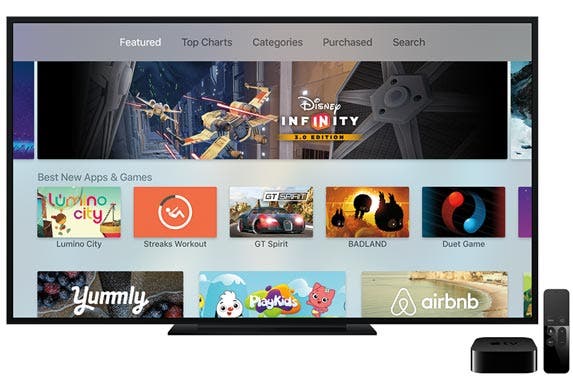 New apps for Apple TV
© Apple
Apple TV now has 5,000 apps, including new content apps such as HBO March Madness Live, where you can watch 2 live games simultaneously, as well as better workout and foodie apps. It also has an upgraded Siri search function, allowing for dictation to enter text on the screen. This new functionality starts today.