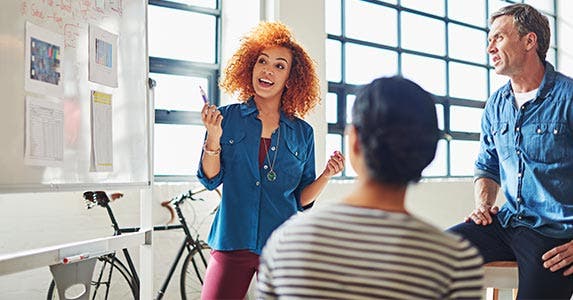 The worst worker blunders
We all make mistakes. And, when you consider that we spend at least a third of our day at work, it's only natural for some of our blunders to take place at the office or during work functions, like the company holiday party.
A survey of more than 1,300 managers by OfficeTeam, a placement firm based in Menlo Park, California, found that gaffes made in front of the boss and colleagues are actually quite common.
Wardrobe malfunctions were a common cause for embarrassment, with employees reporting mishaps ranging from zippers left unzipped during presentations to showing up to the office wearing mismatched shoes.
For other employees, simply trying to impress the boss caused them to blunder. "I called my boss 'my love' by complete accident," one respondent said. Meanwhile others recalled klutzy moments in front of their bosses, such as tripping or falling off a chair.
"Nearly everyone has had an embarrassing situation at work," says Robert Hosking, executive director of OfficeTeam. "Although these moments can be awkward, it's best not to dwell on them, or you risk drawing more negative attention to yourself."
RATE SEARCH: Earn some returns when you deposit your paycheck. Find an interest checking account near you today.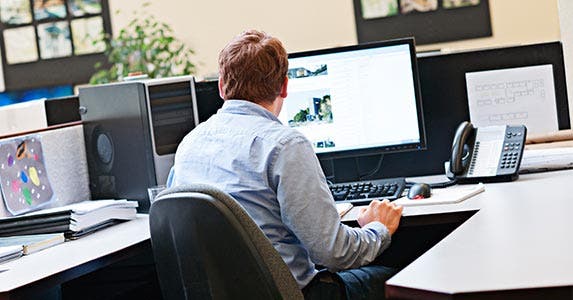 The careless click
Reza Estakhrian/Getty Images
We've all been there: An email goes companywide, as opposed to a handful of co-workers. Usually, it's a matter of a careless click. But for Kayla Kozan, a marketing manager at the Toronto-based job placement firm Ideal Candidate, that click came at the worst possible time: her first day on the job.
"I received an invite to a companywide planning webinar," Kozan recalls. "In an effort not to forget the event, I copied it over into my calendar. Still not having a good grip on my Microsoft Outlook, I didn't understand what was happening when I instantly received 100-plus out-of-office emails."
What was happening was that Kozan's click had accidently sent out 6,000 invitations from her personal calendar.
"For the rest of the day, my inbox crashed from the sheer number of mostly confused responses," she says. "I never lived it down."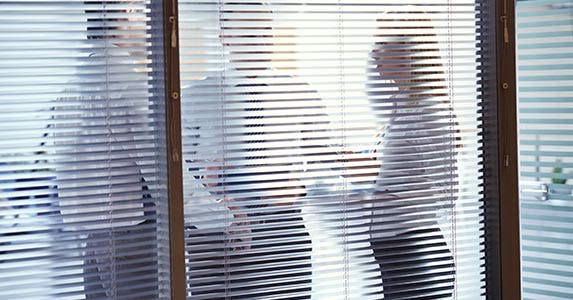 Joking around that goes too far
iStock.com/mediaphotos
According to a study from Duke University's Fuqua School of Business, corporate culture is such an essential part of a company that it helps to drive the bottom line.
Steve Gibson, a software tester in San Francisco, learned at a previous job just how important it is to understand the culture.
"Three of us had just transferred departments at a large company," Gibson recalls. "Prior to our first meeting, someone sent out an email daring us to do pranks, (which) ranged from standing up and singing 'The Star Spangled Banner' to making chicken noises periodically."
Gibson recalls thinking the pranks would go over well since the email came from a long-term team member. So he got up in the middle of a meeting and ran a lap around the conference table. He wasn't fired or demoted, but the stunt didn't exactly get him off on the right foot with his new boss.
"I estimate it took my manager a full six months to finally think of me as a normal employee who was trustworthy and reliable," he says.
RATE SEARCH: What if things go wrong and you lose your job? Shop Bankrate for the best money market rates and start an emergency fund.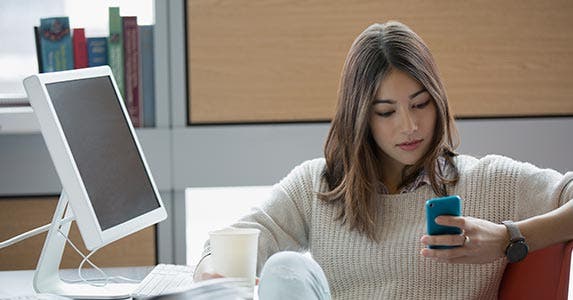 Conducting personal business at work
Hero Images/Getty Images
When you're at work, you're supposed to be working. But while some companies insist that employees refrain from conducting any personal business on company time, some managers are becoming more flexible about how employees structure their day.
"In the pre-internet world and in the manufacturing-based economy, your physical presence was really the thing that mattered, (so) performance-management systems were created around the idea of time as the essential metric," explains Wharton management professor Stewart Friedman in a Wharton blog.
But, he continues, "What you want are people who have a sense of responsibility for the outcomes that matter, and you engender that when you give people the authority to make decisions about when they get things done."
Still, there are limits, says Maggi Finlayson, a New York City-area supervisor with more than 15 years of experience in various industries.
She says she's seen underlings playing games on their phones at work and posting on social media about how hung over they are — particularly alarming because their particular jobs involved operating heavy equipment. She's even seen employees shopping for lingerie online.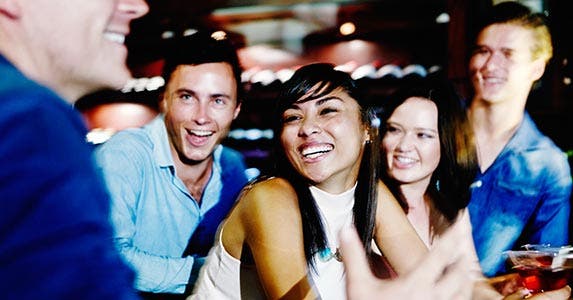 Drinking to excess
iStock.com/RapidEye
Most employers forbid their employees from drinking on the job. But alcohol is often part of an office holiday party or similar after-hours event, and sometimes that can be a problem.
James Carruthers, who runs a U.K.-based team-building and event company called Fradley Croft Events, has seen after-hours revelry go wrong on a few occasions. Once, while running a mock quiz show for a corporate client, Carruthers saw a female contestant stagger to the stage after a little too much to drink at dinner.
"She attacked the buzzer with vigor," he recalls. "(Then she) collapsed, fell through the projector screen and trashed the entire game show set. To make matters worse, her opponent (in the quiz show) was her boss, and he, too, was pulled down as (she) grasped for his hand during her tumble."
Thankfully, Carruthers says, the woman was OK, and her boss seemed to take it with "good spirit." But he adds, "You have to wonder how such alcohol-inspired blunders impact careers over time."
RATE SEARCH: Shop today for the best credit cards from our partners.