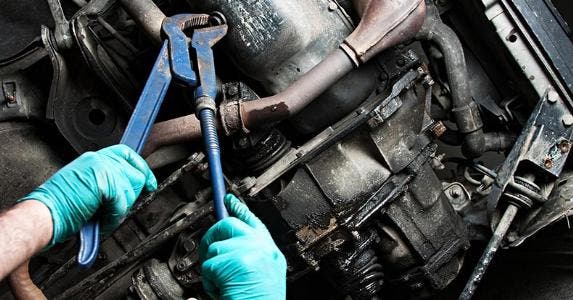 Dear Driving for Dollars,
I'm getting ready to bring my car in for its regular oil change. Money is tight right now and I don't want to be hit with any surprise charges. If I leave my car for the oil change and they find other problems, will they automatically fix them or will they call me first?
— Yuridia
Dear Yuridia,
Rest assured, you can't be charged for any auto repairs that you didn't authorize. However (and it's a big however), make sure you fully understand what you are authorizing when you drop the car off.
Pay attention to the repair order
Whether you are bringing your car to a dealer or an independent shop, you will be asked to sign a piece of paper outlining the services and an estimate of the cost. This is commonly called a repair order, or an RO.
You wouldn't be alone if you didn't pay much attention to it and signed without giving it a second thought. But don't do this! This document outlines services that the shop plans on doing on your car, as well as their cost estimate for them. It's the only method you (and your mechanic) have to confirm that you are both on the same page.
Take your time before signing
Even if you are in a rush when you drop your car off, take your time and read the document thoroughly to make sure that what you are expecting is what is outlined in writing — both in terms of services and price.If it's unclear, or there is anything listed on the RO that you feel you don't want done, have the shop change it before you sign it.
In the event that your mechanic finds another problem with your car while he is completing the repair you requested, the shop will call you to ask if you want the repair completed.
At a minimum, you should get a verbal description of the repair, as well as an estimate of the cost. It's very reasonable to ask for it in writing if you feel at all uncomfortable. It should be relatively easy for the shop to write up a new RO or revise the current one quickly, and then to fax or email it to you.
You may be protected by the law
In fact, in some states, there are laws that say that you must be quoted up front and in writing, so if there is an additional repair that you authorize verbally while your car is in the shop, you may actually be presented with a revised repair order when you pick the car up, reflecting the additional repair, so the shop has a legal record of your authorization.
Something worth mentioning: Keeping all of your service records can help you sell your car to a private party easier. Always keep the end in sight.
RATE SEARCH: Comparing car loans? Check interest rates now at Bankrate.
Bankrate's content, including the guidance of its advice-and-expert columns and this website, is intended only to assist you with financial decisions. The content is broad in scope and does not consider your personal financial situation. Bankrate recommends that you seek the advice of advisers who are fully aware of your individual circumstances before making any final decisions or implementing any financial strategy. Please remember that your use of this website is governed by Bankrate's Terms of Use.