3 scary student loan tales
Once you're in student loan debt, it's hard to avoid drowning in it. According to the Project on Student Debt, the average undergrad borrowed nearly $27,000 to make it through four years of college in 2011. For those who attend pricey institutions or law, graduate or medical school, the debt can spiral into six digits and quickly become unmanageable for those students who weren't prepared for it. Research from the American Institute of CPAs shows that less than 40 percent of all borrowers had a firm understanding of how hard student loans would be to pay back. Sixty percent of borrowers said they have some regret over their student loan decisions.
Unlike credit card debt, once you've taken on student loans, there's usually no getting rid of them through bankruptcy. While loan holders will oftentimes negotiate temporary reduced repayment plans and payment postponement options, your loan will most likely grow bigger and badder while you struggle to get back on your feet.
Despite their best efforts, these three borrowers had their loans turn into financial nightmares. Here are the worst student loan horror stories we've heard and how to avoid them.
The over-borrower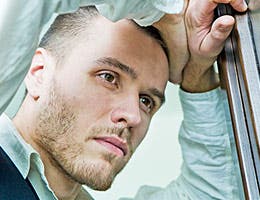 By 2009, Alan Ens borrowed about $25,000 in federal loans and $75,000 in private loans to pay for his jazz guitar degree from University of the Arts in Philadelphia.
"Six months after I got out, (one lender) was like 'We need $600 a month. We do no forbearances, no deferments. We don't give you a lower payment,'" he says.
Four years later, Ens works for an after-school music program and has joined the nonprofit Student Debt Crisis, which advocates for higher-education reform. He has kept his federal loans in check but defaulted on some of the private loans, making his debt load about $110,000. To make matters worse, some of Ens' private loans were co-signed by his mother. One lender currently garnishes Ens' mother's wages, and Ens pays her back.
"I wish I had that information: If you have this degree, what generally do people make from it?" Ens says. "The (federal) government loan has been cool with deferments and forbearances and looking at my income. I don't know why I assumed that's what all the loans would do."
Unlike federal student loans that come with borrower protections such as deferment, forbearance, grace periods and income-based repayment options, private loans aren't required to offer any. Betsy Mayotte, director of regulatory compliance for American Student Assistance in Boston, says borrowers in trouble should call their lenders to find out if they're eligible for a lowered payment or other options. If that doesn't work, Mayotte says to investigate consolidating into a bigger loan with a longer repayment period, though this tactic may not be ideal for all borrowers. Also, if a borrower can get out of default, he may be able to release his co-signer.
"If the borrower makes a certain amount of consecutive on-time payments, a lot of times (private lenders) will check their credit again and release the co-signer," she says.
The career-changer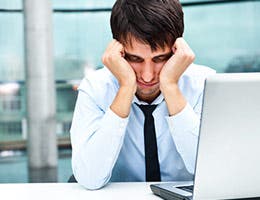 Jeremy Cooper took classes at several schools before graduating with an associate degree in Web design from Bryant and Stratton College in 2004. Borrowing $45,000 in federal and private loans, Cooper says he hasn't been able to get a job in Web design because, "Everything that I had learned from my degree became obsolete even before I graduated because the technology moves so fast." Since graduation, Cooper has fallen behind on his private loan payments, and his private debt has nearly doubled to $88,000. Despite working full-time day and part-time night jobs and scaling back his expenses to the bare minimum, Cooper says he does not see a way out of default.
With federal loans, borrowers such as Cooper may be able to find relief in one of the government's income-driven repayment programs, which cap loan payments according to your monthly paycheck, says Mayotte. "There just aren't a lot of options out there" for private loans, she says, though some lenders do offer extended and temporary interest-only repayment plans.
It's possible to dismiss student loans through bankruptcy, but only if the borrower can prove he has made a good-faith effort to repay the loan and that continuing to pay prevents him from maintaining a minimal standard of living.
The lender's mistake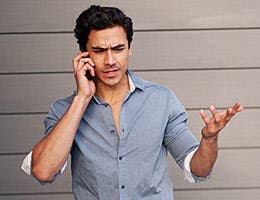 Joel Winston borrowed $50,000 to pay for his undergrad education at the University of Michigan in Ann Arbor. Graduating in 2003, Winston made on-time monthly payments until one night in 2006 when he received a call from a credit recovery company stating that his private loan was in default.
"I called and said 'Do you have a mistake here?' and they were like 'No. We don't. You need to figure out how to pay this, and if you don't, we can garnish your wages and take your tax returns,'" Winston recalls.
If there's a mistake, the borrower should find out what payments the lender is saying it didn't receive, then submit proof that those payments were made, says Mayotte.
If the conflict can't be resolved, file a claim with the Department of Education's ombudsman for federal loan issues or the Consumer Financial Protection Bureau's ombudsman for private loan issues.
After two internal investigations, Winston's lender corrected its mistake. Winston filed a lawsuit over violations to the Fair Debt Collections Practices Act, which regulates how collections companies may contact you regarding the debt. He reached a legal settlement that he applied to his loan balance.
"You have to keep meticulous records. You have to keep all of your files," Winston says. "If you feel that something has happened, be patient. Ask nicely. Be polite. Do not get upset with the people over the phone because those are the only people right now that can help you."