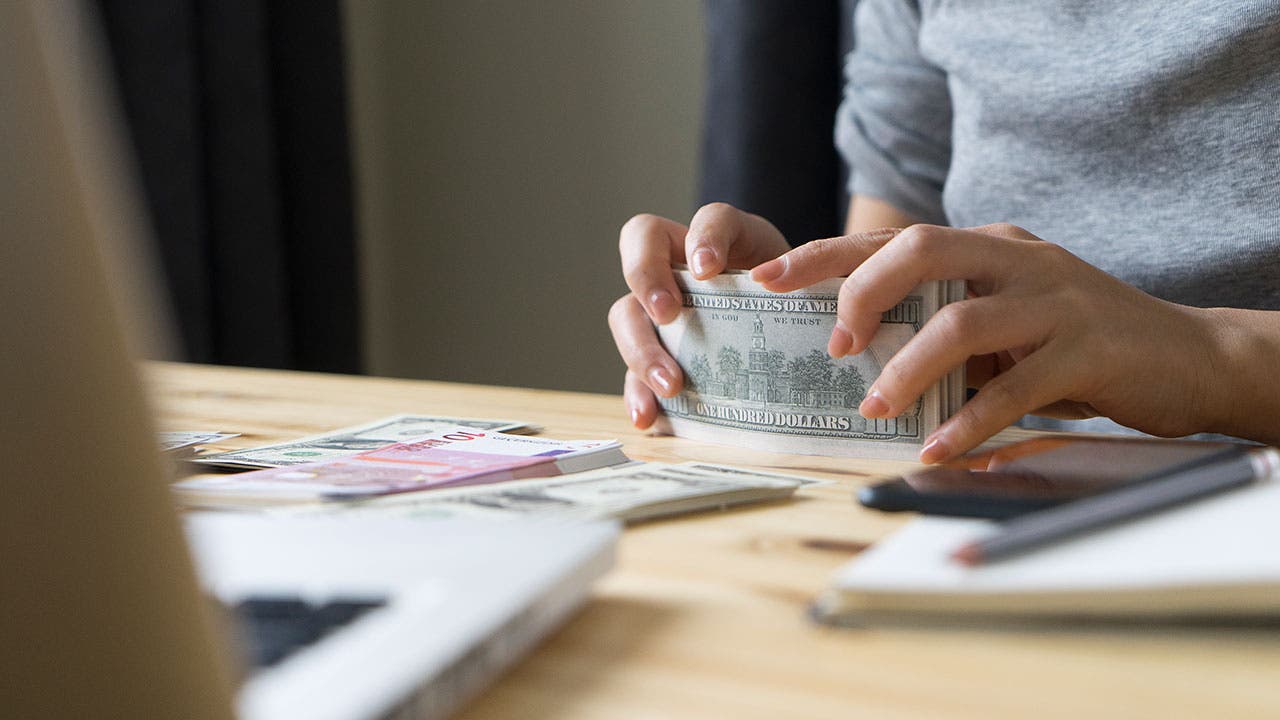 What is a money market account?
A money market account is a savings account that usually allows you to write a limited number of checks from it. The account may earn a higher annual percentage yield (APY) than a traditional savings account, but it might also have a higher minimum balance requirement than a standard savings bank account.
A money market account is a hybrid of sorts, since you typically can't write checks from a savings account. While a money market is meant to be more transactional than a standard savings account, it still is subject to the same withdrawal limitations of Regulation D. This rule restricts activity to no more than six transfers or withdrawals from the account per calendar month or statement cycle of at least four weeks.
The good news is that there are some unlimited transactions that do not apply toward your limit of six. These include withdrawals with a teller at a bank and withdrawing money from an ATM. Many banks offer some sort of ATM accessibility for money market accounts.
How does a money market account differ from a savings account?
Usually you can't write checks against a traditional savings account. But with a money market account, you usually can write a limited number of checks against the account. Traditionally, money market accounts may have a higher minimum balance than a standard savings account. They also may have a higher APY than some savings accounts.
While high minimum balances may exist, you should be able to find high yields paired with modest minimum balances if you shop around, says Greg McBride, CFA, Bankrate's chief financial analyst.
"So that should not be an obstacle or an excuse," McBride says.
You can compare rates and balance requirements on money market accounts at Bankrate.com.
How does interest work with a money market account?
Financial institutions credit interest on money markets differently. Many banks compound interest on a daily basis and credit your account monthly.
Check with your bank to see how it compounds and credits your interest. Money market interest APYs are usually on a tiered basis, meaning the APY is based on how much you keep in the account. These are likely variable and subject to change.
Who should get a money market account?
A consumer who is looking for a higher APY and the ability to write a limited number of checks may be the ideal candidate for a money market account. Even if you don't plan on writing checks, having the ability to do so might be a convenient option so that you don't have to get an official bank check, send a wire transfer, send a payment via ACH (automated clearinghouse) or use another payment option when needed.
Everyone needs an emergency savings account, McBride says. Because money market accounts combine liquidity and an attractive rate of return, they should receive strong consideration for your savings plan.
"Americans by and large are woefully under-saved in that regard," McBride says. "… For that emergency savings account, a top-yielding bank money market account is a great option for that."
Comparing account features

Savings
Checking
Money market account
FDIC-insured
X
X
X
You get a checkbook for withdrawal
X
X
You get a debit card for withdrawal
X
X
X
Limited transactions
X
 X
Unlimited transactions
X
The pros of money market accounts
Here are seven benefits of money market accounts.
1. You can potentially earn more interest
A money market with a higher APY might help you earn more than interest-bearing checking or even your regular savings account in some cases.
It's imperative to see what kind of accounts and rates are available before opening one, McBride says.
"You either make it your own advantage or disadvantage, whether you shop around or not from a rate of return standpoint," McBride says.
If you are taking advantage of a promotional money market rate, make sure that you understand how long the promotional rate lasts and what the APY will be once the promotional period ends. You likely won't be notified if your APY changes, so make sure you check your statement and your online banking to make sure you're getting the interest you expect.
2. You may be able to write checks
Usually you can write a limited number of checks per month against your money market account. If you want your savings account to be more transactional than a normal savings account, this flexibility might be a good option for you. If you want an account with check-writing ability and you still want to maximize the APY that you earn, a money market might be the best of both worlds.
3. Your money should be protected
If your bank is insured through the FDIC and your money market is eligible for FDIC insurance, you should be covered for the standard insurance. If you open your money market account at a credit union, the National Credit Union Administration (NCUA) should cover the standard share insurance amount. Make sure you check with your bank or credit union to confirm this and ask about your maximum coverage before opening your account.
It is important to note that money market accounts are sometimes confused with money market funds or money market mutual funds. Those are not insured accounts.
4. It can act as overdraft protection
Some banks will allow you to use a money market to back up your checking account. Overdraft protection options may be more cost-effective than other overdraft alternatives. But keep in mind that overdraft protection transfers count toward your six-transfer limit under Regulation D.
5. Some banks offer ATM access
Some institutions will allow you to access your money market account at ATMs with a debit card or an ATM card. Your bank may only allow the money market account to be on an ATM card. If your institution allows it to be on a debit card, it may have to be secondary to a primary checking account and it may be accessible at some ATMs.
6. Liquidity
Your money is not locked away, like in the case of a CD, or certificate of deposit. So, you should be able to access it without penalty.
7. Your checks may be free
Some banks offer free checks with your money market account. While this shouldn't be a deciding factor, since there are many ways to get affordable checks, it's a nice added perk.
The cons of money market accounts
Here are seven downsides to money market accounts.
1. Potentially a higher minimum balance
A money market account may require you to have a higher minimum balance than a checking or savings account. There also might not be a way to waive the monthly maintenance fee if you go below the minimum balance requirement. Some checking accounts have lower minimum balance requirements and have non-balance-related ways to avoid the monthly maintenance fee, such as by having a direct deposit credited into the account.
2. Withdrawals may be limited
Because a money market is a type of savings account, it's subject to withdrawal restrictions. If you're planning to use a money market account as a transactional account, it's imperative that you are aware of what types of transactions count toward your six-transaction limit. Both checks written against your money market and money transfers out of your account online — even internal transfers within your bank — count toward the six allowed transactions. Preauthorized and automatic transactions, withdrawals made by debit card and third-party payments are also included in your limit of six transactions.
3. Fees and penalties for excessive withdrawals
If you do forget that your money market account is subject to transaction restrictions, it could take a bite out of your interest earnings. Some banks charge a fee if you exceed the six-transaction limit. After one or a few mistakes, your penalty could be being moved to a non-interest account.
4. Potential for limited access
Some institutions limit your check-writing ability to fewer than six per calendar month or statement cycle, and others may not allow a debit card or any check-writing authority. So, ask your bank if there are any check-writing restrictions before opening the account.
5. Watch out for introductory rates
Some banks use promotional rates to attract your attention. If you're taking advantage of such an offer, make sure you know how long the rate lasts and what it is likely to drop to after the introductory period ends. There may also be certain stipulations — such as a minimum balance requirement or having a qualifying checking account — that you need to follow to earn the promotional rate.
"If the yield changes to something that's uncompetitive, you can take your toys and go play in somebody else's sandbox," McBride says.
6. Be aware of account closing fees
While not that common, some institutions do have fees for closing your money market within a certain time period. Make sure you inquire about this before opening your money market account.
7. Longer-term money might be better off elsewhere
If the funds that you're planning on putting in a money market account are truly funds that you might never use, a short-term CD might be a better option to consider to earn more interest.